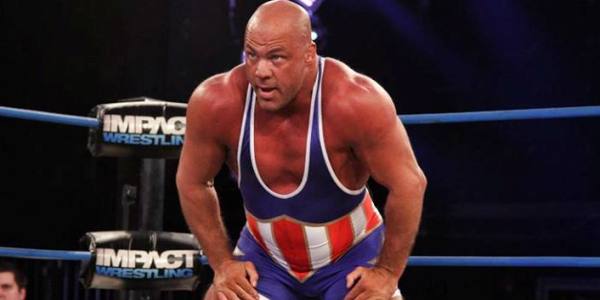 Kurt Angle has been pretty open about the fact that he's leaving TNA once his current contract expires. He's currently working through his TNA farewell tour and he's said that once it's all wrapped up he plans to take some time off from wrestling.
But TNA obviously doesn't want to lose Kurt Angle and why the hell would they? It's Kurt Angle. He won an Olympic gold medal with a broken freakin neck! Anyway, PWInsider is reporting that TNA is trying to keep Angle around in a role where he wouldn't be wrestling. The deal would see Kurt act as an ambassador for the TNA brand and he would be portrayed as a "living legend" who is always around. He would also be working with younger talents.
It was noted that Angle hasn't taken the deal yet. Kurt's current deal is set to expire at the end of the month and his farewell tour will end when he faces Bobby Lashley on January 31st in Birmingham.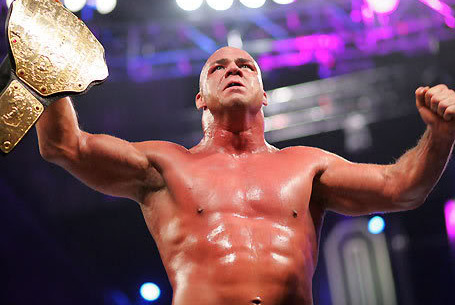 Kurt Angle is currently on his farewell tour from TNA and he's been saying recently that he plans to take some time off from wrestling. Of course with his current TNA deal expiring soon everyone's asking Kurt about a possible WWE return. He recently spoke to Sports Illustrated's Extra Mustard blog and he said that he's not going to talk to them about a possible return.
"As far as WWE, I'm not going to talk to them," said Angle. "But I know my ability is just as good as it ever was. If WWE thinks I'm too old, or my body isn't durable or that I have a problem with medication–which I obviously don't, I've been clean and sober for two years and nine months–but the issue has nothing to do with my talent."
He then went into detail about why he thinks they passed on him last time he was a free agent and he says that he doesn't know if WWE will ever want him to wrestle again.
"There is a reason they passed on me last time. You've got to remember WWE is a publicly traded company, and they have people to answer to, and you have a person who was pretty reckless from 2008 to 2013. I got hit with four DUIs. That's pretty irresponsible. You have to look at a company that is publicly traded, like WWE, and the reputation they have to uphold, so you really have to be careful who you hire. And TNA is the reason why I'm clean and sober, so I have to give them credit, too. They allowed me time off to go to rehab and get my life together. So it's one of those things where I'm not going to expect anything. Is it possible I go back to WWE somewhere along the lines? Of course. I think I'll end up in the Hall of Fame, but I just don't know if WWE will ever want me to wrestle again. It's up to them, and it's up to me. I don't know what I'm going to do. But if I do decide to do it, it would be nice. A lot of people would like to see it, so we'll see what happens."
Source: http://www.stillrealtous.com/