Name: Anthony Elden
Height: 6'2
Weight: 267 lbs
Gimmick: Eldest son of a broken home, forced to grow up way too quick, Anthony always tried to keep his younger brother out of trouble, but trouble always found a way of finding them. Their family always moving from place to place, it was hard for Anthony and Austin to make friends, but they had no short supply of enemies.
 
Whenever they would witness someone being taken advantage of, bullied, or downright assaulted, they would step in - and it never ended well for whoever they were facing. This earned them the nickname Brothers Grimm, not just because of their tragic stories, but for the state that they leave their enemies in.
 
Their only escape was wrestling and video games, on the rare occasion that they could enjoy it. That is what prompted both Anthony and his brother to join NXT, eventually working their way into the main roster.
 
Anthony prefers to use strategy, rather than the berserker barrage his younger brother jumps straight into. He prefers using powerful strikes and grappling his opponents, either making use of several different powerful slams, or adapting a slightly more technical form of wrestling, depending on the situation.
Signature Moves: Penalty Kick
Finishing Moves: Grimm Reminder | Terminating Spike (REAL Burning Hammer)
Current Age: 29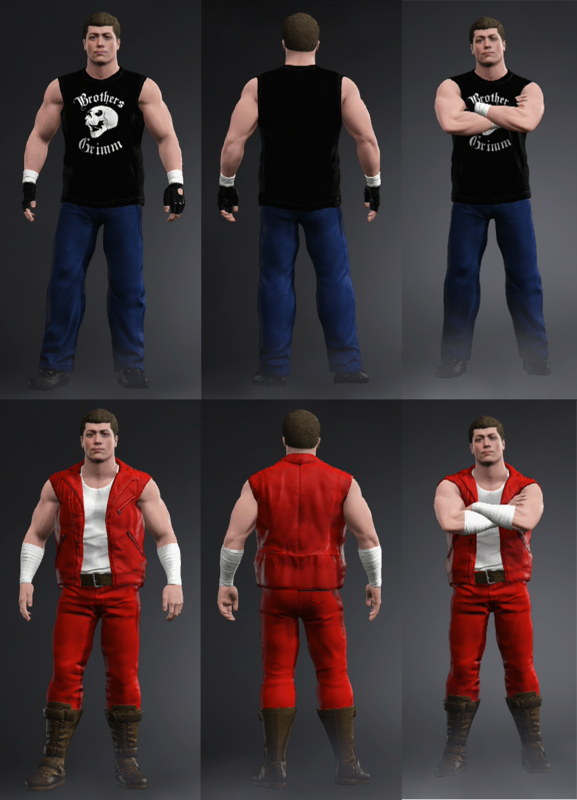 Name: Austin Elden
Height: 6'1
Weight: 271 lbs
Gimmick: Younger of two brothers. Austin was always the reckless one, preferring action, rather than plans or talking. This got him into a lot of trouble in his youth, typically dragging his older brother Anthony into it, regardless of if he wanted to or not.
 
Growing up moving from one bad neighborhood to the next, Austin and Anthony would often find themselves jumping into situations that had nothing to do with them - all in the name of defending those who are otherwise unable to do so on their own.
 
As their reputation grew, Anthony suggested that they make use of their talents in the ring - both being big fans of wrestling. Between that and video games, it was the only solace they could sometimes find in life. They signed on with NXT, rapidly rising their way to the main roster not long after.
 
Austin prefers to rush his opponents, striking as furiously and quickly as possible. He's also more than capable of enduring the same levels of pain that he dishes out. Most of his moves involve striking his opponent with punches, kicks, knees, and more punches. On the off chance that he does grapple an opponent, it's to slam them to the ground.
Signature Moves: WMD
Finishing Moves: The Last Word | Rock Bottom
Current Age: 26