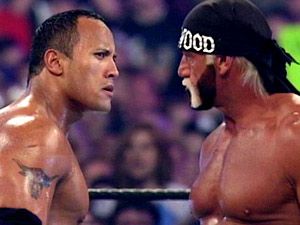 Hulk Hogan recently spoke with R.A.W. radio (http://radio.thescore.com/), here are the highlights…

On WrestleMania 18: "It was like the Toronto fans slapping me and saying, 'don't you know who the hell you are - you're HULK HOGAN!!!'. It was a huge wake up call for me. I wasn't bowing down...I was just going with the storyline. Whether it's the right way to go or if you're going against the grain...you just have a feel for things. Everybody has a different feel for things. I kinda had a feel for what was going on in the ring. At that time, The Rock was so hot. He was the favorite son - he had the Scorpion King coming out. I just wanted to put on a great show. But the fans really stepped up. And I did the job - no big deal - but the fans stepped up and told the promoter, The Rock and Hulk Hogan who they love, and who they wanna cheer for. And with a huge Canadian hand - slapped me and said 'you're Hulk Hogan...don't you ever forget it!"

On Going to TNA: "When my wife divorced me. And my son finally got out of jail. And my daughter moved away from everything. I bottomed out, brother. When I didn't have any family around. When everything went down...all I had left - the only thing I had left - was my life and wrestling. Before it was WWE - it's a beautiful open door and sometimes it's great to work there and at other times, it's not. But TNA had their arms wide open and Dixie Carter had wanted me to come to TNA for years. Now, when I look at the big picture, and I realize I gotta slow down - and I can't push Mondays or throw my weight around - my main motivation is not to keep how wrestling how it used to be...but to make wrestling how it should be!"

On Not Facing Flair At WrestleMania 8: "Both Hogan & Flair were tearing it up. If you ask him (Flair), he can count on his fingers how many shows we sold out. That year felt like it should've been Hogan vs. Flair at WrestleMania. But I don't know what Vince saw - if he wanted to have 2 main events or something - but he tore us apart and put me in with Sid. That's fine - it's his company. I still don't know what Vince saw - but he obviously saw something that nobody else saw because his company is still out there and far ahead of everybody else"