Welcome to TheSmackDownHotel.com Forum
STOP! You are not currently registered at TheSmackDownHotel! Become a member FOR FREE to gain complete and exclusive access to all our features. Benefits include:
Your own personal account with a unique username, which you can edit and accessorize with avatars, signatures, profile banners and an About Me page.
Create topics and contribute freely to the forum by posting and participating in discussions and competitions.
Be the first to be informed and to comment about the latest on wrestling and WWE Games and share your creations with the community.
Get your own Private Messenger, manage your profile, and much much more!
Registration is FREE and only takes a moment to complete!
Login to Account
Create an Account
WeWantBruno
WeWantBruno
Member Since 18 Jul 2013
Offline
Last Active Aug 06 2013 09:50 PM
Community Stats
Group

Member

Active Posts

6

Profile Views

2,621

Member Title

Backyard Wrestler

Age

19 years old

Birthday

December 29, 2000

Gender

Male

Location

Brasil

Interests

Skate, Surf, Wrestling, Anime/Manga and Womens

Twitter

WeWantBruno
Gaming
Xbox Live

I do not play online
About Me
I love to skate, surf, I am a big fan of animes and mangas like Naruto and Ao no Exorcist, buy WWE games since 2010 and I am mega fan of them, especially WWE'13 (Too Much). I am summarizing a mixture of a typical Brazilian who plays football and loves barbecue and a rare Brazilian wrestling fan.
-My favorite wrestling companies: WWE and ROH
-My favorite wrestling shows: Smackdown and NXT
-My favorite videos-game: WWE'13
-My favorite anime: Naruto
-My favorite console: Xbox 360 and PS2
-My favorite tv drawing
:
 The Simpsons
-My favorite sport: Football
​-My favorite channel: USA and Globo 
-My favorite movie: The Wrestler(2008)
-My favorite wrestlers:
1-(I love him!!!) 
2-
3-
4-
5-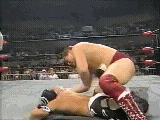 6-
7-
8-
9-
And ...
10-
---