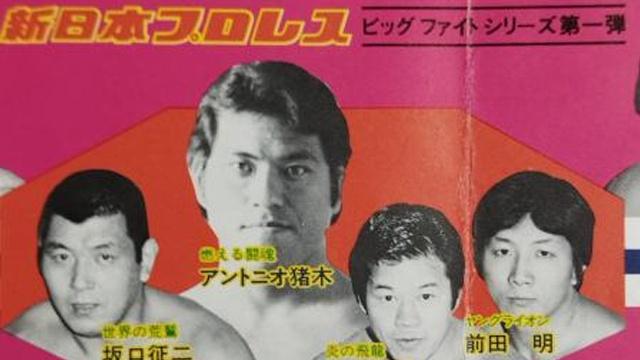 NJPW Big Fight Series I 1984 was a Special Event produced by New Japan Pro Wrestling, which took place on March 22, 1984, at the Amagasaki City Gymnasium in Amagasaki, Hyogo, Japan.
It's the 13° edition of the Big Fight Series event series, after NJPW Big Fight Series II 1983.
The event had an attendance of 5,200 fans. The main event of the show was Tatsumi Fujinami, Seiji Sakaguchi & Yoshiaki Fujiwara vs. Ishin Gundan (Riki Choshu, Animal Hamaguchi & Yoshiaki Yatsu).
Below you can find the full match card and results of NJPW Big Fight Series I 1984, and more information about the event.
Event Info
NJPW Big Fight Series I 1984 Results
Keiichi Yamada defeats Naoki Sano
Shinichi Nakano defeats Tatsutoshi Goto
Haruka Eigen & Makoto Arakawa defeat Black Cat & Shunji Kosugi
Wild Samoan defeats Fumihiro Niikura
Bobby Duncum defeats Masanobu Kurisu
Osamu Kido defeats Ed Leslie
Ishin Gundan (Kuniaki Kobayashi & Isamu Teranishi) vs. Kantaro Hoshino & Nobuhiko Takada ends in a No Contest via Double Count-out
Dick Murdoch & Adrian Adonis defeat Kengo Kimura & Seiji Sakaguchi
Tatsumi Fujinami, Seiji Sakaguchi & Yoshiaki Fujiwara defeat Ishin Gundan (Riki Choshu, Animal Hamaguchi & Yoshiaki Yatsu) via DQ