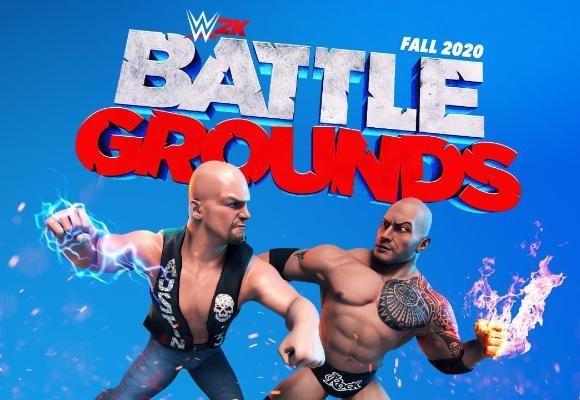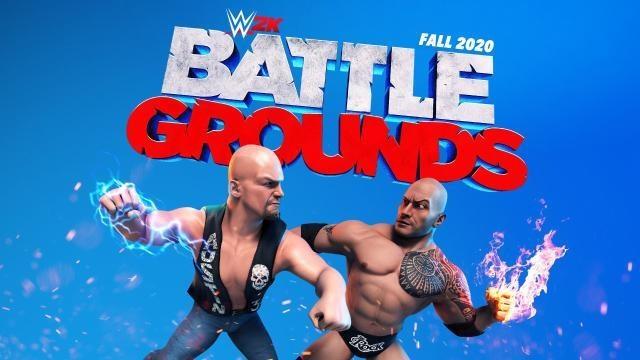 Game Series

WWE Games

Release Date

September 18, 2020

Publisher

2K Sports

Developer

Saber Interactive
BRAWL WITHOUT LIMITS

WWE 2K Battlegrounds is a completely new WWE gaming experience that will feature arcade-style action and over-the-top WWE Superstar designs, environments, and moves.
The game is easy to pick up and play for everyone, but challenging to master, with advanced techniques to be learned and skills to be unlocked, so players of all skill levels can enjoy the action.
WWE 2K Battlegrounds comes in place of WWE 2K21 this year, after 2K confirmed that they will not be releasing a WWE 2K simulation game in 2020. The game is developed by Saber Interactive, the studio behind NBA 2K Playgrounds, and features over 70 WWE Superstars and Legends, as well Custom Superstars.
Pull off over-the-top moves and use your special abilities to destroy your opponent, while battling in interactive environments featuring explosions, electrified cages and more!


WWE 2K Battlegrounds Release Date & Pre-Order Bonus
WWE 2K Battlegrounds will release on September 18, 2020 for the following platforms: PlayStation 4, Xbox One, Nintendo Switch, PC Windows, and Google Stadia. Whilst it will not be released on Xbox Series X, the Xbox One version of the game has been confirmed to be playable on that console via backwards compatability on the game's English cover. It is not known yet if the PS4 version can be played on the PlayStation 5 via the same method.
Players who pre-order the Standard Edition will receive WWE Hall of Famer Edge at launch. The Digital Deluxe edition includes Edge, as well as all versions of "Stone Cold" Steve Austin, The Rock and Ronda Rousey unlocked at launch, plus 1100 bonus Golden Bucks, in-game currency that can be used to unlock Superstars, as well as cosmetic items.
WWE 2K Battlegrounds Game Modes
The game features the following Game Modes to play through:
Exhibition: Take part in Exhibition matches at home or on-the-go, anytime and anywhere, in local and online multiplayer action for up to four players;


Campaign: Join the adventures of seven new WWE hopefuls - created exclusively for WWE 2K Battlegrounds - in Campaign mode and compete for the chance to earn a WWE contract. Along the way, you'll unlock new arenas, while receiving guidance from legendary personalities including "Stone Cold" Steve Austin and Paul Heyman;


King of the Battleground: Take on all comers in the King of the Battleground, an online, last-man-standing mode where four players start in the ring while four more wait outside to enter, challenging you to run the gauntlet and defeat them all;


Online: Test your toughness in Online Tournaments and Exhibition matches.


Match Types: Compete in a variety of your favorite match types with fun twists, including Steel Cage, Royal Rumble, Fatal Four Way and Battlegrounds Challenge!


Creations: Players can customize their own arenas to give each brawl a personal touch and use the Superstar Creator to build their own unique WWE Superstar with different body types and sizes, facial features, clothing, hair and fighting styles.
Eight unique Battlegrounds Arenas play a major role in the action, many of them featuring interactive elements adding to the mayhem alongside a variety of outrageous melee weapons players can use to pummel opponents. Soar from military helicopters, smash opponents with cars in an auto shop and toss them into the jaws of a hungry alligator in the swamp.
WWE 2K Battlegrounds Roster
WWE 2K Battlegrounds will feature a Roster of more than 70 WWE Superstars and Legends at launch, offering fan favorites of all generations, with more unlockable Superstars to come via free updates in the future.
Each Superstar utilizes one of five class styles, and each class style has its own combat moves, strengths and weaknesses. Choose from the Powerhouse, Technician, High-Flyer, Brawler and All-Rounder to find the style that works best for you.
Arcade-style powerups, such as Flaming Fist, Ice Breath and Earthquake, are accompanied by colorful visual effects, offering extra excitement and an additional dimension of strategy that can quickly change the direction of a match.
See the full WWE 2K Battlegrounds Roster section for more details.

WWE 2K Battlegrounds Trailer
Stay tuned on SDH for all the latest WWE 2K Battlegrounds News, Rumors, and Roster confirmations!
WWE 2K Battlegrounds Latest News