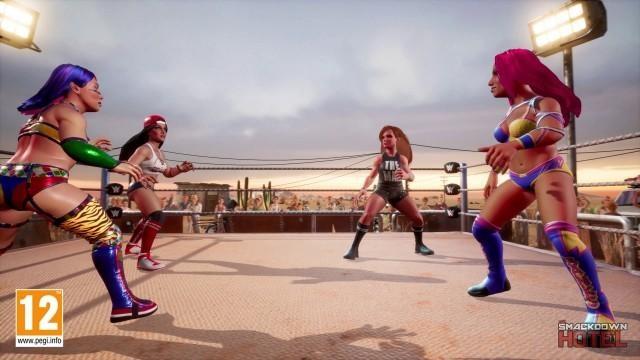 Here you can find all the details revealed so far about the Online Modes of WWE 2K Battlegrounds, the upcoming arcade-style wrestling game by 2K.
WWE 2K Battlegrounds will feature 3 main online modes: Exhibition, King of the Battlegrounds, and Tournaments.
Exhibition
The exhibition mode will allow players to fight against each other in different match types, including single matches, tag team matches, and fatal four-way matches.
You will be able to play online, or local multiplayer, up to four players.


King of the Battleground
King of the Battleground is an all-new online last-man-standing mode where four players start in the ring while four more wait outside to enter, challenging you to run the gauntlet and defeat them all. It features 8 Superstars in total but only 4 of them will be able to fight in the ring at the same time.


Tournaments
Tournaments will also be available in the online modes of WWE 2K Battlegrounds. Nothing more has been revealed so far but we hope to see tournaments for single and tag team players.


Crossplay in WWE 2K Battlegrounds (PS4, Xbox One, PC)
Is there Crossplay in WWE 2K Battlegrounds multiplayer?
The Xbox Store and the Steam Store have confirmed that WWE 2K Battlegrounds will have crossplay enabled between Xbox and PC. So, players from Xbox and Windows PC will be able to play together cross-platform online.
It is still unconfirmed if the cross-play in WWE 2K Battlegrounds will also include PS4 or not, since at the moment there's no mention of it in the PlayStation Store.


How many people can play together online on WWE 2K Battlegrounds?
The Multiplayer of WWE 2K Battlegrounds supports up to 4 people simultaneously on the ring, for both online or local multiplayer (Couch Co-Op).
Offline multiplayer (2-4 players)
Online multiplayer (2-8 players - 4 max in the ring)
---
For all the information on WWE 2K Battlegrounds check out the WWE 2K Battlegrounds Main Section, and for an updated list of all the confirmed Superstars for the game, you can visit the WWE 2K Battlegrounds Roster Page.