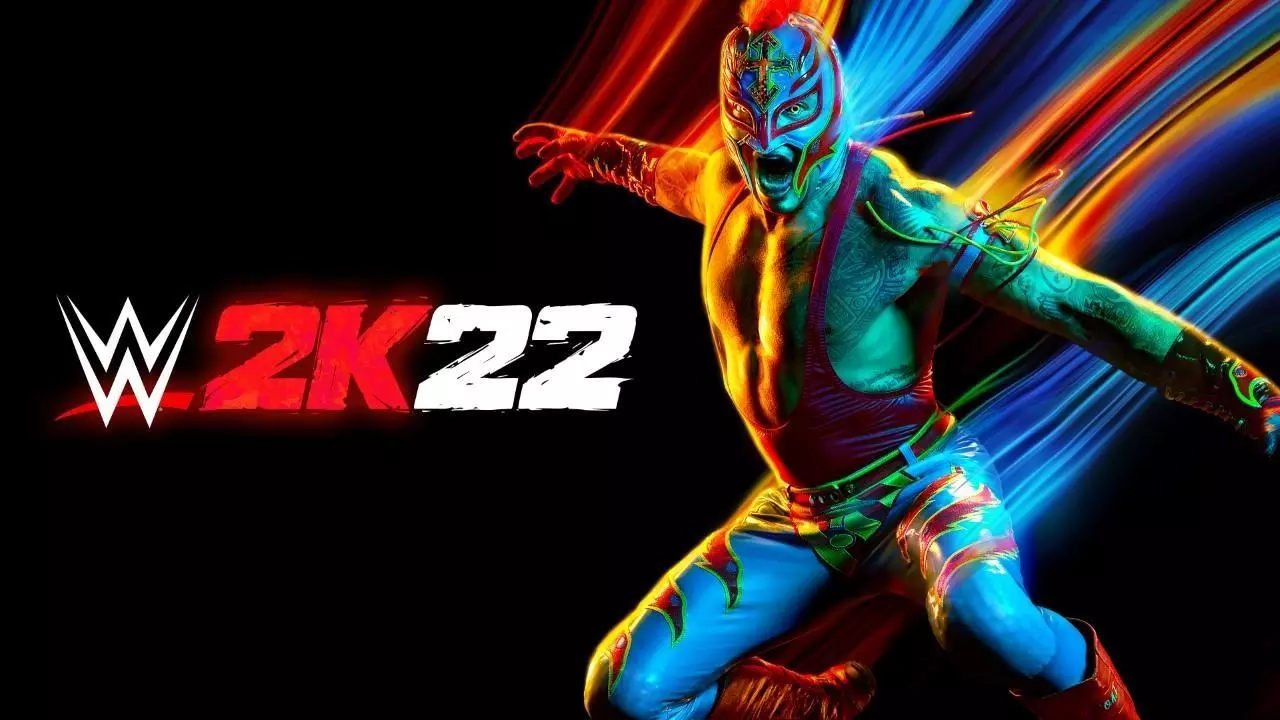 Game Series

WWE GamesWWE Main Series

Release Date

March 11, 2022

Additional Releases

March 8, 2022 (Early Access)

Publisher

2K Sports

Developer

Visual Concepts
WWE 2K22: It Hits Different
WWE 2K22 was released on March 11, 2022, for PS5, PS4, Xbox One, Xbox Series X|S, and PC, and on March 8, 2022, with Early Access. It is the successor to WWE 2K20.
WWE 2K22 will be available in four Game Editions: Standard Edition, Cross-Gen Digital Bundle, Deluxe Edition, and – in celebration of the 25th anniversary of the New World Order faction - nWo 4-Life Digital Edition.
Redesigned gameplay engine, new controls, incredible graphics, MyGM mode, and franchise-first MyFACTION are just a few to name among many more advancements, headlining the most impressive WWE 2K experience to date!
On this page, you find a breakdown of all the WWE 2K22 Game Features.
WWE 2K22 GM Mode (MyGM)
GM Mode has been by far the Top Community Request for WWE 2K22, and it has been officially revived after being missing since SmackDown vs. Raw games.
In WWE 2K22 MyGM, players can step into the role of a WWE General Manager in a competition for ratings and revenue - choosing a WWE brand between Raw, SmackDown, NXT, or NXT UK.
In MyGM you draft superstars, book matches and rivalries, manage contracts and call the shots on your way to run the most successful brand in the WWE Universe.
The mode features a Draft, a Budget, a Social Media feed, and a tracker with the number of fans and Ratings of your show. Managing Budget is important, as you'll need to have enough budget not only to sign Superstars and Legends but also to book Arenas and match types with special stipulations.
See our dedicated guide with the full details and features of WWE 2K22 MyGM Mode.
WWE 2K22 New Gameplay & Controls
2K has updated the control scheme in WWE 2K22 once again, mentioning it's more intuitive and "configured to ensure that players have more control over every move".
WWE 2K22 comes with a new gameplay engine that "feels different", being more fast-paced and unpredictable.
New control changes in WWE 2K22 include different inputs to execute strikes and grapples, as well as a new Combo System and different inputs to perform finishers and signatures.
Each individual Superstar now has Combos, and they can be customized in Create-A-Moveset.
The reversals system has been completely revamped, and the limited reversal stock has been removed. There is a new ability to "Block" strikes, as well as a new "Dodge" mechanic. The pin and kick-out controls have also been changed.
The physics systems have been completely overhauled for WWE 2K22: weapons (such as tables, steel chairs, kendo sticks and stop signs) now get damaged as they are used. Breaking tables is now completely dynamic, players will never see a table break the same way twice.
More verticality has been implemented in the new backstage area. There is a new mantling system that allows players to climb and dismount from surfaces of various heights.
See the full WWE 2K22 Control Scheme Tutorial for all the details on the new controls, Combos, and how to reverse moves in WWE 2K22.
Stunning Graphics
WWE 2K22 boasts the best-ever graphics of the WWE 2K franchise. Scanning and animations are executed using the same industry-leading process as Visual Concepts' NBA 2K franchise and the team overhauled lighting and relit the game from the ground up.
As part of the game's development process, 85% of the in-game roster has taken part in facial scanning for ultra-realistic and updated character models, and more than 3,400 new animations have been captured.
Other Game Modes
New WWE 2K Showcase
In WWE 2K22's Showcase mode, players can take a walk down memory lane and relive the most iconic matches and moments of legendary WWE Superstar Rey Mysterio.
The mode incorporates new features and updates, allowing players to relive the iconic moments behind Mysterio's most famous matches.
Go beneath the mask to relive the 2006 Royal Rumble, Rey's return, and more. Booyaka, booyaka! Check out the confirmed match list for the Rey Mysterio 2K Showcase.
MyFACTION Mode
In a franchise-first, the all-new MyFACTION puts players in control of building a legendary faction that rivals the iconic nWo. This is a single-player collectible card game, along with traditional WWE 2K series gameplay.
Players compete to collect Superstars Cards, battle with those cards, manage and upgrade their Faction, with weekly events and regular updates.
See the dedicated article for everything you need to know on WWE 2K22 MyFACTION.
MyRISE (Career Mode)
An opportunity for players to experience the journey of a WWE Superstar from the humble beginnings of a Rookie, followed by the fanfare as a Superstar, and then immortalized as a Legend.
Choose your path between four character backgrounds, start your career and finish the competition by taking on not one, but two MyRISE adventures. Featuring unique male and female storylines, MyRISE lets you choose your journey like never before.
MyRise in WWE 2K22 lets you play across 3 brands (NXT, Raw & SmackDown), allows you to switch between face and heel, and features new branching storylines and rivalries, over 1000 playable matches, 9 unique arenas, and voiceovers from over 30 superstars - across over 50 hours of play time.
WWE Universe Mode
Universe Mode returns, offering players the ability to fully customize their WWE experience down to the smallest details. From taking control over brands to Pay Per Views, match results, rivalries, and more.
Plus, WWE 2K22's Universe mode includes a new alternative option called "Superstar Mode": this gives you the ability to play through WWE Universe by controlling one Superstar and focusing entirely on their storyline and matches.
In Superstar Mode, players follow their Superstar through matches each week, developing rivalries, starting tag teams, and competing in championship matches.
Creation Suite
The Creation Suite is back and better than ever, with more focus on increasing the quality of the creations. Players can be themselves or someone/something entirely different, with all sorts of wild options and fantasy elements, then step into the ring at any time and anywhere in the world

.

Create the ultimate custom Superstars, Arenas, Championships, MITB, Entrances, Movesets, Videos and more.
Share creations with the global WWE 2K22 community, for the first time ever with Cross-Platform Community Creations between PlayStation, Xbox, and PC!
Sorting through Community Creations is now easier with a new landing page to more easily narrow down specific content types and an upvoting system to find the top-voted content.
There are 75 body templates in the Superstar Creation (39 male and 36 female), coming in a wide range of sizes, shapes, and musculature, now also allowing for super-heavyweight bodies in the style Keith Lee/Otis/Earthquake.
The ability to upload Custom Renders for the character select screen has been added.
There are still 100 Created Superstars Slots available in the game, also for the PS5/Xbox Series X|S versions.
Other additions include "Personas", which are starting templates for Created Superstars, the ability to tag favorite parts, filter them by Persona, and set a Parts Color theme to give your attire a consistent color scheme.
However, other features from years ago such as Create A Finisher and Create A Story will not be making a return this year.
WWE 2K22 Roster
As always, the WWE 2K22 Roster includes a huge list of Men and Women superstars from Raw, SmackDown, NXT, and NXT UK, as well as WWE Legends.
Counting DLC, there are 228 selectable characters.
Click here to see the full list of Superstars confirmed for the WWE 2K22 Roster so far!
Extended Production Timeline
After the cancellation of WWE 2K21, for the first time since the beginning of the series, the production timeline has been extended for one more year, to ensure that the Visual Concepts development team can create a great game with WWE 2K22.
A new Executive Producer has been hired to lead the WWE 2K development at Visual Concepts: he's Patrick Gilmore, who has over 25 years of experience in video games. 2K is confident that the extra year will lead to better games in the future, saying they're taking the time needed to deliver the quality that fans deserve.
A formal feedback project was run in May 2020 to collect feedback and discuss specific aspects of the game, such as Creations, Gameplay, Match Types, MyCareer, Showcase, and more.
Other Considered Features
Other features high on the list of the WWE 2K Top Community Requests, and that 2K has acknowledged and were surely considering for WWE 2K22 are:
Reviving Missing Match Types, including Special Referee
Ongoing Live Updates
Not locking Create A Superstar content and parts
DLC with actual Superstars instead of 2K Originals
Some other improvements that the developers mentioned they were looking at are:
Inspiration from previous games of the series regarding Gameplay and Story Modes
In Create-A-Superstar, the ability to show/hide appearance and attire parts while working on the face and body
A Character Selection Screen separated by the Brand the Superstars appear in
WWE 2K22 Trailers