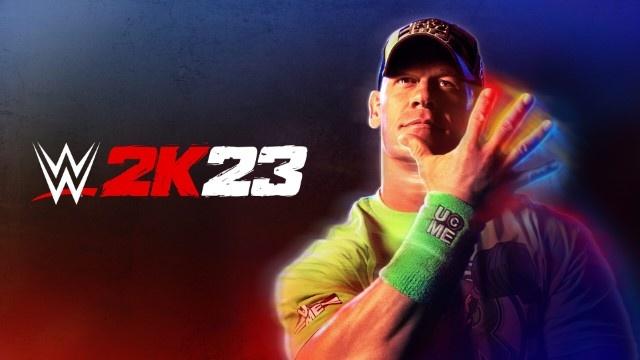 Game Series

WWE GamesWWE Main Series

Release Date

March 17, 2023

Additional Releases

March 14, 2023 (Early Access)

Publisher

2K Sports

Developer

Visual Concepts
WWE 2K23: Even Stronger
WWE 2K23 is the latest installment in the long-running series of professional wrestling video games, and the successor to WWE 2K22. Developed by 2K and Visual Concepts, it will come with an extensive roster of WWE Superstars and Legends, as well as a wide variety of match types and game modes.
The game will feature enhanced gameplay, a unique twist on Showcase, all-new WarGames match type, improvements to MyGM and MyFACTION, music megastar Bad Bunny Bonus Pack, and more.
WWE 2K23 Release Date & Platforms
The WWE 2K23 Standard Edition will release on March 17, 2023, for PS5, PS4, Xbox Series X|S, Xbox One, and PC via Steam.
The Deluxe Edition and the Icon Edition of WWE 2K23 will be available from March 14, 2023, three days ahead of Standard and Cross-Gen Editions!
In celebration of his 20th anniversary as a WWE Superstar, the 16-time World Champion John Cena is the Cover Star of WWE 2K23, as well as the executive producer of the WWE 2K23 Soundtrack.
WWE 2K23 Roster
The WWE 2K23 Roster will include a huge list of Men and Women superstars from Raw, SmackDown, NXT, and NXT UK, as well as WWE Legends, including:
Bad Bunny (Pre-Order Bonus)
Bianca Belair
Bobby Lashley
Brock Lesnar
Cody Rhodes
Drew McIntyre
John Cena
Rhea Ripley
Roman Reigns
Ronda Rousey
Steve Austin
...and many more!
Click here to see the full list of Superstars confirmed for the WWE 2K23 Roster so far!
WWE 2K23 Pre-Order Bonus
Pre-order the Standard Edition of WWE 2K23 and get access to the Bad Bunny Bonus Pack featuring global music phenom Bad Bunny as a playable character, and a ruby-tier MyFACTION card.
WWE 2K23 New Match Type: WarGames
The fan-favorite action-packed WarGames match type makes its debut in WWE 2K23 and delivers heart-pounding 3v3 and 4v4 multiplayer mayhem inside two side-by-side rings, surrounded by a double-steel cage!
It can be played with either men or women superstars, and will feature a plethora of weapons to fight with, as well as the ability to dive off the top of the cage and springboard between rings.
If you're playing WarGames by yourself, when you have your new partners enter the match, you can freely switch control from one member of your team to the other.
WarGames matches in WWE 2K23 can be played in 3 different Arenas: NXT War Games 2021, Survivor Series 2022, and a third MyRise-specific Arena.
WWE 2K23 Game Modes
WWE 2K23 features expansions to several marquee game modes, including a unique new take on the 2K Showcase.
Incredibly realistic graphics, animations, camera angles, and lighting, plus accessible controls and a new optional pinning mechanic will add to the highly immersive experience.
WWE 2K23: New Gameplay Upgrades
After the emphasis on Stamina was reduced in WWE 2K22, it now returns to play a bigger role in WWE 2K23, with the return of tired animations, visual expressions, and more effects on the character behavior.
There is a new, optional, timed Pin Minigame, where the cursor and the target zone move back and forth, with it becoming harder the more you are damaged or if you just received a finishing move.
A new Finisher Situation has been added, now allowing you to perform in-ring Springboard moves as finishers, such as for the Cody Cutter.
You can now perform taunts while holding a weapon
Female Referees have been added to the game
2K Showcase feat. John Cena
Conquering John Cena in the ring is an accolade few Superstars can claim. In an unprecedented twist on the 2K Showcase, players will step into the boots of several of Cena's toughest competitors with one goal in mind: defeat the man who will "Never Give Up."
In the WWE 2K23 Showcase mode you play through the key moments and toughest opponents of John Cena's storied career.
Spanning his 20-year WWE career and narrated by Cena himself, this interactive documentary transitions between gameplay and live-action footage to bring pivotal moments in each match to life.
WWE 2K23 MyGM Mode
With MyGM, take the reins of a weekly show and compete against rival general managers for brand supremacy.
Here are the new additions to MyGM Mode in WWE 2K23:
More GMs to choose from (with still the ability to choose a player's own custom GM)
Multiple seasons
Expanded match cards
More match types for up to four players.
Additional show options
Players draft a roster, manage budgets, sign free agents, choose various match types, arena locations, production elements, and more, with the goal of beating a rival GM in weekly ratings battles.
WWE 2K23 MyFACTION Mode
Collect, manage, and upgrade cards of WWE Superstars and Legends to build the ultimate 4-person faction in MyFACTION.
Now featuring online multiplayer, MyFACTION in WWE 2K23 lets you take your faction online and compete for global dominance, or compete in Weekly Towers and Faction Wars, while new themed card packs and goals roll out regularly throughout the year.
WWE 2K23 MyRISE
Aspiring Superstars walk through the curtain for their WWE debut in MyRISE and shape their careers with the decisions made along the way.
Featuring distinct men's and women's division storylines ("The Lock" and "The Legacy"), and the ability to import custom-created Superstars, players' journey from the humble beginnings of a Rookie, to being immortalized as a WWE Legend.
The Lock (Men's story): You're a prominent debuting superstar seen as the "next big thing".
The Legacy (Women's story): You're a 2nd-generation talent following the footsteps of your Hall of Famer aunt.
MyRise in WWE 2K23 also now features the ability to import and export the custom character you use as MyPlayer.
WWE 2K23 Universe Mode
The ultimate WWE Universe sandbox that puts players in charge of their own version of WWE, from Superstar rosters, feuds, champions, weekly shows, and Premium Live Events!
Updates to Universe in WWE 2K23 include a reworked story system and more.
In the WWE 2K23 Universe mode, you will have the ability to pick the actions and cutscenes that you want to happen before and after a match, giving you full control over the development of your storylines.
There are over 100 Rivalry Actions to choose from, such as Ambush, Attack, Cheap Shot, Disrespect, Distraction, Fallout, Reversal, Showdown, Sportmanship and Teamwork.
WWE 2K23 Creation Suite
A signature feature of the WWE 2K franchise, the creation suite returns with cross-platform community creations, including the ability to design custom Superstars, GMs, arenas, entrances, move sets, championships, and more.
Custom arenas are now playable online, and advanced customization has been re-introduced for created entrances.
---
Stay tuned on this page as this guide will be updated with all the main features that will be announced for WWE 2K23.
Which new feature would you like to see in WWE 2K23? Let us know in the comments below!