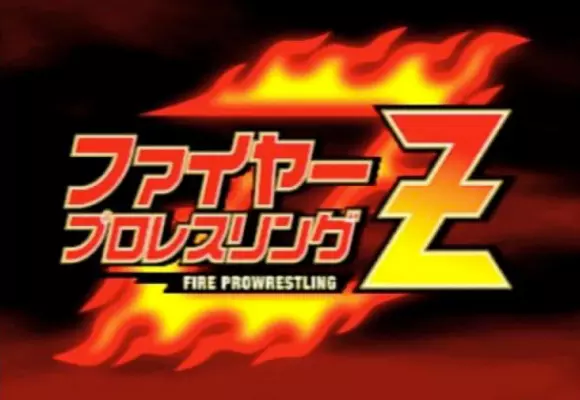 Fire Pro Wrestling is ready for another match, and it's coming to the PlayStation 2! With 9 exciting modes and 237 wrestlers to choose from, Fire Pro Wrestling Z seeks to become the World Champion once again!
Game Modes
One Night Match
This is your standard exhibition mode.
One Night Tournament
Play through a single elimination tournament here.
Open League
Play through a round robin tournament.
Elimination Match
The first team of five to eliminate the other team of five will be declared the winner.
Battle Royal
Up to eight wrestlers compete where only one can leave victorious.
Victory Road
Fight through the numerous organizations and strive to become a champion. You'll unlock additional wrestlers and items for the Edit mode here.
Edit
Customize and create wrestlers, groups and referees here. Up to 216 wrestlers (combining the four Expansion Edit Datas and the System Data) can be made here.
Title Match
Create and defend championships here.
Story Mode
Play as several top wrestlers, each with their respective stories, complete with the old-school points system from past games in the series.
Roster
VJP
Fighter Yamato – Tatsumi Fujinami
Violence Kono – Masahiro Chono
Yujiro Sakata – Yuji Nagata
Buffalo Amamoto – Hiroyoshi Tenzan
Mamoru Takahashi – Manabu Nakanishi
Takayuki Inezuka – Takashi Iizuka
Kintaro Kurano – Kantaro Hoshino
Tetsu Kusamura – Osamu Nishimura
Takao Masuda – Tadao Yasuda
Junichi Hirota – Junji Hirata
Ryuji Sakakibara – Ryushi Yanagisawa
Toshi Goto – Tatsutoshi Goto
Raging Hiro – Hiro Saito
Makoto Yasue – Yutaka Yoshie
Katsuya Akai – Mitsuya Nagai
Masashi Narahashi – Hiroshi Tanahashi
Shungo Nakayama – Shinsuke Nakamura
Michinori Nohara – Michiyoshi Ohara
Blue Jackal – Blue Wolf
Flash Burton – Scott Norton
Giganto Gaba – Giant Silva
Mark Gordon – Mike Barton
Giganto Shiva – Giant Singh
Gin Storm – Jim Steele
Nasty JOE – Super J
Chotei Super Kaiser – Jushin Thunder Liger
Eiji Kamamoto – Koji Kanemoto
JET – HEAT (Minoru Tanaka)
ASUKA – AKIRA
Mado – Jado
Kido – Gedo
E. Kamikaze – El Samurai
Takehiko Makihara – Masahito Kakihara
Mask de Panther 4 – Tiger Mask IV
Takayuki Watase – Masayuki Naruse
Shinya Nakase – Shinya Makabe
Kazuki Yamamoto – Kazuo Yamazaki
Shout Mizoguchi – Animal Hamaguchi
Isamu Mito – Osamu Kido
Inazuma Kengo – Kengo Kimura
Ittetsu Wakamoto – Kotetsu Yamamoto
Dynamic Kid – Dynamite Kid
Toshiaki Igarashi – Kuniaki Kobayashi
Black Panther – Black Tiger
OJP
Thunder Ryu – Genichiro Tenryu
Ken Shundo – Keiji Mutoh
Toshiie Kazama – Toshiaki Kawada
Satoru Kijima – Satoshi Kojima
Ikazuchi – Arashi
Nobuhisa Awaya – Nobutaka Araya
Tomoaki Soma – Tomoaki Honma
Takeshi Minamoto – Kazushi Miyamoto
Abdul the Danger – Abdullah the Butcher
Still James – Steve Williams
Neppu Kua – Taiyo Kea
The Genocide – The Gladiator
Tony Lewis – Johnny Smith
Masanobu Kobuchizawa – Masanobu Fuchi
Bushido Ya Shin – Kendo Ka Shin
Yas Ohashi – Kaz Hayashi
Kungfu Chang – Jimmy Yang
Great Shiba – Giant Baba
Harry Texan Jr. – Dory Funk Jr.
Star Bison – Stan Hansen
Big the G. Bull – Bruiser Brody
Kerry Bogey – Terry Gordy
G.O. Bright – Gary Albright
The Greatest Budo – The Great Muta
John Peace – Johnny Ace
NOVA
Mitsuhide Hikawa – Mitsuharu Misawa
Keiji Togashi – Kenta Kobashi
Shun Akisawa – Jun Akiyama
Yoshinao Nogawa – Yoshinari Ogawa
Akira Sagami – Akira Taue
Rakon Honma – Tamon Honda
Takashi Rikishio – Takeshi Rikio
Takashi Oshima – Takeshi Morishima
Naoki Yano – Naoki Sano
Akiyoshi Naito – Akitoshi Saito
Gyukaku Izumitani – Jun Izumida
Daisaku Hikita – Daisuke Ikeda
Muhammad Tone – Mohammed Yone
Takao Kinoshita – Masao Inoue
Tarantula – Scorpio
Kiyoshi Akechi – Tsuyoshi Kikuchi
Toshinori Hanemaru – Yoshinobu Kanemaru
Naomichi Kadotsuji – Naomichi Marufuji
Masaru Taki – Makoto Hashi
KAZUYA – KENTA
Satoshi Mashiko – Satoru Asako
NEO-1
Crusher Hatamoto – Shinya Hashimoto
Shinichiro Ogari – Shinjiro Otani
Masahiko Hatanaka – Masato Tanaka
Bad Safari – Mat Ghaffari
Bomb Powers – Tom Howard
The Bemster – The Predator
Steel Moreno – Steve Corino
Iwahito Takatatsu – Tatsuhito Takaiwa
Tatsuhito Okawara – Kazuhiko Ogasawara
Naohiro Hashizawa – Naohiro Hoshikawa
Bow-Li – Low-Ki
UNO
Hiroya Nogawa – Naoya Ogawa
Masayuki Kajita – Kazuyuki Fujita
Kazuki Inugami – Kazunari Murakami
Victory Musashi – Antonio Inoki
Sanada Dojo
Kazuki Kashiwada – Kazushi Sakuraba
Nobuhisa Sanada – Nobuhiko Takada
Nobuhiro Kawamoto – Nobuhisa Yamamoto
EWF
Tetsuhiko Murota – Tetsuhiro Kuroda
Winning Kamemura – Kintaro Kanemura
Saxon Haruki – Hiromichi Fuyuki
YUKIGUNI
Jinsui Kanzaki – Jinsei Shinzaki
Gran Mariposa – Gran Hamada
Blade Hayate – The Great Sasuke
Rick Saijo – Dick Togo
Rocky Tsuji – Ricky Fuji
Kali Mask – Curry Man
CHORYUKAN
ZYMA – CIMA
Masanari Gozuki – Masaaki Mochizuki
Walther KYOTO – Magnum TOKYO
KUGA – SUWA
Dick Tsuji – Big Fuji
Azteca Junior – Dragon Kid
Susumu Gozuki – Susumu Yokosuka
Azteca Dragon – Ultimo Dragon
Yasushi Manda – Yasushi Kanda
ZIP Japan
Ryuji Kawayama – Ryuji Yamakawa
Darkness XXX – Shadow WX
Kerry Boy – Terry Boy (MEN'S Teioh)
Kansai Pro
S. Dolphin – Super Delfin
Takehiro Kuranaka – Takehiro Murahama
Delta – Gamma
S-DOJO
WAKA Yukiguni – TAKA Michinoku
Mitsuru Kajita – Minoru Fujita
Freelance
Yoshihiro Koyama – Yoshihiro Takayama
Jo Kajiwara – Yoshiaki Fujiwara
Katsushi Okita – Atsushi Onita
Shoji Ando – Yoji Anjo
Takeo Obayashi – Takao Omori
Ranmaru – Hayabusa
Hunter Gojo – Tarzan Goto
Hercules Ozuki – Alexander Otsuka
Master Togo – Mister Pogo
Mr. Ashiya – Mister Gannosuke
Dinosaur Takagi – Mammoth Sasaki
Toui Ishihara – Yuki Ishikawa
Danger Matsubara – Mitsuhiro Matsunaga
Hisakatsu Koya – Hisakatsu Oya
HANZO – GOEMON
Golden Hammer – Goldberg
Tattoo – Sabu
Regina – Chyna
Masao Orikura – Masao Orihara
Doran Otowa – Gran Naniwa
Ryuto Mitaka – Ikuto Hidaka
Shigoro Sakaki – Sanshiro Takagi
Borei – Onryo
The Mysterious Kagura – The Great Kabuki
AWG
Giant Roussimoff – Andre the Giant
Mad Tiger – Tiger Jeet Singh
Sargeant Smith – Rick Steiner
Crazy Rose – Scott Hall
Bill Barrett – Jeff Jarrett
Smasher GG Gigas – Bam Bam Bigelow
Night Blaster – Hawk Warrior
Iron Blaster – Animal Warrior
Kerry Texan – Terry Funk
Brad Love – Bret Hart
The Spike – Sting
Funkmaster Max – Randy Savage
Set Dickas – Sid Vicious
Three-A
Mascara Eagle Jr. – Dos Caras Jr.
E. Santos – El Hijo Del Santo
Niebla Chaos – Negro Casas
D. Silver Jr. – Doctor Wagner Jr.
Black Panther 3 – Black Tiger III (Silver King)
Mascara Condor – Mil Mascaras
Mascara Eagle – Dos Caras
High Class
Mitsuru Mizuki – Minoru Suzuki
Yuki Sendo – Yuki Kondo
Kaname Kikuma – Sanae Kikuta
Nobuhito Hinowa – Ikuhisa Minowa
Toshiki Takaishi – Yoshiki Takahashi
Makoto Higaki – Masakatsu Funaki
Shoot Fighters
Hideyoshi Nashida – Hidehiko Yoshida
Masayuki Sadake – Masaaki Satake
Takashi Nemura – Kiyoshi Tamura
Taishi Hosaka – Tsuyoshi Kosaka
Fumiya Kato – Rumina Sato
Hisashi Kaneshiro – Hiromitsu Kanehara
Sam Popp – Bob Sapp
Nickson Stacie – Rickson Gracie
Voice Stacie – Royce Gracie
Centaurus Bohemia – Antonio Rodrigo Nogueira
Tom Chuckman – Mark Coleman
Bem Sturm – Semmy Schilt
Sergei Robhankin – Igor Vovchanchyn
Micro Pro-Police – Mirko CroCop
Hornet Ghost – Ernesto Hoost
Paul Savannah – Jerome Le Banner
Cheetah Karl – Peter Aerts
Bake Gerhart – Mike Bernardo
B.B. Badedge – Gary Goodridge
Andrei Silva – Wanderlei Silva
Kain Harlock – Ken Shamrock
Ricardo Gabriel – Tariel Bitsadze
Wolf Burn – Volk Han
Mike Bear – Mark Kerr
Lance Hyman – Hans Nijman
Satoru Sakaya – Wataru Sakata
Akira Saeba – Akira Maeda
Sennen Kinoshita – Ensen Inoue
Neverland Roche – Roland Bock
Hercules Alevin – Aliksandr Karelin
Andre Hag – Andy Hug
Joshi
Tigress Nasuka – Lioness Asuka
Shizuka Nakayo – Chigusa Nagayo
Shioru Kanzaki – Shinobu Kandori
Raja Dunk – Aja Kong
Ryoko Kinoshita – Kyoko Inoue
Nanami Yokota – Manami Toyota
Grenade Saikyo – Dynamite Kansai
Akiko Fussa – Yumiko Hotta
Kanako Kinoshita – Takako Inoue
Moe Takahashi – Momoe Nakanishi
Ayano Sakata – Ayako Hamada
Bulldozer Takao – Bull Nakano
Hikaru Nanto – Akira Hokuto
Legends
Karlos Krauser – Karl Gotch
R.J. Phase – Lou Thesz
Rikiozan – Rikidozan
Global Japan
Hurricane Rikimaru – Riki Choshu
Storm Keisuke – Kensuke Sasaki
Samurai Jiroh – Shiro Koshinaka
Yoshiyuki Aizu – Yoshiaki Yatsu
Keizo Mizuki – Kenzo Suzuki
Bone Cry – Don Frye