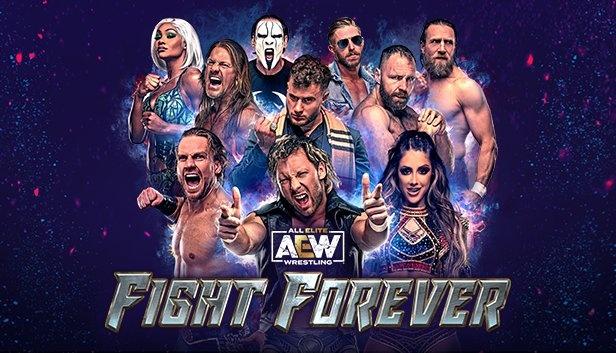 Game Series

AEW Games

Release Date

February 1, 2023

Publisher

AEW GamesTHQ Nordic

Developer

Yuke's
Believe the Unbelievable. Achieve the Unachievable. Expect the Unexpected.
The highly anticipated console game for All Elite Wrestling has been officially announced, and it's being developed by the renowned videogame developer Yuke's.
Back in May 2019, Yuke's announced they were working on a new wrestling game, departing from the main WWE Games series after developing it for over 20 years.
Yuke's and AEW have joined forces in a historic partnership, that not only sees AEW competing against WWE, but also sees Yuke's competing against WWE 2K22 and their former WWE license, still owned by 2K Sports.
Below you can find everything you need to know about the AEW console game "AEW Fight Forever", the confirmed Features and Roster, the Reveal Trailer, and the first screenshots.
AEW Fight Forever Release Date:
The upcoming AEW Console Game developed by Yuke's is currently in development and is set to be released for both current-gen consoles (PS4 & Xbox One) as well as next-generation consoles (PS5 & Xbox Series X), and Windows PC.
The exact release date of the AEW console game is unconfirmed, but the placeholder release date on Amazon has been listed as December 31, 2022. Kenny Omega also mentioned the game should be released in 2022.
AEW Fight Forever Features Confirmed:
Official Game Info:
Developed by acclaimed wrestling game developer Yuke's, AEW Fight Forever is the first video game officially licensed by All Elite Wrestling.

The best of the best from the AEW talent roster means players can look forward to playing as some of the most legendary wrestlers to enter the ring plus all-new, high-flying AEW talent! AEW: Fight Forever combine nostalgic, arcade-wrestler feel with innovative AEW finishers and tandem offense moves!

Online cooperative wrestling is going completely next level in Fight Forever with Tag Team matches that feature sequences of team maneuvers performed with simple commands. A deep career mode, wrestler customization, signature AEW arenas, multiple match types, and more match types than you can count, including some good ol' fashioned, unsanctioned fun, all await!
Key Features:
Combines nostalgic arcade wrestling feel with innovative All Elite Wrestling finishers and offensive moves.
The talent roster combines the biggest legends to enter the ring plus brand new, high-flying AEW stars!
Match types: Single, Tag-Team, 3-way, 4-way, Ladder, Casino Battle Royale, Falls Count Anywhere, Unsanctioned Lights Out, Exploding Barbed Wire Deathmatch
Online cooperative multiplayer, with Tag team matches featuring a sequence of team maneuvers performed with simple commands.
Career Mode: A deep career mode that highlights the fun and personality of an All Elite Wrestler's life on the road. Players can create and develop their own wrestler who joins the AEW roster and appears in matches and stories over an event schedule. Points are earned by winning matches and fulfilling certain objectives which can then be used to enhance their wrestler's stats.
Wide range of customization options: wrestler attire and appearance, movesets, entrances, teams, and arenas!
More than 40 weapons
Minigames
Daily and weekly challenges
More Revealed Features:
The following is the list of confirmed features we've gathered from official sources and various interviews:
Art Style: The current visual style of the game is said to be inspired by WWF No Mercy and Virtual Pro Wrestling, with a more arcade look and feel than the WWE Games series
Gameplay: The gameplay is inspired by WWF No Mercy and Here Comes The Pain. It will be a modern-day version of those classic games, with fast fluid hard-hitting gameplay, a variety and depth of moves, and a lot of unique and brand-new gameplay concepts and mechanics. It will still be a realistic game, with realistic moves and counters, but will be more fast-paced compared to a full simulation game.
Engine: The game will be based on an entirely new engine. Yuke's is using a new game engine built from scratch.
Game Modes: The game will feature a Campaign Mode. It will not feature a GM Mode, as that's included in the AEW Elite GM game. Other than that, it has been stated that the game "will have the modes that fans expect to be in there".
Create-A-Wrestler: A deep Create-A-Wrestler mode will of course be part of the game, with a robust feature-set. You will be able to create any wrestler you want, from wacky characters to realistic wrestlers from other promotions.
Create-A-Moveset: A Create-A-Moveset mode is also confirmed for the game.
Online Play: The game will feature Online Competitive Multiplayer. You will be able to play with your friends, against your friends, with all sorts of options and all match types. AEW is also exploring ways to allow for Cross-Platforms play and other innovative features.
Intergender Matches: As shown in the teaser trailer with Kenny Omega facing Hikaru Shida, Intergender matches will be possible in the game. The trailer includes the tagline "where dream matches become reality".
Blood: Wrestlers will be able to bleed in the game, and the blood will remain on the ring mat.
More confirmations will be added soon.
AEW Fight Forever Roster Confirmed:
The AEW Console Game will come with an extensive roster of All Elite Wrestling Superstars, both male and female.
See the wrestlers confirmed so far to appear in the upcoming AEW videogame, on our AEW Fight Forever Roster Page.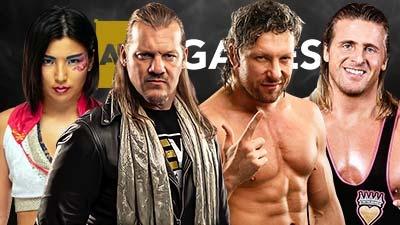 AEW Fight Forever Arenas Confirmed:
Below you find a list of the Arenas confirmed so far, for the upcoming console game of All Elite Wrestling, developed by Yukes.
More confirmations will be added soon.
AEW Console Game Screenshots:
The game is still in early development, the footage shown may not be representative of the final product.
AEW Console Game Reveal Trailer