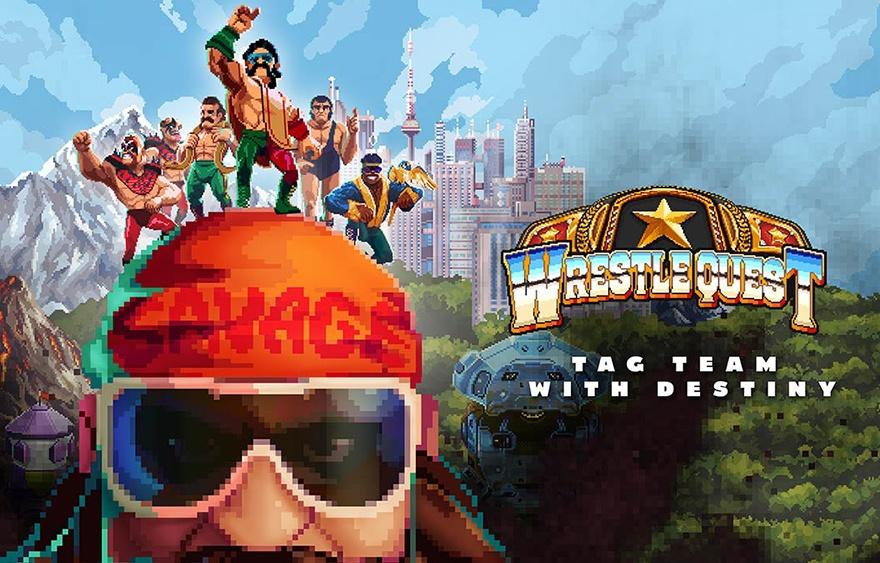 Game Series

Independent Games

Release Date

August 8, 2023

Publisher

Skybound Games

Developer

Mega Cat Studios
Pro wrestling and RPG fantasy collide in the ultimate pixel-powered adventure WrestleQuest! "Macho Man" Randy Savage and tons of other icons offer guidance as you powerbomb your way to glory beyond the ring!
TAG TEAM WITH DESTINY!
THE ULTIMATE PRO WRESTLING ADVENTURE Powerbomb and piledrive your way through a massive pixel art universe where professional wrestling and RPG fantasy collide.
WRESTLE WITH DESTINY Take a hero's journey ...in tights! Upgrade from aspiring rookie to world champ by training, learning, glamming, and SLAMMING to the top of the pro wrestling food chain.
YOUR IDOLS AWAIT Draw inspiration from wrestling icons like "Macho Man" Randy Savage, Jake the Snake Roberts and even Andre the Giant. Explore worlds based on their lofty careers.
HEART-POUNDING ACTION Classic RPG combat meet wrestling moves, match styles, and gimmicks galore.
GOOD GUYS, BAD GUYS, LIZARDS, ROBOTS, AND MORE Wild realms, exotic monsters, action figure fighters, and spandexed allies await as this fantasy goes beyond the ring.
GEAR UP ON YOUR WAY TO THE TOP Choose your moves, style, taunts, and even your entrance as you learn what it takes to be the cream of the crop in the pro wrestling world of your dreams.
WrestleQuest Roster:
In WrestleQuest, players assume the role of a young wrestling hopeful, on their quest to become one of the all-time greats. During your journey, various wrestling legends will assist you, including "Macho Man" Randy Savage, Bret Hart, Jake "The Snake" Roberts, and more.
Here is the Roster of wrestling legends appearing in WrestleQuest:
WrestleQuest Screenshots
WrestleQuest Announce Trailer