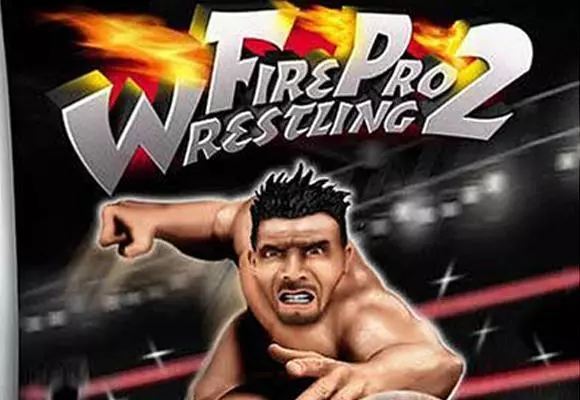 Description
Feel The Heat!
- Choose from over 200 wrestlers and 18 organizations.
- Make more than 75 different wrestlers and 5 original organizations.
- Customize every detail of a wrestler's appearance.
- Use more than 1,200 different fighting techniques
- Choose from several match modes including Normal, Deathmatch, Gruesome, and Battle Royal.
- Manage the career of your wrestler and work your way up to unlock hidden wrestlers in Ironman Road.
The game features 244 playable characters, and an extra 20 characters, bumping the roster size to 264.
Game Modes
One Night Match
This is your Exhibition mode, where you can play Normal matches, Cage Deathmatches, MMA matches, and Battle Royals, all with customizable rules, arenas & rings, and referees. Multiplayer is possible, but a Link Cable is required.
Management of the Ring
Select a federation or create your own. The mode allows players to create their own shows whilst managing their company with Production, Merchandising, Facilities and more. It's here that you'll unlock additional wrestlers to play as.
Practice Mode
You'll be able to learn the controls here.
Edit
Create and customize wrestlers and federations here.
Roster (Real Names only) [Unlockables]
New Japan Pro Wrestling
Tatsumi Fujinami

[Riki Chosu]

[Masa Saito]

Kensuke Sasaki

Yuji Nagata

Manabu Nakanishi

[Kazuo Yamazaki]

Shiro Koshinaka

[Kengo Kimura]

[Super Strong Machine]

Osamu Nishimura

Takashi Iizuka

[Osamu Kido]

Yutaka Yoshie

[Kenzo Suzuki]

[Hiroshi Tanahashi]

Don Frye

[Dick Murdoch]

[Salman Hashimikov]

Super J

[Koutetsu Yamamoto]

[Tiger Mask]

Jushin "Thunder" Liger

El Samurai

Masahito Kakihara

Minoru Tanaka

Masayuki Naruse

Team 2000
Masahiro Chono

Hiroyoshi Tenzan

Tatsutoshi Gotoh

Hiro Saito

Scott Norton

[Giant Silva]

[Giant Singh]

Koji Kanemoto

AKIRA

Jado

Gedo

All Japan Pro Wrestling
[Giant Baba]

[Jumbo Tsuruta]

Keiji Mutoh

Genichiro Tenryu

Toshiaki Kawada

Satoshi Kojima

Hiroshi Hase

[The Great Kabuki]

[Hiroshi Wajima]

Mitsuya Nagai

Nobutaku Araya

[Stan Hansen]

"Dr. Death" Steve Williams

Abdullah The Butcher

[The Sheik]

[Terry Gordy]

[Gary Albright]

Mike Barton

Taiyo Kea

Johnny Smith

[Giant Kimala II]

Jim Steele

Masanori Obuchi

Kendo KaShin



Pro Wrestling NOAH
Mitsuharu Misawa

Kenta Kobashi

Jun Akiyama

Yoshihiro Takayama

Takao Omori

Akira Taue

Tamon Honda

Yoshinari Ogawa

Akitoshi Saito

Takuma Sano

Daisuke Ikeda

Masao Inoue

Kentaro Shiga

Takeshi Rikio

Takeshi Morishima

Jun Iizumida

Mohammad Yone

[Takashi Suguira]

"Big Van" Vader

Naomichi Marufuji

Yoshinobu Kanemaru

Tsuyoshi Kikuchi

[Mike Modest]

Zero-One
Shinya Hashimoto

Shinjiro Ohtani

Masato Tanaka

Mark Kerr

[Tom Howard]

Gerard Gordeau

Tatsuhito Takaiwa

UFO
[Antonio Inoki]

Naoya Ogawa

Kazuyuki Fujita

Tadao Yasuda

Kazunari Murakami

FMW
Hiromichi Fuyuki

Hayabusa

Mr. Gannosuke

Tetsuhiro Kuroda

Kintaro "W*ING" Kanemura

[Mammoth Sasaki]

Hisakatsu Ohya

GOEMON

Ricky Fuji

Michinoku Pro
Jinsei Shinzaki

The Great Sasuke

Gran Hamada

Dick Togo

Tiger Mask IV

Curry Man

Toryumon
[Ultimo Dragon]

CIMA

Magnum TOKYO

SUWA

Masaaki Mochizuki

Don Fuji

Dragon Kid

WWF/E
Hulk Hogan

[Ric Flair]

"Stone Cold" Steve Austin

The Rock

Undertaker

Kevin Nash

Scott Hall

Triple H

Kane

[Shawn Michaels]

[Mankind]

Kurt Angle

Chris Jericho

Chris Benoit

Rob Van Dam

The Big Show

Bob Backlund

Booker T

[William Regal]

Diamond Dallas Page

Mike Awesome

[Bubba Ray Dudley]

[D-Von Dudley]

"The British Bulldog" Davey Boy Smith

[Dynamite Kid]

[Yoshihiro Tajiri]

TAKA Michinoku

X-Pac

Vince McMahon

Shane McMahon

[Stacy Keibler]

[Trish Stratus]

WCW
[Bill Goldberg]

Road Warrior Hawk

Road Warrior Animal

Sting

[The Great Muta]

Bret Hart

Scott Steiner

Rick Steiner

Randy Savage

Bam Bam Bigelow

Juventud Guerrera

AAA
[Mil Mascaras]

Dos Caras

[Dos Caras Jr.]

El Hijo Del Santo

Eddie Guerrero

Rey Mysterio

Dr. Wagner, Jr.

Black Tiger III

Negro Casas

Rings
[Akira Maeda]

Tsuyoshi Kousaka

Hiromitsu Kanehara

Volk Han

Bitsadze Tariel

Andrei Kopilov

Pancrase
[Masakatsu Funaki]

Sanae Kikuta

Minoru Suzuki

Yoshiki Takahashi

Yuki Kondo

Ikuhisa Minowa

Semmy Schilt

Pride
Nobuhiko Takada

Kazushi Sakuraba

Yoshihisa Yamamoto

Antonio Rodrigo Noguiera

Mark Coleman

Igor Vovchanchyn

Gary Goodridge

Wanderlei Silva

Shoot Fighters
[Rickson Gracie]

[Aleksandr Karelin]

[Roland Bock]

Ken Shamrock

Bas Rutten

[Ernesto Hoost]

[Peter Aerts]

[Mirko "Cro Cop" Filipovic]

[Jerome Lebanner]

[Fracisco Filho]

[Royce Gracie]

[Renzo Gracie]

Free Agents
[Atsushi Onita]
Kiyoshi Tamura
Yoshiaki Fujiwara
Yoshiaki Yatsu
[Koji Kitao]
Yoji Anjoh
Michiyoshi Ohara
Yuki Ishizawa
Alexander Otsuka
Mitsuhiro Matsunaga
Tarzan Gotoh
Mr. Pogo
[Osamu Tachihikari]
Shoji Nakamaki
Terry Funk
Tiger Jeet Singh
Dory Funk, Jr.
Johnny Ace
Sabu
[Leatherface] (from the Texas Chainsaw Massacre films)
[Freddy Krueger] (from The Nightmare on Elm Street films)
Super Delfin
[Takehiro Murahama]
Masao Orihara
Gran Naniwa
Legends
[Rikidozan]
[Karl Gotch]
[Lou Thesz]
[Killer Kahn]
[Bruiser Brody]
[Andre The Giant]
[Bruce Lee]
[Masutatsu Oyama]
[Guts Ishimatsu]
[Nankairyu]
[Ryoko Tamura]
[The Monsterman]
[Chuck Norris]
[Raja Lion]
[Kazuhiro Kiyohara]
Extra
Edge (WWF/E)
Eddie Guerrero (WWF/E)
Goldust (WWF/E)
Brock Lesnar (WWF/E)
Matt Hardy (WWF/E)
Jeff Hardy (WWF/E)
Lita (WWF/E)
The Sandman (ECW)
Tommy Dreamer (ECW)
Dusty Rhodes (Free)
Ted DiBiase (Free)
Ultimate Warrior (Free)
Chyna (Free)
Harley Race (Legend)
Jimmy Snuka (Legend)
Rick Rude (Legend)
Rocky Balboa (SPECIAL)
Batman (SPECIAL)
Robin (SPECIAL)
Big Bear (SPECIAL)