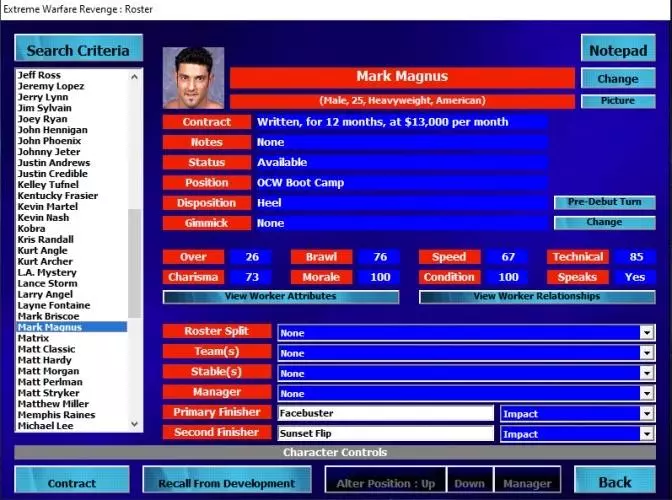 Developed & published by Adam Ryland.
The third game in the series expands further than before, and allows everything in a wrestling event be controlled by the player. In previous installments, angles, interviews, and finishes were randomly made. This coincides with the new feud system that counts matches, angles, and interview victories between the workers involved. The match reports also changed slightly, featuring reviews of the matches from various internet columnists.
The game world has changed drastically as well thanks to the inclusion of the promotion size feature, thus allowing many North American based promotions from backyard federations, to cult-sized promotions like Ring of Honor, to global promotions such as WWE to be included.
Until July 2003, EWR would receive numerous updates and changes, including changes to the TV timeslot system, where the further away from a prime time slot a TV event is shown, the fewer segments you get to book with. The Internet feature was increased to include websites for independent promotions, one for backstage gossip, and a website for your promotion. Another inclusion is Worker Relationships to bring in backstage politics. Workers could also be in multiple teams with a statistic for experience which increases with each match fought together. Also added were Gimmicks, this was for wrestlers to use which would affect the overness of a worker over how strong a gimmick is. Additional changes were made to adapt to independent promotions, including workers having multiple open contracts, enabling them to work up to 3 promotions, and even allowing workers to go on Japanese tours, thus affecting the booking of cards. Viewing a wrestler's portrait was also added as an option.
Matches
1 vs 1
Singles
Guest Referee
Hardcore
Submission
Ladder
Tables
Cage
Texas Death
Last Man Standing
Falls Count Anywhere
Iron Man
Bra and Panties
I Quit
Inferno
Hell In A Cell
High Incident
First Blood
2 vs 2
Tag
Guest Referee
Hardcore
Ladder
Tables
Cage
1 vs 1 vs 1
Elimination
Triangle
Hardcore
Cage
2 vs 2 vs 2
Elimination
Triangle
Ladder
TLC
1 vs 1 vs 1 vs 1
2 vs 2 vs 2 vs 2
3 vs 3
4 vs 4
5 vs 5
Handicap
Special
Royal Rumble
20 Man Battle Royal
10 Man Battle Royal
Overall Worker Roster
2 Dope
2 Tuff Tony
911
A.C. Riddick
A-1
Aaron Idol
Aaron Stevens
Abbadon
Abdullah Kobayashi
Abdullah The Butcher
Abudadein
Abunai
Abyss
Ace Darling
Ace Spalding
Ace Steel
Acid
Adam Booker
Adam Cage
Adam Firestorm
Adam Flash
Adam Hastey
Adam Jacobs
Adam Pierce
Adam Windsor
Adara James
Adidas Fabulous
Adrian Serrano
Adrianna Belli
Aero
Agent Steele
Ahmed Johnson
Aidan Nathans
Air Paris
AJ
AJ Styles
Aki Mann
Al B. Damm
Al Katrazz
Al Snow
Alan Funk
Alan Johnson
Alcatraz
Alec Prokushev
Alex Arion
Alex Porteau
Alex Shane
Alex Shelley
Alex Wright
Alexis Laree
Alicia
Allison Danger
Alter Boy Luke
Alter Boy Matthew
Alura
Alex Wynters
Amanda Storm
Amazing N8
Amazing Red
Amber
American Kick Boxer
American Wild Child
Amoretto Mitsuko
Amy Action
Anarchy
Andre Baker
Andrew Hellman
Andy Anderson
Andy Barden
Andy Jaxx
Angel
Angel Dust
Angela
Angus
Anthony Bartlett Jr
Anthony Durante
Anthony Michaels
Anthony W. Mori
Antonio Banks
Apocalypse
Apollo Kahn
Apolo
April Hunter
Ariel
Armageddon
Armand Rougeau
Ash Parker
Ashe
Ashley Hudson
Asian Cougar
Astin Ambrose
Athena
A-Train
Austin Aries
Austin Lee
Avalon
Axis
Axl Law
Axl Rotten
Azrael
B.W. Brown
B.G. James
Balls Mahoney
Bam Bam Bambi
Bam Bam Bigelow
Barrabas
Barry Casino
Barry Darsow
Barry Horowitz
Barry Windham
Bart Blaxxon
Bas Rutten
Batista
B-Boy
Beau Douglas
Beef Wellington
Belle Lovitz
Big Al
Big Bully Douglas
Big Daddy Gonzo
Big Dave
Big Kahuna
Big Mac Smack
Big Machine
Big Ron Studd
Big Show
Big Vito
Big Will
Bill Alfonso
Bill DeMott
Bill Dundee
Bill Hughes
Bill Mueler
Billy 2 Eagles
Billy Bax
Billy Dream
Billy Fives
Billy Gunn
Billy Kidman
Billy Kim
Billy Redwood
Billy Reil
Bilvis Wesley
Bio-Hazard
Bison Smith
BJ Whitmer
Black Dragon
Black Pearl
Blackstallion Mastrocola
Blade
Blind Rage
Blitzkrieg
Blue Meanie
Bo Dupp
Bob Backlund
Bob Brown Jr.
Bobbi Jo Jablonski
Bobby Eaton
Bobby Quance
Bobby Rude
Bobby Walker
Bobcat
Boogalou
Booker T
Boss Man
Boyce LeGrande
Brad Attitude
Brad Hunter
Bradshaw
Brandi Alexander
Brandon K
Brandon P
Brandon Robinson
Bret Albright
Bret Hart
Brian Adams
Brian Anthony
Brian Bedlam
Brian Black
Brian Carlucchi
Brian Knobbs
Brian Lawler
Brian Lee
Brian Sommers
Brian XL
Brickhouse Baker
Brittany Summers
Brock Guffman
Brock Lesnar
Brock Singleton
Brother Clay
Brother Yassini
Bryan Clarke
Bryan Danielson
Bryan Wenzel
Brymm Stone
Bubba Ray Dudley
Buck Wylde
Buff Bagwell
Buff E
Buffy
Bulk
Bull Buchanan
Bull Pain
Bull Schmitt
Bushwhacker Butch
Bushwhacker Luke
Cade Sydal
Caesar Suave
Candie
Caprice Coleman
Carl Contini
Carlito Montana
Carlton Kaz
Carlton P. Hightower
Carly Colon
Caryn Mower
Casey Thompson
Cash Flo
Cassidy O'Reilly
Catastrophe
Chad
Chad Collyer
Chad Dobbins
Chad Fortune
Chamera
Chance Beckett
Chance Prophet
Chaos
Charlie Haas
Chase Stevens
Chavo Guerrero
Chaz Warrington
Cheechuck
Cheerleader Melissa
Cheetah Master
Chet Jablonski
Chi Chi Cruz
Chicky Starr
Chilly Willy
Chip Douglas
Chip Fairway
Chris Alexander
Chris Benoit
Chris Blackheart
Chris Candido
Chris Cash
Chris Charger
Chris Chavis
Chris Chetti
Chris Curtis
Chris Devine
Chris Hamrick
Chris Hero
Chris Jericho
Chris Justice
Chris Kanyon
Chris Kole
Chris Michaels
Chris Mordetsky
Chris Nelson
Chris Nowinski
Chris Sabin
Chris Steele
Chris Stylez
Chris Sydal
Christian
Christian York
Christopher Daniels
Christopher Idol
Christopher Taylor
Chuck E. Smooth
Chuck Palumbo
Church
Ciara Wild
Cliff Compton
CM Punk
Cody Crowe
Cody Hawk
Colt Cabana
Comic Book Guy Anderson
Concession Boy
Conscience
Corky
Corporal Robinson
Cory Kastle
Crappy The Clown
Crazy Mexican
Cremator
Cru Jones
Cuefa
Curt Daniels
Curt Fury
Curve
CW Anderson
Dale Price
Damien
Damien 666
Damien Kass
Dan Devine
Dan Evans
Dan Severn
Dan The Man
Dangerous Dave
Daniel Flynn
Danny Basham
Danny Carney
Danny Dallas
Danny Daniels
Danny Dominion
Danny Doring
Danny Drake
Danny Garnell
Danny Maff
Danny Rose
Daron Smythe
Dash Bennett
Dave
Dave Greco
Dave Johnson
Dave McMillan
Dave Powers
Dave Swift
David Babylon
David Flair
David Levy
David Young
Dawn Marie
DC Drake
Dean Champion
Dean Jablonski
Dean Powers
Deathrow Jethro
Del Rios
Dennis Allen
Deranged
Derek Frazier
Derek McQuinn
Derek Wylde
Derik Destiny
Derrick King
Derrick Neikirk
Desire
Destiny
Devin Devine
Devin Nash
DeVius
Devon Fury
Devon Storm
Diablo Santiago
Dick Togo
Dick Trimmons
Dino
Dino Scarlo
Dirk Ciglar
Dirtbike Kid
Dirty Man Dempsey
Disco Fury
Disco Machine
Dixie
D'Lo Brown
Doc Dean
Doc Schultz
Doink The Clown
Don Callis
Don Crisis
Don E Allen
Don Harris
Don Juan
Don Montoya
Donnie Bon Jovi
Donnie Rotten
Donovan Morgan
Doug Basham
Doug Delicious
Doug Furnas
Doug Gilbert
Doug Williams
Dow Jones
Dr. Feelgood
Dr. Heresy
Dr. Hurtz
Dr. Luther
Dr. Wagner Jr.
Drew Johnson
Drezden
Dropkick Murphy
Drunk Irishman
Duke Durango
Dukes Dalton
Dunn
Dutch Mantell
D-Von Dudley
Dylan Dean
Dynamite D
Dysfunction
E.C. Negro
E.S. Easton
Earl The Pearl
Earthquake
Ebessan
Eddie Craven
Eddie Guerrero
Eddie Mustang
Eddie Valentine
Edge
Eki Fatu
El Dandy
El Midgeeto
Elax
Elegant Emma
Elix Skipper
Elsa Bangz
Enygma
Eric Angle
Eric Bischoff
Eric Cobian
Eric Darkstorm
Eric El Gladiador
Eric Gracie
Eric Justice
Eric Tuttle
Erica Porter
Erik Watts
Erin Bray
Ernest Miller
Evan Karagias
EZ Money
Fabulous
Fabulous Frederick
Fantastic Frank
Fantasy
Fast Eddie
Father Juan Valdez
Father Ozzy
Feltcher
Fergal Devitt
Fidel Sierra
Five Star Flash
Flash
Flash Barker
Fluff Dupp
Francine
Frank Parker
Frank Shamrock
Frankie Armadillo
Frankie Capone
Frankie Fuji
Frankie Kazarian
Fred Curry Jr.
Fred Williams
Freddie Laguardia
Funaki
Gabriel
Gabriel Knight
Gail Kim
Gangrel
Garrison Cade
Gary Steele
Gary Wolfe
Gavin Quest
Gedo
Gene Snisky
Generalin Intikami
Genesis
George Frankenstein
George Hines
Ghost Shadow
Ghostwalker
Giant Gonzales
Giant Singh
Gillberg
Gino Gambino
Giovanni Roselli
Glen Osbourne
Glen Ruth
Glenn Gilberti
Godfather
Goldberg
Goldust
Gorilla
Gotti
GQ Smooth
Grayson P. Alexander
Greg Matthews
Greg Pawluk
Greg Valentine
Gregory E. Dryfuss
Guillotine LeGrande
Gutter
Hack Meyers
Hade Vansen
Haku
Halloween
Hardcore Holly
Hardcore Homo Angel
Hardcore Kidd
Harden Bradley
Harley Lewis
Harry Smith
Havoc
Havok
Hawk Younkins
HC Loc
Headhunter A
Headhunter B
Heather Savage
Helena Heavenly
Henry Hoss
Henry Sugawara III
Highlander
Hollywood
Homeless Jimmy
Homicide
Honeysuckle Rose
Honky Tonk Man
Hook Bomberry
Horace Hogan
Horshu
Hoss
Hotstuff Hernandez
Hugh Mungus
Hulk Hogan
Hurricane
Hurricane Havoc
Hurricane Kidd
Hydro
Ian Harrison
Ian Knoxx
Iceberg
Ikaitia Loa
Ikuto Hidaka
Inferno
Insane Dragon
Irwin Quintin
Isaac Shemin
Ivory
Izzy
J.B. Destiny
J.C. Bailey
J.J. Johnston
J.J. Kodiak
J.P. Munro
J.R. Ryder
Jacey North
Jack Bull
Jack Victory
Jack Xavier
Jacqueline
Jade
Jado
Jafar
Jake Bishop
Jake Lawless
Jamal
James Hendrix
James Keenan
James Mason
James Mitchell
James Tighe
James Watkins
Jamie Dundee
Jamie Noble
Japanese Pool Boy
Jardi Frantz
Jason Allgood
Jason Anderson
Jason Breeze
Jason Carter
Jason Cross
Jason Dobbins
Jason Knight
Jason Lee
Jason Sugarman
Jaxon Breeze
Jay Briscoe
Jay Freeze
Jay Jacobs
Jayden Draigo
Jazmynn Viktoria
Jazz
J-Dawg
Jeff Bradley
Jeff Hardy
Jeff Roth
Jeff Shapiro
Jeremy Lopez
Jeremy Travis
Jeremy V
Jerrelle Clark
Jerry Flynn
Jerry Lynn
Jerry Sags
Jersey Devil
Jessica Dally
Jessica Darlin
Jester
Jet Jaguar
Jett Taylor
Jezebel
Jim Duggan
Jim Nastic
Jim Neidhart
Jimbo Richards
Jimmy Cicero
Jimmy Jacobs
Jimmy Rave
Jimmy Snuka Jr
Jimmy Vegas
Jimmy Yang
Jinsei Shinzaki
Jo Jo Fantastico
Joanie Laurer
Jodi X
Jody Fleisch
Joe Rules
Joel Gertner
Joel Maximo
Joey Abs
Joey Corman
Joey Guttermouth
Joey Idol
Joey Image
Joey Matthews
Joey Maxx
Joey Ryan
John Cena
John Dalton
John Hennigan
John Hope
John Kronus
John Paisano
John Phoenix
John Ritchie
John Walters
Johnny Angel
Johnny Canuck
Johnny Curtis
Johnny Devine
Johnny Gold
Johnny Grunge
Johnny Jeter
Johnny Jett
Johnny Kashmere
Johnny Maxx
Johnny Moss
Johnny Smith
Johnny Stamboli
Johnny Vandal
Johnny Webb
Jon Dahmer
Jon Ryan
Jonah Edelman
Jonny C.
Jonny Storm
Jorge Estrada
Jose Maximo
Joseth Castle
Josh Besore
Josh Cody
Josh Lazie
Josh Prohibition
Josh Wilcox
J-Rocc
JT Jobber
JT Lightning
JT Smith
JT Stahr
J-Train
Juantastico
Judas Young
Jude
Juggernaut
Julio Dinero
Jumbo Joe Gunns
Justice Pain
Justin Credible
Justin Idol
Justin Richards
Justin Sane
Juvi Guerrera
K.C. Blade
Kamala
Kamikaze Kid
Kane
Kara Slice
Kasanova Kato
Kasper Cornish
Kassius
Katarina Heiss
Katsushi Takemura
Kaz Hayashi
Keiji Sakota
Keith Kohl
Kelly Bell
Ken Anderson
Ken Shamrock
Kenny Bolin
Kenny Kaos
Kent Kohl
Kenzo Suzuki
Kevin Hardnetti
Kevin Matthews
Kevin Nash
Khull
Kid Cupid
Kid Kash
Kid Romeo
Kid Vicious
Kidd Video Fabulous
KidRageous
Killswitch
King Kong Bundy
Kirk Melnick
Kittie
Kliff Hanger
Konnan
Konrad
Kory Williams
Krazy K
Kriss Sprules
Kumiko Indohara
Kurrgan
Kurt Angle
Kurt Lauderdale
Kurupt Pickney
Kyle Storm
Kylee
La Parka
LA Smooth
Ladies Choice
Lady Storm
Lady Victoria
Laithon
Lance Dayton
Lance Silva
Lance Storm
Larry Blackwell
Larry Lane
Larry Zbysko
Lars Dauger
Lash LeRoux
Layne Fontaine
Lazarus
Lee Great
Lee Handsome
Legend
Legion Cage
Lenny Lane
Leon Scott
Lew Spectre
Lex Lovett
Lex Luger
Lexie Fyfe
Lightning
Lil' Nate
Lil' Ricky
Lita
Lobo
Lodi
Lollipop
Looney Lane
Lord Ferguson
Lotto Money
Lou E Dangerously
Louie Moxie
Louis Ramos
Low Ki
Low Ryder
Lucifer Grimm
Luke LeGrande
Lumberjack Bubba
Luna Vachon
Mad Man Pondo
Mad Mikey
Madison
Magic
Majik
Major Gunns
Major Hardway
Malachi
Malice
Mana
Manuel Darsigny
Marc Godeker
Marc Mero
Marc Vincent
Marcia
Marcos
Marcus Jordan
Mark Briscoe
Mark Henry
Makr Jindrak
Mark Mattis
Mark Sloan
Mark Wolf
Marky Starr
Marshall Knox
Marty Jannetty
Masada
Masahiro Indohara
Masato Tanaka
Mase
Mason Cage
Matrix
Matt Cappotelli
Matt Classic
Matt Cross
Matt Dillinger
Matt Hardy Version 1.0
Matt Morgan
Matt Murphy
Matt Sinister
Matt Stryker
Matt Vandal
Matty Anao'i
Maven
Maximum Capacity
Maxx Justice
Maxx Payne
Medic 8
MEGA
Melissa Coates
Melvin The Woodsman
Memphis Raines
Men's Teioh
Mercedes Martinez
Messiah
Michael Foster
Michael Modest
Michael Raines
Michael Shane
Michael Todd Stratton
Michelle Starr
Midajah
Mike Awesome
Mike Barton
Mike Drose
Mike Knox
Mike Kruel
Mike Majors
Mike Mendosa
Mike Paige
Mike Pittman
Mike Preston
Mike Quackenbush
Mike Rapada
Mike Rotundo
Mike Sanders
Mike Shane
Mike Stryker
Mike Sullivan
Mike The Miz
Mike Tobin
Mikey Henderson
Mikey Whiplash
Mikey Whipwreck
Miles Long
Minoru Fujita
Miss Jackie
Miss Joni
Miss Natural
Miss Tenille
Mitch Page
Mitch Paradise
Mohammed Yone
Molly Holly
Molsonn
Monsta Mack
Monty Brown
Moondog Manson
Mortimer Plumtree
Mosco De La Merced
Mozart Fontaine
Mr Intelligence
Mr. Aguila
Mr. Black
Mr. Hughes
Mr. Jones
Mr. Ooh La La
Ms. Vanessa
Murray Happer
Muscles Mansfield
Mustafa Saed
Naked Mideon
Nate Hatred
Nate Webb
Nathan Jones
Nattie Neidhart
Navajo Warrior
Necro Butcher
New Jack
Nick Berk
Nick Dinsmore
Nick Gage
Nick Steel
Nidia
Nigel Fairservice
Nigel McGuinness
Nikita Allanov
Nikita Koloff
Niles Young
Nokiko Narazaki
Nomad
Norman Smiley
NOSAWA
Nova
Nuisance
Nunzio
One Man Gang
Onyx
Orange Crush
Orlando Jordan
Palm Beach Boy Jon
Palm Beach Boy Scott
Papadon
Pat Gunner
Pat McGroin
Pat Tanaka
Patrick Black
Paul Atlas
Paul E. Normous
Paul Heyman
Paul Lauria
Paul London
Paul Tracey
Paul Travell
Paul Vault
Paulo
Payne
Pepper Parks
Percy Pringle
Perry Saturn
Pete Gas
Pete Tornatore
Peter B Beautiful
Peter Van Orton
Phil LaFon
Phil Raven
Phil Stamper
Philip J. Fukumasa
PJ Friedman
Pogo The Clown
Poppa Pete
Portugese Stallion
Precious Lucy
Preston Ascott III
Preston Scott
Prime Evil
Prince Iaukea
Prince Juggalo
Prince Nana
Principal Pound
Private Rage
Psycho Sarge
Psycho Seth
Psychosis
PT Hussla
Pure Talent
Qenaan Creed
Quiet Storm
Quinn Magnum
Quinten Lee
Race Steele
Rainchild
Rainman
Raj Ghosh
Randy Allen
Randy Myers
Randy Orton
Randy Savage
Raphael Muhammed
Rapid Fire Maldonado
Raven
Ray Brooks
Ray Gordy
Ray Lloyd
Red Hot Russ
Red Thunder
Reebok Fabulous
Rene Dupree
Reno
Rey Mysterio
Rhyno
Ric Blade
Ric Byrne
Ric Flair
Ric Thompson
Rich Myers
Richard Dixon
Richard J. Criado
Richard P. Naegele
Richard Slinger
Rick Feinberg
Rick Fuller
Rick Michaels
Rick Steiner
Rick Vain
Ricky Banderas
Ricky Fabulous
Ricky Marvin
Ricky Morton
Ricky Reyes
Ricky Santana
Ricky Vandal
Rico
Rico Barzini
Rico Casanova
Rico Suave
Rikishi
Rio Storm
Road Warrior Animal
Road Warrior Hawk
Roadkill
Rob Conway
Rob Van Dam
Rob Vegas
Robbie Brookside
Robbie Ellis
Robbie Moxie
Robbie Rage
Robert Gibson
Robert Thompson
Rockin' Rebel
Rocky Romero
Rod Rageous
Rod Steel
Roddy Piper
Roderick Strong
Rodney Mack
Rollin' Hard
Romeo Bliss
Romeo Valentino
Ron Harris
Ron Killings
Ron Simmons
Ron Waterman
Ronnie Zukko
Rory Fox
Rosey
Ross Jordan
Royal Jester
Ruckus
Ruckus UPW
Rudy Boy Gonzalez
Ruffhouse Rivera
Russ McCullough
Rusty Brooks
Rusty Riddle
Ryan Boz
Ryan Wing
Sabbath
Sable
Sabu
Sabunim
Sade
Salid Jihad
Salvatore Rinauro
Samir
Sammy
Samoa Joe
Samu
Sandman
Saniyedi Gecti
Sara
Sasha
Satoshi Kojima
Savio Vega
Savvy
Scoot Andrews
Scorpio
Scott Ashworth
Scott Cage
Scott Hall
Scott Lost
Scott Norton
Scott Parker
Scott Snot
Scott Steiner
Scott Vick
Scott Young
Scottie Rock
Scottie Wren
Scotty 2 Hotty
Scotty Charisma
Scotty Mac
Scotty Riggs
Scotty Sabre
Sean Allen
Sean Casey
Sean McCully
Sean O'Haire
Sean Riddick
Sean Royal
Sean Waltman
Sebastian Night
Sebastian P Sterling
Sedrick Strong
Segmond A. Trebek
Segun Carter
Seijin Akki
Seth DeLay
Seth Knight
Seven
Sexretary Tiffany
Shady
Shane
Shane Ballard
Shane Douglas
Shane McLane
Shane McMahon
Shaniqua
Shank Dorsey
Shannon Ballard
Shannon Moore
Shannon Ward
Shaolin Punk
Shark Boy
Sharmell Sullivan
Shaun Alexander
Shawn Michaels
Shawn Stasiak
Sheik Abdul Hassan
Shelton Benjamin
Shemus
Sherri Martel
Sherry Bop
Shigroth
Shirley Doe
Shocker
Shooter Schultz
Sick Nick Mondo
Sid Vicious
Silver King
Silver Tyger
Simon Diamond
Simon Sezz
Simply Luscious
Sinn
Skag Rollins
Skinhead Ivan
Skull Murphy
Skulu The Savage
Slash
Slayer
Slim J
Slugger
Slyk Wagner Brown
Smokey Carmichaels
So Cal Val
Solo Snuka
Sonjay Dutt
Sonny Siaki
Spanky
Spanky Malone
Special Ed
Spence Slater
Spiffy Sean Stylez
Spike Dudley
Stacy Hunter
Stacy Keibler
Stan Dupp
Stan Lane
Stephanie McMahon
Stephan Q Ramsey
Stephan Walloski
Steve Armstrong
Steve Austin
Steve Bradley
Steve Corino
Steve Kiern
Steve Rives
Steve Rizzono
Steve Stone
Steve Strong
Steve Wilkos
Steve Williams
Stevie Ray
Stevie Richards
Stevie Sky
Sting
Striker
Strong Shooto Shinjoh
Suba
Super Crazy
Super J
Super Mark
Super Phoenix
Superstar Steve
Supreme
Sweet Daddy Devastation
Sweet Dreams
Swinger
Sydeswype
Sylvan Grenier
Sylvester
Taiyo Kea
Tajiri
TAKA Michinoku
Takao Omori
Tammy Sytch
Tank
Tank Abbott
Tank FLI
Tank NWA-UK
Tank Tolland
Tara
Tarek The Great
Taylor Matheny
Tazz
Technico
Tentsushi Shinjoh
Terri Runnels
Terry Funk
Terry Knight
Test
Tex McCoy
The Barbarian
The Bouncer
The Bruiser
The Count
The Dew
The Drill Instructor
The Hardcore Princess
The Hussla
The Mad Russian
The Orderly
The Predator
The Prophet
The Rock
The Stro
The Warrior
Theodore Long
Thomas Wolfe
THUNDER
Thunder
Tiger Kahn
Tiger Mulligan
Tiger Steele
Tim Moxley
Tina Ambrose
Tito Ortiz
Tiziana
TJ Dalton
TJ Richter
TJ Wilson
Todd Kelly
Todd Sexton
Todd Shane
Toga Boy
Tom Carter
Tom Howard
Tom Marquez
Tommy Cairo
Tommy Chill
Tommy Drake
Tommy Dreamer
Tommy Rogers
Tommy Suede
Tommy Vandal
Tony DeVito
Tony Givens
Tony Jones
Tony Kozina
Tony Lazaro
Tony Mamaluke
Tony McMillan
Tony Stetson
Tony Stradlin
Torrie Wilson
Tracy Brooks
Tracy Smothers
Travis Bane
Travis T-Money
Trent Acid
Trent Baker
Trevor Rhodes
Trik Nasty
Trinity
Triple H
Triplelicious
Trish Stratus
Troy Avalon
Troy Bonde
Truth Martini
Tsubo Genjin
Turkey Creek Johnson
Ty Street
Tyler Payne
Typhoon
Ulf Hermann
Ultimo Dragon
Undertaker
Vader
Valentina
Val Venis
Vampiro
Vance Nevada
Vengador Boricua
Veronica Caine
Vic Capri
Vic Divine
Vic Grimes
Victoria
Victor The Bodyguard
Villano IV
Villano V
Vince Goodnite
Vince McMahon
Vinnie Masaro
Viper
Viscera
Vito DeNucci
Vito Thomaselli
Wade Chism
Wambat
War Cloud
Wayne DeBruce
Wenzel
White Tiger
White Trash
Wifebeater
William Regal
Wrathchild
Xavier
Xero
XTC
Zach Gowen
Z-Barr
Zebra Kid
Zieg
Official Staff Roster
Aaron Dudley
Aaron Royal
Aaron Schyster
Abbie Dudley
Abbie Forletta
Abdullah Dudley
Ace Dudley
Adam Dudley
Adam Hassan
Adam Maclean
Adam Matravers
Adam Morantz
Adam Suicide
Afa The Wild Samoan
Ainsley Schyster
AJ Dudley
Al Dudley
Al Simmons
Alan Barnes
Alan Dudley
Alan Partidge
Alan Woody
Alec Eiffel
Alex Chrichoton
Alex Dudley
Alex Furious
Alex Lucard
Alex Maniac
Alex Pagnetti
Alex Porter
Alexander Marino
Ali Dudley
Allison Dudley
Alyssa Dudley
Amy Dudley
Ana Anton Garcia
Andrea Cummings
Andrew Criddle
Andrew Kovoffit
Andrew Krowczyk
Andrew Thomas
Andy Hinchcliffe
Andy Peel
Andy Polshaw
Anna Dudley
Arn Anderson
Bad News Allen
Barney McDaniel
Beautiful Bruce
Beckie Kolasinski
Beckie Stones
Ben Hickman
Ben Pierce
Benton Fraser
Beth Gellar
Beverly Crusher
Bill Contrane
Bill Hall
Billy K
Black Francis
Bob Bobson
Bob Densmore
Bob Kelso
Bob Ryder
Bob Vaughn
Bobby Heenan
Bones McCoy
Brad Trechak
Brent Blades
Brian Blassie
Brian Gerwitz
Brian Hebner
Brian Johnson
Brian Logan
Bruce Gray
Bruce Michaels
Catherine Quine
Cathy Berry
Cecilia Ann
Charles Robinson
Charlie LaSalle
Charlie Leppard
Charlie Silence
Charlotte Franklyn
Charlotte Smith
Chris Byrne
Chris Emerson
Chris English
Chris Leary
Chris Lenart
Chris Peak
Chris Pepper
Chris Wood
Chuck Aurin
Chuck Berry
Chuck Ristano
Claire Robinson
Claudia Keiff
Court H. Bauer
Craig Cohen
Curious Orange
Dali Samrai
Dallas Page
Damian Carvill
Dan Kent
Dan Rockwell
Dan Wilson
Daniel Watson
Danny Davis
Darren Holidae
Darren Luck
Dave Finlay
Dave Prazak
Dave Republic
Dave Unsworth
Dave Watson
Davey Guerrero
David Legault
David Lovering
David Schultz
Dean Malenko
Debra Stanley
Dee Edwards
Dennis Martinez
Dennis Shock
Dhiwakar Kusama
Diana Noto
Dino Moore
Donnie B.
Don West
Dory Funk
Doug Cornell
Doug Paterson
Doug Ross
Douglas Tanner
Duke LaRue
Earl Hebner
Ed Case
Ed Ferrera
Ed Manning
Ed Schmitt
Eddie Chandler
Eddie Edwards
Emily Booth
Emma Batch
Emma Carvill
Eric Buss
Eric Drummer
Eric Gargulio
Eric Shaffer
Ern Mitchum
Fat Frank Iadevaia
Felony
Frank Black
Frank Morel
Frank Murdoch
Gene Duncan
Gene Okerlund
Gene Suicide
Gerald Brisco
Gerry Straus
Graeme Sharp
Guido Mercy
Hardcore Darryl
Harley Race
Havalina McQueen
Hazel Bloxome
Helen Cuthill
Henry Baby
Henry Ladd
Homer LaSalle
Ian Rotten
Ian Snodin
J.W. Blizz
Jack Collins
Jack Daniels
Jack Doan
James Hart
James Kirk
Jamie Scott
Jan Kolasinski
Jason Deadrich
Jason McCord
Jay Sulli
Jean-Francois Kelly
Jeff Daniels
Jeff Teen
Jeremy Borash
Jerry Bear
Jerry Dynamite
Jerry Jarrett
Jerry Lawler
Jerry Straus
Jim Bragg
Jim Cornette
Jim Fannin
Jim Kettner
Jim Molineux
Jim Ross
Jimmy Chamberlain
Jimmy Chin
Jimmy Cordaris
Jimmy Fleming
Jimmy Hart
Jody Wood
Joe Coors
Joe Hamilton
Joe Kopasz
Joey Santiago
Joey Ska
Joey Styles
John Carter III
John Chapman
John Finnegan
John Franklin
John House
John Pixie
Johnny Ace
Johnny Rodz
Jonathan Coachman
Jon Howard
Jon Ian
Josh Matthews
Judge Jeff Jones
Julian Bashir
Julian Skinner
Karen Twain
Karen Williams
Katy Hemmings
Katy-Jayne Myers
Kaushal Sanghavi
Keith Gutierrez
Kelly Andrews
Kelly Deal
Kent Carvill
Kevin Eldon
Kevin Garcia
Kevin Kelly
Kevin Kleinrock
Kevin Ratcliffe
Kevin Sheedy
Kiki Blaze
Killer Kowalski
Kim Deal
Kim Doll
Kingdom James
KK LaFlame
Kris Kloss
Kris Laurent
Kris Vedder
Kris Worthy
Kristina Fish
Lance Evers
Larry O'Halloran
Larry Peace
Larry Rivera
Larry Sharpe
Larry Stevens
Laughing Larry
Layla Kowalski
Lee Gunn
Les Thatcher
Linda McMahon
Liz Corday
Louis Fraser
Louise Robinson
Lucy Hooper
Lyndsey Baker
Marc Blondin
Marc Lloyd
Mark Clemson
Mark Greene
Mark Johnson
Mark Madden
Mark Steele
Martyn Staddon
Matt Cumberlidge
Matt Hickman
Matt Holmes
Matt James
Matt Metal
Mauro Renallo
Max Marquez
Mel Giedroyc
Michael Cole
Michael Dorn
Michael Dream
Michael Hayes
Michael Leisner
Michael LeTourneur
Mike Brinkman
Mike Chioda
Mike Johnson
Mike Kehner
Mike Martyn
Mike Tenay
Mikey Monroe
Minh Tran
Moongoose Irvine
Mr Dan DaLay
Mr LaForge
Natalie O'Donnell
Neil Chapman
Neil Hughes
Nev Southall
Nick Patrick
Nick Ritter
Nik Lawrence
Nik Rivaldo
Nikki Affleck
Nikki Philips
Nikki Stevens
OJ Lee
Ozzy Watson
Pat McNeil
Pat Patterson
Paul Turner
Pee Wee Kastles
Peter Benton
Peter Finkel
Peter Skynyrd
Peter Smasher
Phil Phair
Phil Powers
Phil Sidari
Pinky (from Pinky and The Brain)
Rachel Bolan
Rav Virdi
Ray Chandler
Ray Edwards
Ray Fraser
Ray Griffith
Ray Ramsey
Raymond Mystery
Red Ranger
Ref Hanson
Rich Cruz
Richard Chartrand
Richard Conway
Richard Fleming
Richard Herring
Richard Wede
Richie Rich
Richie Sambora
Rick Dallas
Ricky Meyers
Ricky Steamboat
Rico Beatty
Rob Bitterman
Rob Black
Rob Feinstein
Rob Hartog
Robbie Coronation
Robby Mireno
Robert Brisko
Robert Lemke
Robert Romano
Rock Austin
Roger Hotbody
Roger O'Reilly
Ron Dylan
Ron Head
Ron Perlman
Ronnie Garvin
Rudy Charles
Ryan Maher
Ryan Shaffer
Sammy C
Sarah Chalke
Scott D'Amore
Scott DeMarc
Scott Hudson
Scott King
Seb Bach
Sgt. Slaughter
Shania Hickman
Shania Phillips
Shannon Rose
Sid Thunders
Sideshow Matt
Sidney Bowie
Sidney Dexter
Simon Oldacre
Skippy Johnson
Sonny Ocho
Sophie Corbett
Sophie Matravers
Speedy Nelson
Star Stevens
Stately Wayne Manor
Stephen Deangelis
Steve Lombardi
Steve Michael Payton
Steve Prazak
Stevie Mills
Stevie Tyler
Stewart Head
Stewart Lee
Stu Hart
Sue Perkins
Taylor Threat
The Bald Guy
The Brain (from Pinky and The Brain)
Thea Disalvo
Tim Beckham
Tim Tatum
Tim White
Todd Keneley
Todd Scwimmer
Tom Myhre
Tom Pritchard
Tommy Carlucci
Tommy Cornell
Tony Chimel
Tony Cottee
Tony Schiavone
Trev Barnes
Turtle
Undercover Ninja
Velouria Hilton
Verne Seibert
Vicky Hurst
Vincent Adams
Will Gillan
Will Riker
Willy Snuffer
Winston Gold
Roster w/ Staff, Size, Titles, Starting Money, Public Image, Events, & Shows
Combat Zone Wrestling (Regional, $1,000,000, 65%)
[CZW Iron Man, Junior Heavyweight, Tag Team, World Titles]
{Accepting The Challenge (Jan), Uncivilized (Feb), Divide And Conquer (Mar), Higher Level Of Pain (Apr), Best Of The Best (May), No Rules, No Limit (Jun), No Excuses (Jul), Tournament of Death (Aug), Freedom Of Expression (Sep), Havoc In Hellware (Oct), Night Of Infamy (Nov), Cage of Death (Dec)}
Adam Flash
B-Boy
Big Mac Smack (Manager)
Brian Logan (Referee)
Chris Cash
Chris Stylez
Cory Kastle
Danny Rose
Dennis Shock (Announcer)
Derek Frazier
Emma Batch (Road Agent)
Eric Gargulio (Announcer)
Eric Tuttle
Greg Matthews
Hurricane Kidd
Ian Knoxx
Jimmy Fleming (Referee)
Jody Fleisch
John House (Announcer)
John Zandig
Johnny Kashmere
Jon Dahmer
Jonny Storm
Jude
Lobo (Non-Wrestler)
Messiah
Nate Hatred
Nick Berk
Nick Gage
Niles Young
Rachel Bolan (Production)
Ric Blade
Richie Sambora (Writeer)
Rick Feinberg (Manager)
Robby Mireno (Announcer)
Rob Hartog (Referee)
Rockin' Rebel
Ruckus
Seb Bach (Medical)
Sick Nick Mondo
Sonjay Dutt
The Dew (Manager)
Trent Acid
Wifebeater (Non-Wrestler)
Z-Barr
East Coast Wrestling Association (Regional, $2,500,000, 45%)
[ECWA Heavyweight, Mid-Atlantic, Tag Team Titles]
{Super 8 (Apr}
Abunai
Ace Darling
April Hunter (Manager)
B.W. Brown
Barry Casino (Manager)
Billy Bax
Billy K (Announcer)
Bob Densmore (Referee)
Buck Wylde
Carlton P. Hightower (Manager)
Cheetah Master
Chris Byrne (Announcer)
Chris Divine
Chuck Ristano (Announcer)
E.S. Easton (Manager)
Giovanni Roselli
Inferno
J.J. Johnston
J.R. Ryder
Japanese Pool Boy
Jim Kettner (Owner)
Joey Maxx
Johnny Maxx
Larry Peace (Referee)
MEGA
Mike Kruel
Mozart Fontaine
Mr. Ooh La La
Nigel Fairservice (Manager)
Paul Turner (Referee)
Pete Gas
Richard P. Naegele (Non-Wrestler)
Rock Austin (Referee)
Ruffhouse Rivera
Ryan Wing
Scoot Andrews
Sebastian Night (Manager)
Simon Diamond
Slyk Wagner Brown
Striker
THUNDER
Tom Carter
Tyler Payne
Viper
Xavier
Xero
Extreme Canadian Championship Wrestling (Regional, $2,000,000, 30%)
[ECCW Hardcore, Heavyweight, Junior Heavyweight, Tag Team, Women's Titles]
Aaron Idol
Abbadon
Adam Firestorm
Asian Cougar
Avalon
Bam Bam Bambi
Beautiful Bruce (Referee)
Bill Contrane (Referee)
Black Dragon
Brian Bedlam
Brian Sommers
Cheechuck
Cremator
Dave Republic (Owner)
Disco Fury
Dropkick Murphy
Father Juan Valdez (Manager)
Gorilla
Hardcore Darryl
Honky Tonk Man
Jay Jacobs
Jimbo Richards
Johnny Canuck
Killswitch
Ladies Choice
Lumberjack Bubba
Madison
Major Hardway
Matt Classic
Memphis Raines
Michael Raines
Michelle Starr
Moondog Manson
Private Rage
Ray Brooks
Scotty Mac
Seth Knight
Skag Rollins
Sweet Daddy Devastation
The Count
Todd Kelly
Toga Boy
Vance Nevada
Verne Seibert (Referee)
White Tiger
Wrathchild
Federation De Lutte Internationale (Cult, $4,500,000, 35%)
<La Lutte FLI (Sat)>
[FLI Canadian, Junior Heavyweight, Tag Team, World Titles]
{Force Of The Union (Dec)}
Adidas Fabulous
Adriana Belli
Amoretta Mitsuko
Armand Rougeau
Blackstallion Mastrocola
Brandon Robinson
Carl Ouelette
David Legault (Referee)
Eric Gracie
Fred Williams
George Galadsky
Isaac Sheman
Jacque Rougeau Jr.
Jade
Jean-Francois Kelly (Announcer)
Kevin Martel
Kidd Video Fabulous
Kurrgan
Kurt Lauderdale
Manuel Darsigny
Marc Blondin (Announcer)
Marcia
Melvin The Woodsman
Michael Leisner (Medical)
Michael LeTourneur (Announcer)
Nokiko Narazaki
Orange Crush
Phil Raven
Precious Lucy
Raymond Rougeau
Reebok Fabulous
Richard Chartrand (Trainer)
Ricky Fabulous
Ronnie Garvin (Trainer)
Sade
Sherry Bop
Stevie Fabulous
Strong Shooto Shinjoh
Tank FLI
Heartland Wrestling Association (Regional, $3,000,000, 50%)
[HWA Cruiserweight, Heavyweight, Tag Team Titles]
{Overload (Mar)}
AJ (Manager)
Al Simmons (Referee)
Ana Anton Garcia (Medical)
Astin Ambrose
Big Al
BJ Whitmer
Bobbi Joe Jablonski (Manager)
Brian Carlucchi
Brian Johnson (Referee)
Brock Guffman (Manager)
Brother Clay
Cecilia Ann (Production)
Chad Collyer
Chet Jablonski
Cody Hawk
Dean Jablonski
Drew Johnson
Emily Booth (Referee)
Gotti
Helena Heavenly (Manager)
Hoss
Jaxon Breeze (Manager)
Jody Wood (Writer)
Joe Kopasz (Referee)
Joseth Castle
JT Stahr
Kliff Hanger
Les Thatcher (Owner)
Lyndsey Baker (Referee)
Martyn Staddon (Road Agent)
Matt Dillinger
Matt Striker
Nigel McGuinness
Patrick Black (Non-Wrestler)
Quinten Lee
Rav Virdi (Road Agent)
Ric Byrne
Rory Fox
Shark Boy
Steve Bradley
The Hussla
Tina Ambrose (Manager)
TJ Dalton
Velouria Hilton (Production)
IWA Mid-South (Regional, $1,000,000, 15%)
[IWA-MS Heavyweight, Lightweight, Tag Team Titles]
2 Tuff Tony
Ace Steel
Adam Gooch
Alex Shelley
Austin Aries
Brent Blades (Referee)
Bull Pain
Cash Flo
Chip Douglas
Chuck E. Smooth
Colt Cabana
Corporal Robinson
Danny Daniels
Dave Prazak (Announcer)
Dysfunction
Ian Rotten (Owner)
J.C. Bailey
Jayden Draigo
Jim Fannin (Announcer)
Jimmy Jacobs
Jon Howard (Referee)
Jorge Estrada
Mad Man Pondo
Mike Wolf
Michael Todd Stratton
Mitch Page
Nate Webb
Rico Beatty (Announcer)
Robert Lemke (Referee)
Rollin' Hard
Ryan Boz
Scott DeMarc (Referee)
Shank Dorsey
Shirley Doe
Simon Sezz
Steve Stone
Tarek The Great
Tim Tatum (Announcer)
Tracy Smothers
Turtle (Referee)
Jersey All Pro Wrestling (Small, $1,400,000, 90%)
[JAPW Heavyweight, Light Heavyweight, Tag Team, Television Titles]
Andrea Cummings (Writer)
Axl Rotten
Balls Mahoney
Billy Reil
Blue Meanie
Bobcat (Manager)
Boogalou
Brad Trechak (Announcer)
Chris Wood (Referee)
Danny Carney
Danny Maff
Dave Greco
Deranged
Don Montoya
E.C. Negro
Fat Frank Iadevaia (Owner)
Ghost Shadow
Havok
Homicide
Hydro
Jason Knight (Non-Wrestler)
Jeff Shapiro (Non-Wrestler)
Jonah Edelman
JT Jobber
J-Train
Judas Young
K.C. Blade
Katy Hemmings (Medical)
Laithon
Lee Great
Louie Ramos
Louise Robinson (Road Agent)
Magic
Mark Clemson (Announcer)
Mel Giedroyc (Referee)
Mike Quackenbush
Minoru Fujita
Monsta Mack
Papadon
Pete Tornatore
Rainchild
Ref Hanson (Referee)
Rockin' Rebel
Scott King (Production)
Skinhead Ivan
Stephen Deangelis (Announcer)
Suba
Sue Perkins (Production)
The Bald Guy (Announcer)
Tom Carter
Valentina (Manager)
Wenzel
Major League Wrestling (Cult, $2,000,000, 55%)
<MLW Underground (Mon)>
[MLW Global Crown Tag Team, World Titles]
{Revolutions (May), Hybrid Hell (Jun), Rise Of The Renegades (Jul), Reload (Sep), King of Kings (Dec)}
Abunai
Andrew Kovoffit (Production)
Bob Bobson (Production)
Chris Candido
Christopher Daniels
Court H. Bauer (Owner)
CW Anderson
Devon Storm
Don Juan
Eric Buss (Road Agent)
Eric Drummer (Road Agent)
EZ Money
Francine (Manager)
Homicide
James Mitchell (Manager)
Jerry Lynn
Jimmy Chin (Medical)
Joel Maximo
Joey Styles (Announcer)
Jose Maximo
Julian Bashir (Referee)
Julio Dinero
Katsushi Takemura
Kenzo Suzuki
Lance Evers (Writer)
La Parka
Mana
Masato Tanaka
Men's Teioh
Michael Shane
Mike Awesome
Mikey Whipwreck
Norman Smiley
NOSAWA
PJ Friedman
Prince Nana
Raven
Richard J. Criado
Robbie Coronation (Medical)
Ron Perlman (Referee)
Sabu
Samu
Satoshi Kojima
Simon Diamond
Steve Corino
Steve Williams
Super Crazy
Taiyo Kea
Tammy Sytch (Manager)
Terry Funk
Narf Poit Wrestling (Backyard)
Pinky (From Pinky & The Brain) (Owner)
New Era Pro Wrestling (Small, $100,000, 48%)
[NEPW Cruiserweight, Triple Crown, U.S. Tag Team Titles]
{Winter Warfare (Jan), Five Star February (Feb), March Meltdown (Mar), April Assault (Apr), Last Man Standing (Jul), Showdown (Sep), Divided We Fall (Oct), Thanksgiving Thunder (Nov), Hostile Holidays (Dec)}
Adam Cage
Aero
Al B. Damm
Alcatraz
Brian Anthony
Chris Kole
Chris Sabin
Claire Robinson (Writer)
Cuefa
Curt Fury
Dick Trimmons
Ed Case (Production)
Eddie Edwards (Announcer)
Ed Schmitt (Owner)
Fabulous
Gabriel Knight
J-Rocc
J.W. Blizz
Jamie Scott (Announcer)
JT Lightning
KidRageous
Matt Vandal
Nick Ritter (Referee)
Nikki Phillips (Medical)
Nomad
Prince Juggalo
Ray Chandler (Referee)
Rich Cruz (Announcer)
Richard Wede (Referee)
Richie Phillips (Road Agent)
Sheik Abdul Hassan
Shigroth
Spence Slater
The Bouncer
Zieg
NWA Total Nonstop Action (National, $6,000,000, 65%)
[NWA Tag Team, World, X Titles]
{TNA on PPV (Every Wednesday)}
Abyss
AJ Styles
Alexis Laree (Manager)
Alter Boy Luke
Amazing Red
Armando Quintero (Announcer)
Athena (Manager)
B.G. James
Beverly Crusher (Medical)
Black Francis (Medical)
Bob Ryder (Production)
Bones McCoy (Medical)
Brian Lawler
Brian Lee
Buff Bagwell
Cassidy O'Reilly
Chase Stevens
Chris Harris
Chris Sabin
Christopher Daniels
Chuck Berry (Referee)
CM Punk
David Flair
David Young
Desire (Manager)
Devon Storm
D'Lo Brown
Don Callis (Manager)
Don Harris
Don West (Announcer)
Duke LaRue (Production)
Elix Skipper
Erik Watts
Frankie Kazarian
Glenn Gilberti (Manager)
James Kirk (Writer)
James Mitchell (Manager)
James Storm
Jason Cross
Jeff Jarrett
Jerry Jarrett (Owner)
Jerry Lynn
Jimmy Rave
Joel Maximo
Jonny Storm
Jose Maximo
Julio Dinero
Justin Credible
Keith Gutierrez (Writer)
Kid Kash
Kid Romeo
Kim Deal (Road Agent)
KK LaFlame (Production)
Konnan
Legend
Lollipop (Non-Wrestler)
Low Ki
Mad Mikey
Mark Johnson (Referee)
Michael Dorn (Road Agent)
Mike Awesome
Mike Sanders
Mike Tenay (Announcer)
Moongoose Irvine (Referee)
Mr LaForge (Road Agent)
New Jack
Pat McNeil (Writer)
Perry Saturn
Raven
Rick Steiner
Ron Harris
Ron Killings
Rudy Charles (Referee)
Sabu
Sandman
Scott D'Amore (Writer)
Scott Hudson (Announcer)
Sean Waltman
Shane Douglas
Shark Boy
Simon Diamond
Slash
Sonny Siaki
Sophie Matravers (Road Agent)
Sting
Swinger
Tracy Brooks (Manager)
Trinity (Manager)
Valentina (Manager)
Vince Russo (Non-Wrestler)
Will Riker (Writer)
NWA Wildside (Regional, $10,000,000, 90%)
<Wildside TV (Sun)>
[Wildside Heavyweight, Junior Heavyweight, Tag Team, Television Titles]
{Hardcore Hell (Mar), Freedom Fight (Jun), Fright Night (Oct), Christmas Chaos (Dec)}
Adam Jacobs
Alec Eiffel (Referee)
Andrew Krowczyk (Production)
Andrew Thomas (Referee)
Azrael
Bill Hall (Writer)
Brandon P
Caprice Coleman
Chad Dobbins
Chris Emerson (Referee)
Dan Wilson (Announcer)
David Flair
David Schultz (Road Agent)
Destiny (Manager)
Dhiwakar Kusama (Road Agent)
Gabriel
Henry Hoss
Hotstuff Hernandez
Iceberg
Jacey North
Jason Dobbins
Jay Freeze
Jeff G Bailey (Manager)
Jeremy Lopez
Jeremy V
Jimmy Rave
John Dalton
John Phoenix
John Pixie (Referee)
Kaushal Sanghavi (Medical)
Kevin Hardnetti
Lazarus
Mike Pittman
Onyx
Phil Powers (Writer)
Phil Sidari (Production)
Rainman
Richard Conway (Medical)
Rick Michaels (Non-Wrestler)
Salvatore Rinauro
Scott Cage
Scottie Wren
Seth DeLay
Slim J
Smokey Carmichaels
Speedy Nelson (Referee)
Steve Prazak (Announcer)
Tank
Terry Knight
Todd Sexton
Tony Mamaluke
Phoenix Championship Wrestling (Small, $600,000, 70%)
<Firebird TV (Wed)>
[PCW Tag Team, Television, World Titles]
{Winter Wonderland (Jan), 'Nuff Said (Feb), March Madness (Mar), May-hem (May), Russ Haas Memorial (Aug), Monster Bash (Oct), To The Point (Nov), PCW Season's Beatings (Dec)}
Adam Maclean (Production)
Adam Matravers (Referee)
Andy Jaxx
Angus
Chi Chi Cruz
Chris Lenart (Road Agent)
Curt Daniels
Dave
Dee Edwards (Referee)
Donnie B. (Owner)
Donnie Bon Jovi
Dr. Hurtz (Non-Wrestler)
Eric Justice
Father Ozzy (Manager)
Frankie Kazarian
Gerry Strauss (Announcer)
Giovanni Roselli
Harley Lewis
Jimmy Vegas
Jumbo Joe Gunns
Kara Slice (Manager)
Khull
Lil' Ricky
Louie Moxie
Matt James (Road Agent)
Mike Johnson (Announcer)
Mike Kehner (Referee)
Mike Preston
Rick Fuller
Robbie Moxie
Ryan Maher (Road Agent)
Ryan Shaffer (Road Agent)
Sammy
Shemus
Sideshow Matt (Medical)
Slayer
Sonny Ocho (Referee)
Steve Michael Payton (Announcer)
Tank Tolland
Taylor Threat (Writer)
The Prophet
Tiger Kahn
Willy Snuffer (Referee)
Pro Wrestling Iron (Cult, $2,000,000, 20%)
[PWI World Title]
{Hot August Nights (Aug)}
Abbie Forletta (Production)
Ace Steel
Apollo Kahn
Ben Pierce (Writer)
Bison Smith
Charlotte Smith (Referee)
Chris Pepper (Medical)
Damian Carvill (Production)
Dan Kent (Referee)
Danny Dominion
Doc Schultz
Donovan Morgan
Doug Williams
Frank Murdoch (Owner)
Hazel Bloxome (Road Agent)
Helen Cuthill (Road Agent)
Hook Bomberry
John Franklin (Writer)
Maxx Justice
Michael Modest
Natalie O'Donnell (Referee)
Psycho Seth
Ric Thompson
Sara
Shane Ballard
Shannon Ballard
Tommy Drake
Tony Jones
Vic Grimes
Vinnie Masaro
Vito Thomaselli
Ring of Honor (Cult, $1,200,000, 65%)
[RoH Tag Team, World Titles]
{Anniversary Show (Feb), Expect The Unexpected (Mar), Night Of Appreciation (Apr), Road To The Title (Jun), Crowning Of A Champion (Jul), Honor Invades Boston (Aug), Unscripted (Sep), Glory By Honor (Oct), All Star Extravaganza (Nov)}
Aaron Dudley (Production)
Abbie Dudley (Production)
Abdullah Dudley (Writer)
Ace Dudley (Referee)
Ace Steel
Adam Dudley (Referee)
AJ Dudley (Medical)
AJ Styles
Al Dudley (Trainer)
Alan Dudley (Referee)
Alex Dudley (Medical)
Alex Shelley
Alexis Laree (Manager)
Ali Dudley (Medical)
Allison Danger (Manager)
Allison Dudley (Road Agent)
Alyssa Dudley (Writer)
Amazing Red
Amy Dudley (Road Agent)
Angel Dust
Anna Dudley (Road Agent)
April Hunter (Manager)
Ariel (Manager)
Arn Dudley (Road Agent)
Bio-Hazard
BJ Whitmer
Boogalou
Brian XL
Bryan Danielson
Buff E
Chris Divine
Christian York
Christopher Daniels
CM Punk
Colt Cabana
CW Anderson
Danny Doring
Danny Drake
Danny Maff
Deranged
Diablo Santiago
Dixie
Don Juan
Donovan Morgan
Doug Williams
Dunn
Elax
EZ Money
Fast Eddie
Frankie Kazarian
HC Loc
Homicide
Hotstuff Hernandez
Hydro
Izzy
Jack Victory (Manager)
Jason Cross
Jay Briscoe
Jeff Hardy
Jimmy Jacobs
Jimmy Rave
Jody Fleisch
Joel Maximo
Joey Matthews
John Walters
Johnny Kashmere
Jose Maximo
Justin Credible
Low Ki
Marcos
Mark Briscoe
Masada
Mase
Matt Styker
Michael Modest
Michael Shane
Mike Tobin
Mikey Whipwreck (Non-Wrestler)
Monsta Mack
Prince Nana
Quiet Storm
Raven
Rob Feinstein (Owner)
Samoa Joe
Simply Luscious (Manager)
Slim J
Slugger
Slyk Wagner Brown
Steve Corino
Tom Carter
Tony DeVito
Tony Mamaluke
Trent Acid
Xavier
Stampede Wrestling of Calgary (Regional, $5,500,000, 50%)
[SWC British Commonwealth, International Tag, North American Titles]
Andy Hinchcliffe (Referee)
Apocalypse
Bad News Allen (Announcer)
Belle Lovitz
Bruce Hart
Dave Swift
Dave Unsworth (Production)
Dave Watson (Production)
Duke Durango
Graeme Sharp (Road Agent)
Harry Smith
Highlander
Ian Snodin (Medical)
Jason Carter
Johnny Devine
Juggernaut
Kevin Ratcliffe (Referee)
Kevin Sheedy (Medical)
Kirk Melnick
Markie Starr
Mauro Renallo (Announcer)
Nattie Neidhart
Nev Southall (Writer)
Randy Myers
Red Thunder
Stu Hart (Owner)
Teddy Hart
TJ Wilson
Tom Myhre (Writer)
Tony Cottee (Road Agent)
World Domination Wrestling (Global)
The Brain (from Pinky & The Brain) (Owner)
World League Wrestling (Regional, $1,800,000, 25%)
Bull Schmitt
Daniel Flynn
Derek McQuinn
Greg Valentine
Haku (Non-Wrestler)
Harley Race (Owner)
Heather Savage
Johnny Gold (Manager)
Johnny Jett
Josh Besore
Marc Godeker
Matt Murphy
Miss Natural
Skippy Johnson (Referee)
Superstar Steve
Takao Omori
The Drill Instructor
Travis T-Money
Turkey Creek Johnson
Wade Chism
War Cloud
World Wrestling Entertainment (Global, $30,000,000, 55%)
<Heat (Sun), Raw (Mon), Smackdown! (Thu)>
[WWE Intercontinental, World Heavyweight, World Tag Team, Cruiserweight, Tag Team, United States, Women's, World Titles]
{Royal Rumble (Jan), No Way Out (Feb), WrestleMania (Mar), Backlash (Apr), Judgment Day (May), Badd Blood (Jun), Vengeance (Jul), SummerSlam (Aug), Unforgiven (Sep), No Mercy (Oct), Survivor Series (Nov), Armageddon (Dec)}
Aaron Stevens (Development)
Alex Chrichoton (Medical)
Al Snow (Non-Wrestler)
Andy Peel (Medical)
Arn Anderson (Road Agent)
A-Train
Batista
Benton Frasier (Writer)
Big Show
Bill DeMott
Billy Gunn
Billy Kidman
Booker T
Boss Man
Bradshaw
Brian Gerwitz (Writer)
Brian Hebner (Referee)
Brock Lesnar
Bubba Ray Dudley
Carly Colon (Development)
Charles Robinson (Referee)
Charlie Haas
Chavo Guerrero
Chris Benoit
Chris Jericho
Chris Kanyon
Chris Leary (Announcer)
Chris Nowinski
Christian
Chuck Palumbo
Damien (Development)
Danny Basham
Danny Davis (Road Agent)
Dave Finlay (Trainer)
Dawn Marie (Manager)
Dean Malenko (Road Agent)
Dory Funk (Trainer)
Doug Basham
D-Von Dudley
Earl Hebner (Referee)
Eddie Chandler (Writer)
Eddie Guerrero
Edge
Eric Bischoff (Non-Wrestler)
Funaki
Gail Kim
Garrison Cade
Gene Okerlund (Announcer)
Gerald Brisco (Road Agent)
Goldberg
Goldust
Hardcore Holly
Horshu (Development)
Hurricane
Ivory
Jack Collins (Trainer)
Jack Doan (Referee)
Jacqueline
Jamie Noble
Jazz
Jerry Lawler (Announcer)
Jim Cornette (Announcer)
Jim Ross (Announcer)
Jimmy Cordaris (Referee)
John Cena
John Hennigan (Development)
Johnny Ace (Road Agent)
Johnny Jeter (Development)
Johnny Stamboli
Jonathan Coachman (Announcer)
Josh Matthews (Announcer)
Kane
Katy-Jayne Myers (Writer)
Kelly Andrews (Writer)
Kevin Nash
Kurt Angle
Lance Storm
Linda McMahon (Owner)
Lita
Marc Lloyd (Announcer)
Mark Henry
Mark Jindrak
Mark Cappotelli (Development)
Matt Hardy Version 1.0
Maven
Michael Cole (Announcer)
Michael Hayes (Announcer)
Mike Chioda (Referee)
Mikey Monroe (Trainer)
Miss Jackie (Manager)
Molly Holly
Mr. Black (Development)
Mr Dan DaLay (Production)
Nathan Jones
Nick Dinsmore (Development)
Nick Patrick (Referee)
Nidia (Manager)
Nova (Development)
Nunzio
Orlando Jordan
Pat Patterson (Road Agent)
Paul Heyman (Manager)
Paul London (Development)
Payne (Development)
Randy Orton
Ray Edwards (Writer)
Rene Dupree
Rey Mysterio
Rhyno
Ric Flair (Manager)
Rico
Rikishi
Rob Conway (Development)
Rob Van Dam
Rodney Mack
Ron Simmons
Rosey
Sable (Non-Wrestler)
Scott Steiner
Scotty 2 Hotty
Sean O'Haire
Sgt. Slaughter (Road Agent)
Shane McMahon (Non-Wrestler)
Shaniqua (Manager)
Shannon Moore
Shannon Ward (Development)
Shawn Michaels (Non-Wrestler)
Shelton Benjamin
Simon Oldacre (Medical)
Sophie Corbett (Writer)
Spanky
Spike Dudley
Stacy Keibler (Manager)
Stephanie McMahon (Non-Wrestler)
Steve Austin (Non-Wrestler)
Steve Lombardi (Road Agent)
Stevie Richards (Manager)
Sylvan Grenier
Tajiri
Tazz (Non-Wrestler)
Terri Runnels (Manager)
Test
The Rock
Theodore Long (Manager)
Tim White (Referee)
Tom Pritchard (Trainer)
Tommy Carlucci (Production)
Tommy Cornell (Writer)
Tommy Dreamer
Tony Chimel (Production)
Torrie Wilson (Manager)
Triple H
Trish Stratus
Ultimo Dragon
Undertaker
Val Venis
Victoria
Vince McMahon (Non-Wrestler)
William Regal
Zach Gowen
World Xtreme Wrestling (Small, $5,000,000, 25%)
[WXW Cruiserweight, Hardcore, Heavyweight, Ladies, Tag Team, Television Titles]
Afa Jr.
Afa The Wild Samoan (Owner)
Alex Pagnetti (Announcer)
Anthony Michaels
Billy Dream
Black Pearl
Boogalou
Cliff Compton
Don Crisis
Dylan Dean (Manager)
Eric Cobian
Eric Shaffer (Announcer)
Frankie Fuji (Manager)
Gene Snisky
Hurricane Havoc
Jake Bishop
Jessica Dally (Manager)
Kiki Blaze (Announcer)
LA Smooth
Lee Great
Lucifer Grimm
Malachi
Mason Cage
Molsonn
Nuisance
Pee Wee Kastles (Referee)
Sammy C (Referee)
Tommy Suede
Tracy Brooks (Manager)
Valentina (Manager)
Wenzel
Xtreme Pro Wrestling (Cult, $2,000,000, 20%)
<XPW Monday Nightmare (Mon)>
[XPW European, King of the Deathmatch, Tag Team, Television, World Titles]
{New Years Revolution (Jan), My Bloody Valentine (Feb), Battle Of The Burgh (Mar), Genocide (Apr), Redemption (May), Liberty Or Death (Jun), Night Of The Champions (Jul), Hostile Takeover (Aug), Damage Inc. (Sep), Fallout (Oct), Dismembered In November (Nov), Merry F'n Xmas (Dec)}
Andy Polshaw (Production)
Beckie Stones (Writer)
Ben Hickman (Production)
Chris Chetti
Chris Hero
Chris Peak (Medical)
Damien 666
Danny Doring
Felony (Referee)
Halloween
Hardcore Homo Angel
James Hart (Referee)
Jan Kolasinski (Road Agent)
Jonny Storm
Josh Prohibition
Justice Pain
Juvi Guerrera
Kevin Kleinrock (Writer)
Kingdom James (Announcer)
Kris Kloss (Announcer)
Lizzy Borden (Manager)
Matt Cross
Matt Cumberlidge (Road Agent)
Matt Sinister
Mike Brinkman (Writer)
Pogo The Clown
Psychosis
Rob Black (Owner)
Ron Head (Announcer)
Scott Snot
Steve Rizzono
Supreme
Vic Grimes
Zebra Kid