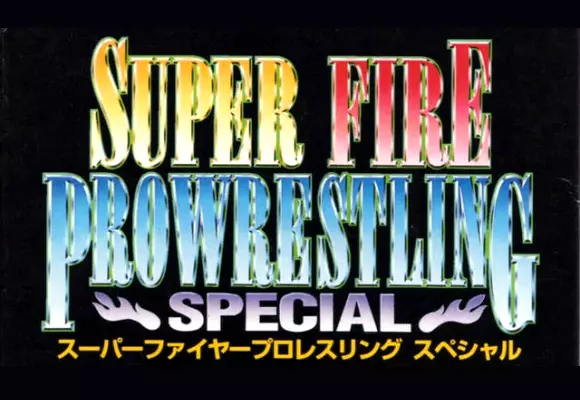 You are Morio Smith, a young man who once aspired to become a professional wrestler, but depression has overtaken the world heavyweight champion and before he seals his own fate, you relive his tale and witness how Morio Smith got to where he is now, developing more moves as the years go by witnessing highs and lows aplenty, leading to what should've been ultimate glory, but thanks to a certain man, Morio must fight the man responsible for his mental suffering and put him down!
The game features 105 playable characters in total.
Game Modes
One Night Match
This is your Exhibition Mode, where you can play Singles & Tag Matches, play a 4-wrestler Battle Royal, and for the first time in the series, fight in the Octagon under MMA rules. The GRUESOME FIGHTING mode can be unlocked by finishing CHAMPION ROAD.
Edit
Create your wrestler in this fan-favorite mode, with the deepest level of customization possible on the SNES/Super Famicom. Choose any of the available promotions your custom wrestler will represent, then choose what he or she will look like, then devise a move set from thousands of selectable moves. You can also set the stats & CPU Logic of your custom grappler here. You'll find 69 exclusive characters here as well.
Tournament
Up to 8-16 wrestlers compete for the crown! The last wrestler/team remaining wins.
Open League
Up to a whopping 128 wrestlers compete in a round robin tournament that can last up to a max of 256 matches! The wrestler/team with the most points by the League's end will win.
Champion Road
For the first time in series history, you play through a story mode written by the infamous Goichi Suda aka Suda51, which includes some controversial themes. You assume the role of CHAMPION ROAD exclusive wrestler Morio Smith (which you can create from the ground up before the story begins) and relive his wrestling career in this 10 chapter, 30+ match long story, which ends with a fight to the death against the man responsible for the tragedies in his career.
Roster (Real Names Only)
Champion Road Exclusive
Morio Smith (EDIT Mode Wrestler Template 143)
New Japan Pro Wrestling
Tatsumi Fujinami
Riki Choshu
Shinya Hashimoto
Masahiro Chono
Keiji Mutoh
Hiroshi Hase
Road Warrior Hawk
Power Warrior
Scott Norton
Hercules Hermandez
Shinjiro Koshinaka
Kengo Kimura
Tatsutoshi Goto
The Great Kabuki
Kuniaki Kobayashi
Jushin Thunder Liger
Wild Pegasus
Black Tiger Mask
El Samurai
Osamu Kido
All-Japan Pro Wrestling
Jumbo Tsuruta
Masanobu Fuchi
Mitsuharu Misawa
Kenta Kobashi
Toshiaki Kawada
Tsuyoshi Kikuchi
Akira Taue
Jun Akiyama
Stan Hansen
Ted DiBiase
Terry Gordy
Steve Williams
Johnny Ace
Wrestling And Romance/Wrestle Association R
Genichiro Tenryu
Ashura Hara
Ultimo Dragon
Masao Orihara
Super Strong Machine
Arashi
Independent Wrestlers
Atsushi Onita (Frontier Martial Arts Wrestling)
Tarzan Goto (FMW)
Mr. Pogo (FMW)
Mitsuhiro Matsunaga (FMW)
The Great Sasuke (Michinoku Pro Wrestling)
Ricky Fuji (FMW)
Sabu (FMW)
Super Delfin (MP)
Jinsei Shinzaki (MP)
Koji Kitao (Bukoh Dojo)
American Wrestlers
Hulk Hogan (World Wrestling Federation)
Randy Savage (WWF)
Earthquake (WWF)
Bam Bam Bigelow (WWF)
The Undertaker (WWF)
Rick Rude (World Championship Wrestling)
Sting (WCW)
The Great Muta (WCW)
Rick Steiner (WWF)
Scott Steiner (WWF)
Shoot Fighters
Yoshiaki Fujiwara (Pro Wrestling Fujiwara-Gumi)
Akira Maeda (Fighting Network RINGS)
Volk Han (RINGS)
Tariel Bitsadze (RINGS)
Chris Dolman (RINGS)
Dick Vrij (RINGS)
Nobuhiko Takada (Union of Wrestling Forces International)
Kazuo Yamazaki (UWFI)
Kiyoshi Tamura (UWFI)
Big Van Vader (UWFI)
Gary Albright (UWFI)
Masakatsu Funaki (Hybrid Wrestling Pancrase)
Minoru Suzuki (HWP)
Ken Shamrock (HWP)
Bas Rutten (HWP)
Yoji Anjoh (UWFI)
Yuko Miyato (UWFI)
Hidden Wrestlers (Can only by accessed by completing CHAMPION ROAD)
Mil Mascaras (AJPW)
Gran Hamada (MP)
Dynamite Kid (AJPW)
Davey Boy Smith (AJPW)
Tiger Mask (NJPW)
Super Tiger (Universal Wrestling Federation)
Roland Bock (NJPW)
Bruiser Brody (AJPW)
Antonio Inoki (NJPW)
Giant Baba (AJPW)
Fritz Von Erich (AJPW)
Rikidozan (Japanese Wrestling Alliance)
Lou Thesz (NJPW)
Karl Gotch (NJPW)
Dusty Rhodes (WCW)
Dick Murdoch (NJPW)
Dory Funk Jr. (AJPW)
Terry Funk (International Wrestling Association Japan)
Road Warrior Animal (WWF)
Tiger Jeet Singh (FMW)
Abdullah the Butcher (AJPW)
Ric Flair (WCW)
Kotetsu Yamamoto (NJPW)
Hidden Shoot Fighters (Can only be accessed by completing CHAMPION ROAD)
Royce Gracie (Ultimate Fighting Championship)
Masaaki Satake (K-1 Grand Prix)
Andy Hug (K-1)
Ernesto Hoost (K-1)
Gerard Gordeau (UFC)
Maurice Smith (HWP)
EDIT Exclusives
Hayabusa
Willy Williams
Battle Liger
Manabu Nakanishi
Ryuma Go
Great Nita
Shinjiro Otani
Masa Saito
Michiyoshi Ohara
Big Bossman
Rusher Kimura
Mister Chin
Big Titan
The Gladiator
Damian
Hiromichi Fuyuki
Prince Tonga
Jado
Gedo
Bad News Allen
Yukihiro Kanemura
TAKA Michinoku
Kendo Nagasaki
Umanosuke Ueda
Yoshiaki Yatsu
Yokozuna
Bret Hart
Tony Halme
The Patriot
The Eagle
Doug Furnas
Danny Kroffat
Ultimate Warrior
Jake Roberts
El Canek
Dos Caras
Kendo
Harley Race
The Destroyer
Shiryu
Yoshinari Ogawa
Mitsuya Nagai
Yoshihisa Yamamoto
Masayuki Naruse
Andrei Kopilov
Tadao Yasuda
Pegasus Kid
Phantom Pirate #1
Phantom Pirate #2
Tatsuo Takano
Yuki Ishikawa
Choden Senshi Battranger Z (Yukihide Ueno)
Don Leo Jonathan
Kerry Von Erich
Kensuke Sasaki
Akira Nogami
Takayuki Iizuka
Yuji Nagata
Satoshi Kojima
Norio Honaga
Manabu Yamada
Seiji Sakaguchi
Kantaro Hoshino
Dan Spivey
Cactus Jack
Gran Naniwa
Jeffrey McWild (from Virtua Fighter)
Wolf Hawkfield (from Virtua Fighter)