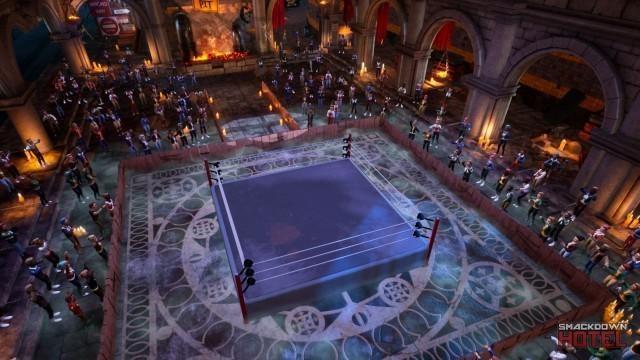 WWE 2K Battlegrounds will feature a good variety of Match Types with up to 4 wrestlers in the ring at the same time, as your favorite WWE Superstars and Legends battle it out in outlandish environments with an arsenal of moves, special abilities, and power-ups.
Here you can find all the details revealed so far about the arcade-styles Matches in WWE 2K Battlegrounds.
WWE 2K Battlegrounds Match Types List So Far:
Below you can find the list of all the Match Types confirmed so far for WWE 2K Battlegrounds.
1vs1 Single Match
2v2 Tag-Team Match
Steel Cage Match
Royal Rumble
Fatal Four Way Match
King of the Battlegrounds


This list of match types in WWE 2K Battlegrounds is not complete yet. More match types will be likely announced soon, stay tuned on this page as we will update the list as new matches are confirmed.
You will be able to play the matches online, or battle in local multiplayer, up to four players in the ring at the same time.
The Environments / Arenas will also play a major role in the action, featuring interactive elements and a variety of outrageous melee weapons that players will be able to use against each other. Just to mention a few: Military helicopters, Cars in an auto shop, and hungry alligators.


The All-New King of the Battleground Match
King of the Battleground is an all-new online last-man-standing challenge where 4 players start in the ring while 4 other superstars wait outside to enter, challenging you to run the gauntlet and defeat them all. So in this new type of match, there will be a total of 8 wrestlers fighting for the win, but only 4 of them will be allowed to stay in the ring at the same time.
For more information about the Online Modes of WWE 2K Battlegrounds take check out this guide.
---
For all the information on WWE 2K Battlegrounds check out the WWE 2K Battlegrounds Main Section, and for an updated list of all the confirmed Superstars for the game, you can visit the WWE 2K Battlegrounds Roster Page.