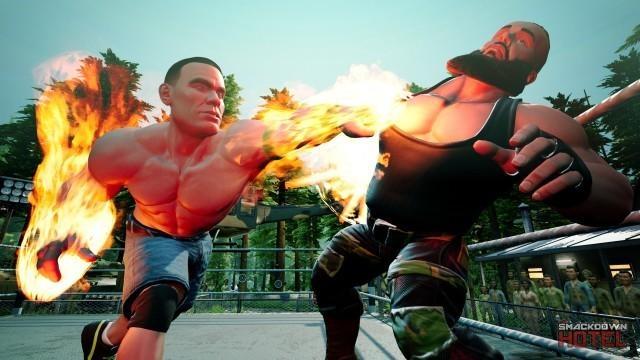 The WWE 2K Battlegrounds Roster features more than 70 WWE Superstars and Legends at launch, with more unlockable Superstars to come via future free updates.
Each Superstar in WWE 2K Battlegrounds utilizes one of five Class Styles.
Each class style plays differently, with its own combat moves, strengths and weaknesses.
All Superstars & Legends will have distinct techniques and advantages that other classes do not have, such as unique abilities and combinations.
Full list of Class Styles in WWE 2K Battlegrounds:
WWE 2K Battlegrounds features the following Superstar Class Styles:
Powerhouse
Technician
High-Flyer
Brawler
All-Rounder
When you pick your Superstar in WWE 2K Battlegrounds, make sure to find and choose the style that works best for you!
Class Styles Strengths & Weaknesses:
The exact strengths and weaknesses of each Character Class in WWE 2K Battlegrounds have still not been revealed.
This article will be updated as soon as we know more information, and we will include the Pros & Cons of using each class / style in WWE 2K Battlegrounds.
Powerhouse
Powerhouses are real gladiators. They have an arsenal of power moves and heavy strike, and no obstacle is too difficult for them to overcome.
Technician
Technicians are masters of the ring, and there is no hold which they haven't perfected. They are always one step ahead of their opponent, wearing them down with precision.
High-Flyer
Quick and agile, a High Flyer's arsenal relies on aerial abilities, lighting speed and high-risk maneuvers. Acrobats move faster than the other classes, but are not as durable.
Brawler
Brawlers are ready to fight anytime and any place, they excel in a street fight. Brawlers are masters of striking and specialize in combat outside the ring.
All-Rounder
All-Rounder Superstars don't excel at a particular aspect of their game, but they are versatile and well-suited for all situations.
---
For the updated list of all the confirmed Superstars for the game, you can visit the WWE 2K Battlegrounds Roster Page.