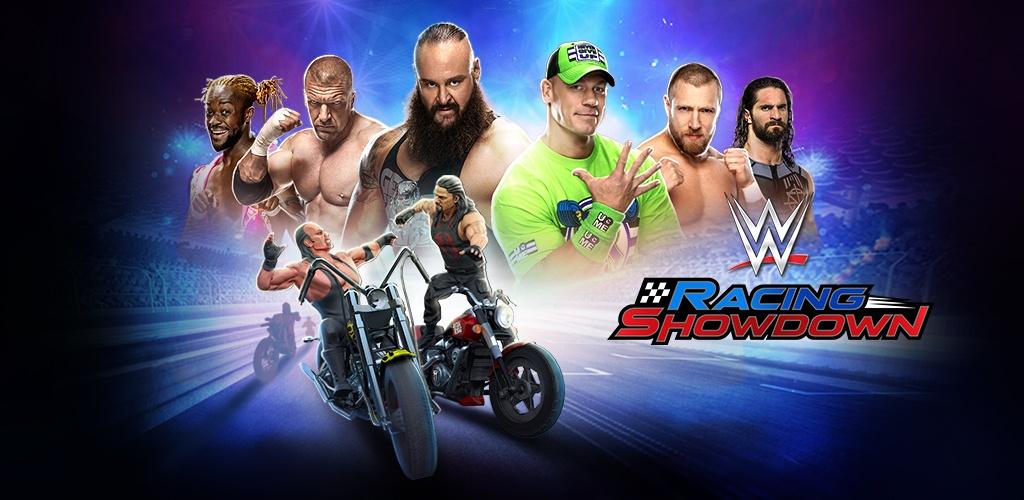 Game Series

WWE Games

Release Date

December 11, 2020

Platforms

AndroidiOS (iPhone/iPad)

Publisher

JetSynthesys

Developer

JetSynthesys
In WWE Racing Showdown, get ready to play the one-of-a-kind, edge of the seat, high-octane fuelled ULTIMATE WWE BATTLE. Choose your favorite WWE Superstar, rev your engine, hit the gas, and race fearlessly to dominate your opponents in this white-knuckle WWE action racing game. Perform WWE signature moves while you smackdown your enemies. Throttle away your rivals, keep the chase going and ride your WWE Superstar to Victory. Win with SPEED and Slay with MIGHT!
ASSEMBLE WWE STARS AND VEHICLES

Collect all your favorite WWE Superstars and Legends including Undertaker, John Cena, Brock Lesnar, Ronda Rousey, Roman Reigns, Kofi Kingston, Seth Rollins, Jinder Mahal and many more! Get custom bikes for each that best showcase their personality.
PERFORM SPECTACULAR MOVES ON BIKES
Undertaker's Tombstone, John Cena's Attitude Adjustment, Roman Reigns' Spear at TOP SPEED! Perform all amazing moves while on a MOTORBIKE as you RACE! Show off your combat skills and feel the aggression of a Real WWE Match.
RACE & BATTLE IN A 1 VS 7 MULTIPLAYER
Race and battle away to victory in the edge of the seat 1 v 7 Multiplayer. Pick from extremely addictive tracks, discover amazing WWE Super stunts, and compete with players with your skill level. Eliminate them from the match with your SKILL and STRATEGY!
UPGRADE AND UPSKILL
Collect and level up your Superstars from 1 to 5 STARS to enhance their skills and abilities and make them more powerful than ever before.
Roster
Adam Cole
Asuka
Bayley
Becky Lynch
Braun Strowman
Brock Lesnar
Charlotte Flair
Daniel Bryan
Drew McIntyre
Ember Moon
Hulk Hogan
Jinder Mahal
John Cena
Kofi Kingston
Rhea Ripley
Roman Reigns
Ronda Rousey
Sasha Banks
Seth Rollins
Shayna Baszler
Triple H
Undertaker