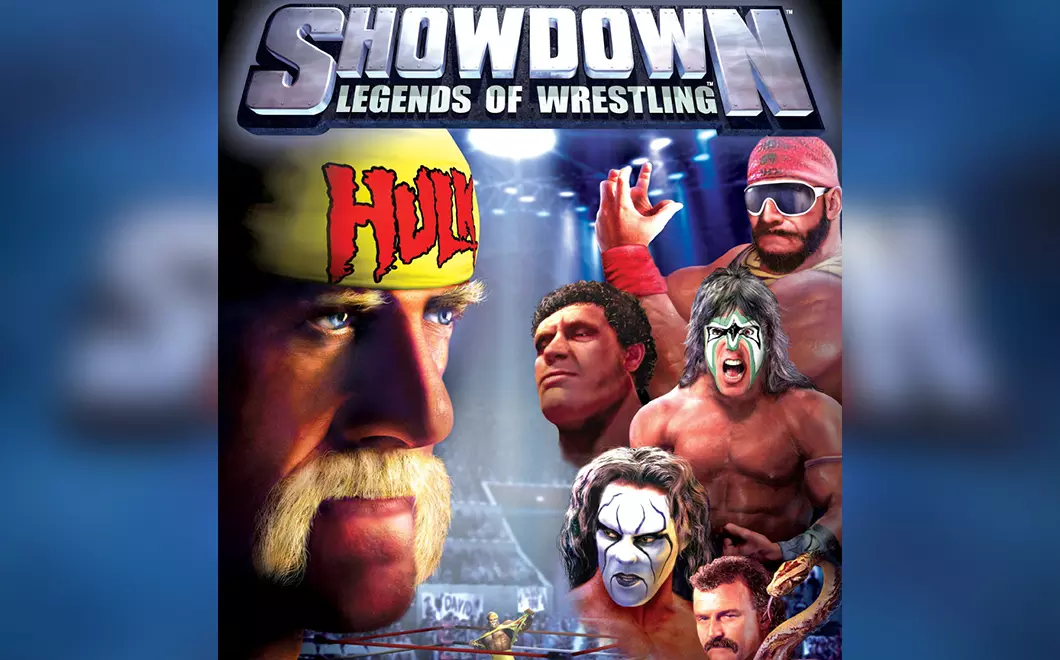 FINISH THE FEUD!
Showdown: Legends of Wrestling is a wrestling video game sequel to Legends of Wrestling II. It is the third and last chapter of the Legends of Wrestling series.
Showdown: Legends of Wrestling is the exclusive supercard of the immortals! Battle through the annals of time clashing with the greatest grapplers to set foot in the squared circle. Unlock classic feuds, create dream matches, and travel down the path of pain in the first-ever era-based career mode. See if you have what it takes to beat the icons of professional wrestling.
Showdown: Legends of Wrestling Roster:
Key Features:
The only game with 73 of the greatest ring warriors ever, including Hulk Hogan, Randy "Macho Man" Savage, Sting, Ultimate Warrior, Andre The Giant, Jake "The Snake" Roberts, "Rowdy" Roddy Piper, "The American Dream" Dusty Rhodes, Bret "Hitman" Hart, Diamond Dallas Page and many more!
Brand new "Ready To Brawl" controls for ultimate mat mayhem.
Travel down the path of pain through the 70's, 80's and 90's in the all-new SHOWDOWN Challenge.
Never-before-seen Classic Matches with hidden licensed arenas.
Matches including Table, First Blood, Ladder, Steel Cage, Iron Man, Battle Royal, Hardcore, 6 & 8 Man Tag, Elimination, Handicap, plus 3 & 4 Way Dances.
Three-man commentary with Tony Schiavone, Larry Zbyszko & Bobby "The Brain" Heenan.
Gameplay tutorial from the "excellence of execution" Bret "Hitman" Hart.
Create-A-Legend returns with all new textures and body geometry allowing gamers to make their ultimate icon of wrestling.
Signature entrances and taunts for each Legend, including all new licensed music composed by "Mouth of the South" Jimmy Hart.
Wrestle with the greatest tandems ever such as The Road Warriors, Steiner Brothers, British Bulldogs, Koloffs, Nasty Boys, Rock-n-Roll Express and more.
Wrestling's greatest managers lead you to the ring, including Bobby "The Brain" Heenan, The Grand Wizard, Captain Lou Albano, "Mouth of the South" Jimmy Hart and Mr. Fuji.
The theme song is "Metal Health" by Quiet Riot.
Roster Attires:
1) Abdullah the Butcher [WWC '83 / Texas '86 / Turner '92 / Japan '85]
2) "The American Dream" Dusty Rhodes [Dream '86 / Champ '81 / MSG '78 / Bunkhouse]
3) Andre the Giant [WrestleMania 3 / WrestleMania 2 / WWWF 70s / Japan]
4) Andy Kaufman [Memphis '82 / Saturday Night Live '79 / TAXI '80 / SNL '75]
5) Bam Bam Bigelow [Survivor Series '87 / WrestleMania 11 / Triple Threat / Turner '99]
6) Baron von Raschke [AWA '75 / WWWF '78 / NWA '86 / AWA '88]
7) Big John Studd [WrestleMania 1 / WWF '88 / AWA '83 / Promo '88]
8) "Big Poppa Pump" Scott Steiner [WWE '03 / nWo '98 / Champ '00 / Brothers '93]
9) Bob Backlund [WWF Champ / Survivor Series '94 / Champ '83 / Mister '96]
10) Bobby "The Brain" Heenan [WWF '88 / WM 3 / Prime Time '90 / Weasel '88]
11) Bret "Hit Man" Hart [WrestleMania 12 / WCW '98 / WrestleMania 8 / Tag Champion]
12) Brian Pillman [Flyin' '90 / Cannon '97 / Blondes '93 / Extreme '96]
13) British Bulldog [Attitude '97 / Turner '93 / SummerSlam '92 / Tag Champion]
14) Bruno Sammartino [Champ '63 / Champ '73 / Legend '79 / Return '87]
15) Captain Lou Albano [WWWF '68 / WWF '78 / WWF '85 / WWWF '74]
16) Cowboy Bob Orton [Cowboy '86 / Cowboy '87 / WrestleMania 1 / Cowboy '89]
17) Curt Hennig [SummerSlam '91 / Hasbro / Perfect '01 / Intercontinental Champion]
18) Diamond Dallas Page [Champ '99 / Jersey Triad / People's Champ '97 / WWE '03]
19) Don Muraco [Survivor Series '87 / The Rock '86 / The Rock '85 / ECW '93]
20) Dory Funk Jr. [NWA Champ / AJPW '74 / Hoss '86 / WWC '87]
21) Dr. Death Steve Williams [AJPW '94 / Attitude '98 / Turner '92 / Varsity '89]
22) Dynamite Kid [Tag Champs / Bulldogs '87 / NJPW '82 / NJPW '84]
23) Eddie Guerrero [RevolutioN / RadicalZ / WWA '02 / WCW '98]
24) Fritz Von Erich [AWA '63 / Texas '70 / Texas '73 / WCCW '79]
25) George "The Animal" Steele [WWF '85 / WWF '86 / WWWF '78 / TNT '86]
26) The Grand Wizard [WWWF '73 / WWWF '77 / WWWF '78 / WWF '83]
27) Greg "The Hammer" Valentine [Hammer '91 / IC Champ / WrestleMania 1 / Starrcade]
28) Hacksaw Jim Duggan [Hacksaw '90 / Hacksaw '95 / Hacksaw '93 / Hacksaw '87]
29) Harley Race [NWA Champ / King '86 / Handsome '70 / Handsome '65]
30) "Hot Stuff" Eddie Gilbert [Hot Stuff '89 / Hot Stuff '91 / Hot Stuff '87 / Hot Stuff '93]
31) Hulk Hogan [Hulkamania '87 / WWE '03 / Ichiban '81 / nWo '98]
32) Iron Sheik [WrestleMania 1 / Hulkamania '84 / WWF Champ / Turner '89]
33) Ivan Koloff [Tag Champs / NWA '86 / NWA '84 / WWWF Champion]
34) Ivan Putski [WWF '85 / Tag Champs / WWWF '78 / AWA '74]
35) Jake "The Snake" Roberts [WrestleMania 7 / WWF '89 / WrestleMania 4 / WrestleMania 5]
36) Jerry "The King" Lawler [Kaufman '83 / King '93 / RAW '96 / AWA Champion]
37) Jimmy "Superfly" Snuka [Superfly '83 / Superfly '91 / ECW '93 / Indies '00]
38) Kerry Von Erich [NWA Champ / Japan / WCCW '87 / AWA '90]
39) Kevin Von Erich [WCCW '84 / WCCW '82 / WCCW '86 / WCCW '78]
40) Killer Kowalski [WWWF '63 / WWWF '69 / WWWF '73 / WWWF '76]
41) King Kong Bundy [WrestleMania 11 / Indies '95 / Married with Children '95 / WM 2]
42) Koko B. Ware [Birdman '91 / WrestleMania 6 / High Energy / Memphis '85]
43) Mil Mascaras [AJPW '80 / IWA '74 / WWWF '78 / Mexico '76]
44) "The Mouth of the South" Jimmy Hart [Memphis '80 / Memphis '83 / Nasty '91 / Honky '88]
45) Mr. Fuji [WWWF '77 / WWWF '78 / WWF '88 / WWF '94]
46) "Mr. USA" Tony Atlas [Tag Champ / Mr. USA '86 / Mr. USA '95 / Turner '92]
47) "Mr. Wonderful" Paul Orndorff [WM 1 / Survivor Series '87 / Turner '90 / TV Champ]
48) "Nasty Boy" Brian Knobbs [Nasty Boy '90 / Nasty Boy '92 / Nasty Boy '94 / Nasty Boy '96]
49) "Nasty Boy" Jerry Sags [Nasty Boys '90 / Nasty Boys '92 / Nasty Boy '94 / Nasty Boy '96]
50) Nikita Koloff [Tag Champ / US Champ / Nightmare '87 / Nightmare '88]
51) Nikolai Volkoff [WWF '84 / WWF '91 / WWF '95 / Tag Champs]
52) One Man Gang [WWF '87 / WCCW '86 / UWF Champ / Mid South '83]
53) Owen Hart [Foundation '97 / Euro '98 / Attitude / Nation '98]
54) Randy "Macho Man" Savage [Madness '88 / WrestleMania 7 / nWo '97 / Wolfpac '98]
55) Ravishing Rick Rude [Ravishing '92 / Ravishing '89 / Ravishing '88 / Ravishing '91]
56) Rick Martel [Tag Champ / AWA Champ / Strike Force / Model '92]
57) Rick Steiner [Magnificent 7 / NJPW '02 / Turner '99 / Brothers '93]
58) Ricky Morton [Express '85 / Express '86 / Express '87 / Express '88]
59) Ricky "The Dragon" Steamboat [NWA Champ / Dragon '86 / Dragon '85 / Dragon '91]
60) Road Warrior Animal [LOD '92 / Verne '86 / Attitude '97 / Turner '89]
61) Road Warrior Hawk [LOD '92 / Verne '86 / Attitude '97 / Turner '89]
62) Robert Gibson [Express '85 / Express '86 / Express '87 / Express '88]
63) Rocky Johnson [Tag Champ / Soulman '81 / Soulman '83 / Soulman '80]
64) Rowdy Roddy Piper [WrestleMania 1 / Hot Rod '89 / ICON '97 / Piper's Pit]
65) Sabu [ECW '99 / TNA '02 / Broken Neck / Japan '94]
66) The Sheik [WWWF '72 / BTW '74 / BTW '76 / AJPW '78]
67) Sid Vicious [Sin '01 / WrestleMania 13 / Sycho '95 / WCW '93]
68) Sting [Crow '97 / Wolfpac '98 / The Great American Bash '90 / Beach Blast '92]
69) Superstar Billy Graham [WWWF Champ / Superstar '77 / Superstar '79 / Superstar '82]
70) Ted DiBiase [Million $ '87 / UWF '86 / UWF '83 / Million $ '90]
71) Terry Funk [ECW Champion / WCW '00 / WWF '86 / Forever '83]
72) Tito Santana [Survivor Series '90 / Arriba '91 / Strike Force / El Matador]
73) Ultimate Warrior [WrestleMania 6 / SummerSlam '89 / Royal Rumble '91 / LJN '89]
Arenas:
Madison Square Garden (New York, NY)
Boston Garden (Boston, MA)
Maple Leaf Gardens (Toronto, Canada)
Pontiac Silverdome (Pontiac, MI)
Wembley Stadium (London, England)
The Omni (Atlanta, GA)
Tokyo Dome (Tokyo, Japan)
Texas Stadium (Irving, TX)
Philadelphia Spectrum (Philadelphia, PA)
Moscow Arena (Moscow, Russia)
Cobo Arena (Detroit, MI)
Legends Coliseum (Austin, TX)
L.A. Sports Arena (Los Angeles, CA)
Cow Palace (San Francisco, CA)
Toronto Skydome (Toronto, Canada)
Greensboro Coliseum (Greensboro, NC)
Dory Funk's Gym (Ocala, FL)
Mid-South Coliseum (Memphis, TN)