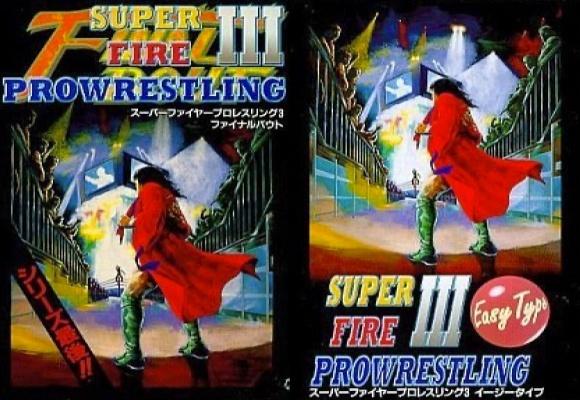 Game Series

Fire Pro Wrestling

Release Date

December 28, 1993

Additional Releases

February 4th, 1994 (Easy Type re-release)

Platforms

Super NES

Publisher

Human Entertainment

Developer

Human Entertainment
Fire Pro Wrestling returns to your Super Famicom for the Final Bout! It's BIGGER with more features and the largest gathering of wrestlers to date totaling up to 64, yes, SIXTY-FOUR playable wrestlers; BADDER with its refined wrestling engine, and BETTER with everything else, and if 64 wrestlers somehow doesn't whet your appetite, then don't fret, the EDIT mode is back, allowing you to add an additional 12 wrestlers to round up to an even 76 playable characters! Do you have what it takes to be the World Champion? Just remember, Legends aren't simply born, they're made; so it's time to make yours on the Super Famicom in SUPER FIRE PRO WRESTLING III: FINAL BOUT!
Game Modes
One Night Dream Match
This is your Exhibition Mode, where you can play Singles, Tag, and 1-on-2 Handicap matches.
World Championship & Title Match
This is available for both Singles & Tag divisions, and like before, you face off against literally the entire roster in the game, with the points system also returning, thus meaning you need enough points to qualify to the next match and so on, otherwise, kiss your championship dreams goodbye. As always, Pins, Subs, and Criticals award you 5 points, whilst DQs & Countouts award you 4 points. Complete this mode to unlock TITLE MATCH mode. The Password system also returns, thus allowing you to save your progress in this mode so that you can come back to it and resume later, assuming you remember the password you were given. Once you defeat the standard 56 wrestler roster, you're then given the choice to enter TITLE MATCH, for which, if you do, you'll then face off against the remaining 8 wrestlers in the 64 character roster. Beat this mode as well, and you'll not only win the game, but unlock the bosses as playable characters too. In the Easy Type re-release, the bosses are selectable from the start.
Open League
This is a mode that allows up to 8 wrestlers/teams to participate in a round robin tournament. Whoever has the most points once all the matches have played out will win.
Elimination
This is your 5-on-5 match, where you select your quintet of wrestlers to face off against another quintet of wrestlers. Last team standing wins.
Tournament
After a lengthy absence, Tournament returns in SFPW3 and works just like you'd expect! 8 wrestlers/teams compete and the last man/duo standing wins.
Battle Royale
New to the series is the Battle Royale mode, where 4 wrestlers compete at the same time, and elimination rules apply. Last wrestler standing wins.
Edit
The Create a Wrestler mode, now renamed Edit, is back, allowing the player to create up to 12 additional wrestlers. Unfortunately, this mode is absent in the Easy Type re-release.
Roster (Real Names only)
Akira Maeda [RINGS]
Akira Taue [AJPW]
Antonio Inoki [NJPW]
Atsushi Onita [FMW]
Bad News Brown [NJPW]
Bam Bam Bigelow [WWF]
Barry Gasper [NJPW]
Big Van Vader [WCW]
Billy Gasper [NJPW]
Bruiser Brody [AJPW]
The Destroyer [AJPW]
Dick Vrij [RINGS]
Dory Funk Jr. [AJPW]
Dos Caras [EMLL]
Dynamite Kid [AJPW]
El Samurai [NJPW]
Gary Albright [UWFI]
Genichiro Tenryu [WAR]
The Great Muta [NJPW]
The Great Sasuke [MPW]
Hiroshi Hase [NJPW]
Hulk Hogan [WWF]
Jumbo Tsuruta [AJPW]
Jushin Thunder Liger [NJPW]
Karl Gotch [NJPW]
Kazuo Yamazaki [UWFI]
Keiji Mutoh [NJPW]
Ken Shamrock [HWP]
Kensuke Sasake [NJPW]
Kenta Kobashi [AJPW]
Koji Kitao [WAR]
Kotetsu Yamamoto [NJPW]
Lou Thesz [NJPW]
Masahiro Chono [NJPW]
Masakatsu Funaki [HWP]
Masa Saito [NJPW]
Mil Mascaras [WAR]
Minoru Suzuki [HWP]
Mitsuharu Misawa [AJPW]
Nobuhiko Takada [UWFI]
Pegasus Kid [NJPW]
Power Warrior [NJPW]
Rick Steiner [WWF]
Riki Choshu [NJPW]
Rikidozan [JWA]
Road Warrior Animal [WWF]
Road Warrior Hawk [NJPW]
Scott Norton [NJPW]
Scott Steiner [WWF]
Shinya Hashimoto [NJPW]
Stan Hansen [AJPW]
Steve Williams [AJPW]
Sting [WCW]
Tatsumi Fujinami [NJPW]
Terry Funk [IWAJ]
Terry Gordy [AJPW]
Tiger Jeet Singh [FMW]
Tiger Mask [UWF]
Toshiaki Kawada [AJPW]
Tsuyoshi Kikuchi [AJPW]
The Ultimate Warrior [WWF]
Ultimo Dragon [WAR]
Volk Han [RINGS]
Yoshiaki Fujiwara [PWFG]