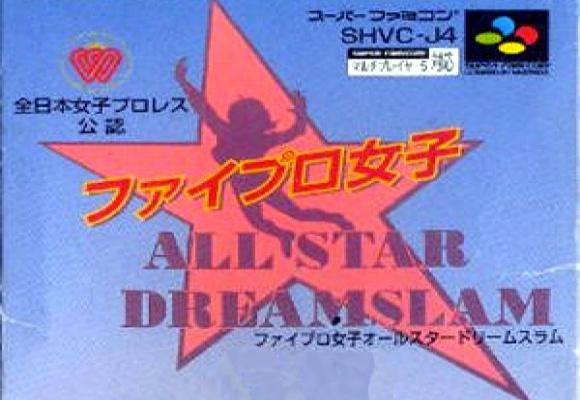 Game Series

Fire Pro Wrestling

Release Date

July 22, 1994

Platforms

Super NES

Publisher

Human Entertainment

Developer

Human Entertainment
Fire Pro Wrestling returns in style, and for the first time ever, it has an official collaboration with All Japan Women's Pro Wrestling! Play as over 20 of the company's best Joshi wrestlers with all the features you all know and love and get ready for an All-Star Dream Slam!
Game Modes
Exhibition Match
The Regular Exhibition allows players to set up any Single & Tag matches of their choice. The Winning Road works exactly like the World Championship mode from previous Fire Pro Wrestling games. Singles & Tag matches are also possible in Winning Road. To access the hidden wrestlers, highlight Pink Joshi and press Up & Start or Down & Start, this doesn't work in Winning Road.
Open League
The round robin tournament returns once again and as always, allows up to 8 wrestlers or teams to participate. The woman/duo with the most points wins.
Tournament
This mode returns also and allows the same number of participants as in the League mode. Last woman/duo standing wins.
Elimination
Another returning mode allowing two quintets of women wrestlers to do battle. Last team standing wins.
Battle Royale
Another returning mode in which up to 4 women duke it out in the ring. The last woman remaining will be the winner.
AJW Roster
Aja Kong
Akira Hokuto
Bat Yoshinaga
Black Joshi (Devil Masami)
Bull Nakano
Chaparita Asari
Crash Gal 1 (Chigusa Nagayo)
Crash Gal 2 (Lioness Asuka)
Debbie Malenko
Etsuko Mita
Green Joshi (Dynamite Kansai) [WPW]
Infernal Kaoru
Kaoru Ito
Kyoko Inoue
Manami Toyota
Mariko Yoshida
Mima Shimoda
Minami Suzuka
Pink Joshi (Megumi Kudo) [FMW]
Red Joshi (Mayumi Ozaki) [JWP]
Sakie Hasegawa
Takako Inoue
Toshiyo Yamada
White Joshi (Jaguar Yokota)
Yellow Joshi (Shinobu Kandori) [LLPW]
Yumiko Hotta