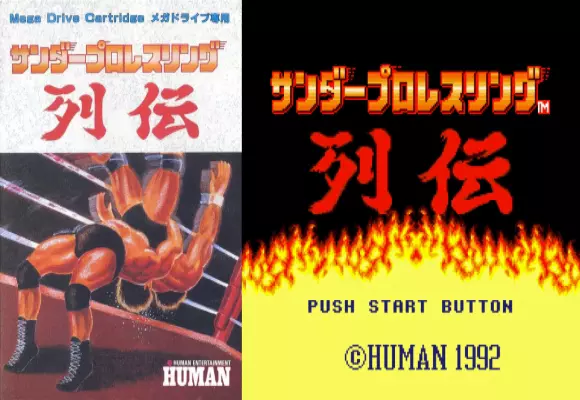 Don't let the name fool you, this is the next Fire Pro Wrestling installment in the series, albeit a side one: Thunder Pro Wrestling Retsuden! Play as 12 of the top wrestlers in the sport, each with unique moves and styles. Your Road to Glory begins here in the latest iteration of the Fire Pro Wrestling franchise! Good luck!
Game Modes
World Championship
Like before, you face off against the entire Roster either in Singles or Tag matches, utilizing the point system where you must obtain enough points to qualify to the next match, or else it's game over! Pin & Sub victories award you 5 points, DQ & Countout victories award you 4 points, and a Draw awards you 0 points. You need at least 42 points to win the mode. Unlike previous installments however, there are no hidden bosses to fight against.
Exciting
This is the Exhibition mode of the game, where you can play Single & Tag matches. Here, you can also adjust the Time Limit, Round Number, Ring Outs, and Rope Breaks.
Elimination
Gather a quintet of wrestlers to take on another 5-man team in this Tournament-like mode.
Handicap
New to the Fire Pro Wrestling series is the Handicap match, a 1v2 match where you can adjust the Time Limit, Ring Outs, and Rope Breaks like in the Exciting mode.
Roster
Akira Maeda (Buster Ryukiba) [UWF]
Antonio Inoki (Great Star) [NJPW]
Bam Bam Bigelow (Hideaki Cho) [AJPW]
Big Van Vader (Star Bomber) [NJPW]
Genichiro Tenryu (Mr. Yokozuna) [SWS]
Hulk Hogan (Ralph Panther) [WWF]
Jumbo Tsuruta (Senor King) [AJPW]
Jushin Thunder Liger (Masked Hell) [NJPW]
Kensuke Sasaki (Storm Daisuke) [NJPW]
Riki Choshu (Emperor Ken) [NJPW]
Stan Hansen (Victory Junkie) [AJPW]
Super Strong Machine (Masked Typhoon) [NJPW]