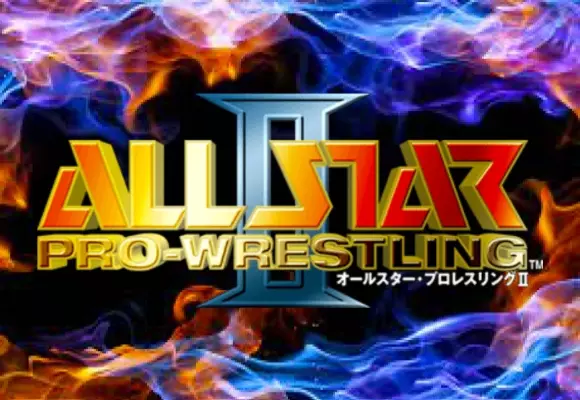 All-Star Professional Wrestling II is a Sports game, developed and published by SquareSoft, which was released in Japan in 2001.
The game features 48 selectable characters.
Roster
Kotetsu Yamamoto can be unlocked as a bonus referee by knocking out Tiger Hattori in a match. By completing the match that features Yamamoto as the referee, he'll be unlocked as a selectable referee.
New Japan Pro Wrestling
Battle Lyger
Don Frye
El Samurai
The Great Muta
Hiroyoshi Tenzan
Jushin Thunder Lyger
Kazuo Yamazaki (Win the IWGP Singles Title with Yuji Nagata to unlock him.)
Keiji Mutoh / Kokushimuso / Young Keiji Mutoh
Kendo KaShin
Kensuke Sasaki
Koji Kanemoto
Manabu Nakanishi
Masahiro Chono
Minoru Tanaka
Power Warrior (Beat Kensuke Sasaki 10 times without using the rematch option.)
Riki Choshu
Satoshi Kojima
Scott Norton
Shiro Koshinaka
Takashi Iizuka
Tatsumi Fujinami
Yuji Nagata
Pro-Wrestling NOAH
Akira Taue
Jun Akiyama
Kenta Kobashi
Masao Inoue
Mitsuharu Misawa
Mitsuo Momota
Naomichi Marufuji
Takao Omori
Takeshi Rikioh
Tamon Honda
Vader
Yoshihiro Takayama
Yoshinari Ogawa
Zero-ONE
Jr. Heavyweight Ohtani (Beat Ohtani with any Jr. Heavyweight.)
Shinjiro Ohtani
Shinya Hashimoto
Tatsuhito Takaiwa
Legends
Antonio Inoki
Jumbo Tsuruta
Rikidozan
Originals
Kenichiro Jinnai (Complete Rising Mode.)
Yuusaku Yuri (Complete Rising Mode.)
Free
Tadao Yasuda
White Mask (Have Antonio Inoki be your Manager in a match to unlock this Manager.)