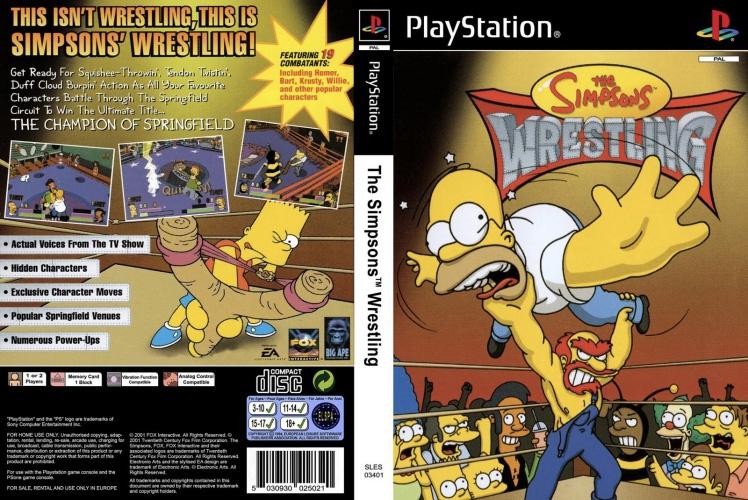 This Isn't Wrestling, This is Simpsons Wrestling!
It's A Good Ol' Fashioned, No-Holds-Barred Springfield Brouhaha!
Get ready for squishee-throwin', tendon twistin', Duff cloud burpin' action as all your favorite characters battle through the Springfield circuit to win the ultimate title... Champion of Springfield!
- Actual Voices from the TV Show
- Hidden Characters
- Exclusive Character Moves
- Popular Springfield Locations
- Numerous Power-Ups
Featuring 19 Combatants: Including Homer, Bart, Krusty, Willie and other popular characters.
Mmmm....Game Modes!
CIRCUIT comes in 3 difficulties: New Challenger, Defender, and Champion. Completing these unlocks additional characters, but upon completion of the Champion Circuit, a new mode.
PRACTICE is similar to a VS mode. You pick your character, pick your opponent, and kick some butt. The VS Mode allows two players to fight.
BONUS MATCHUP allows you to play as any character, in any stage, as well as play exclusive matches. You unlock this mode by completing the Champion Circuit.
Oooh, Roster! *BURP!*
Apu Nahasapeemapetilon
Barney Gumble
Bart Simpson
The Bumblebee Man [Complete New Challenger Circuit to unlock]
Groundskeeper Willie
Homer Simpson
Itchy [Bonus]
Kang & Kodos [Bonus]
Krusty the Klown
Lisa Simpson
Marge & Maggie Simpson
Moe Syzlak [Complete New Challenger Circuit to unlock]
Ned Flanders [Complete Defender Circuit to unlock]
Professor Frink [Complete Defender Circuit to unlock]
Scratchy [Bonus]
Waylon Smithers & C. Montgomery Burns [Bonus]
D'oh! The Levels!
Bowlarama
Burns' Mansion [Bonus]
Downtown
Evergreen Terrace
Itchy 'n Scratchy [Bonus]
Krustylu Studio
Kwik E Mart
Moe's Tavern
Nuclear Plant
Spaceship [Bonus]