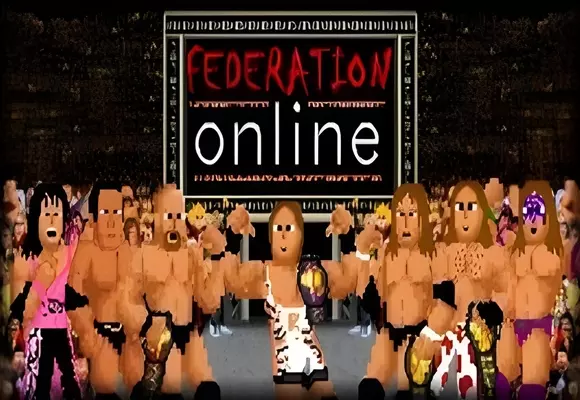 From the creator of games such as the Hardy Boyz Stunt Challenge, THAT Love Triangle, Bret Hart's Revenge, Big BumpZ and more, comes MDickie's first ever actual wrestling game: Federation Online.
Exhibition
Matches can be either...

Confrontation (Aimless)
Tables Match (Put opponent through tables)
Battle Royal (Standard pin & subs battle royal)
Elimination Brawl (Each pinned or subbed wrestler is replaced with a new wrestler)
Cripple Match (Injure wrestlers to win)
To The Death (A knockout match)
Loner Match (Wrestler who gets help loses)
Escape To Victory (Last fall before time limit)
Ironman Match (wrestler with most points within the time limit wins)
Best of 3 Match (2 out of 3 Falls)
Master Match (Win by pinfall or submission)
Submission Match (Win only by submission)
Normal Match (Standard wrestling match)

Decide how many wrestlers can participate in the match.
Format can be changed from Individuals, to Teams.
Adjust how long the match can go on for.
And adjust the difficulty of the CPU.
Roster
Axel Myers
Bret Hart
The Iceman
Mark Priest
Rob Van Dam
The Rock
Scott Parker
Steve Austin
Stu Fury
Cheats & Secrets
Press Ctrl + Space in a special grapple to use your opponent's move.
Press 8 during a match for slow motion.
Press 9 during a match for normal motion.
Press 0 during a match for turbo motion.
Hold Down at the title screen to put the logo into lower case.
Press Backspace during a match to launch a random CD track.
Press F1 at the title screen to set low resolution.
Press F2 at the title screen to set normal resolution.
Press F3 at the title screen to set high resolution.
Adjust the camera during a match by holding the left mouse button and moving the mouse to the far left/right.
At the character screen:
- Press C to enter with a chair.
- Press B to enter on the motorcycle.
During a started match:
- Press H & R to create a cage around the ring.
- Press H & O to create a cage backstage.
- Press H & F to set a cage on fire.
- Press B & W to fill the ring with barbed wire.
- Press G & L to fill the ring with glass.
- Press T & N to fill the ring with TNT.
- Press U & T to darken the arena.
- Press Ctrl & 1 to call out a backstage character.
- Press Ctrl & 2 to call out a referee.
- Press Ctrl & 3 to create items in the entrance way.
- Press Ctrl & 4 to create items by the ring.
- Press Ctrl & 5 to create items backstage.