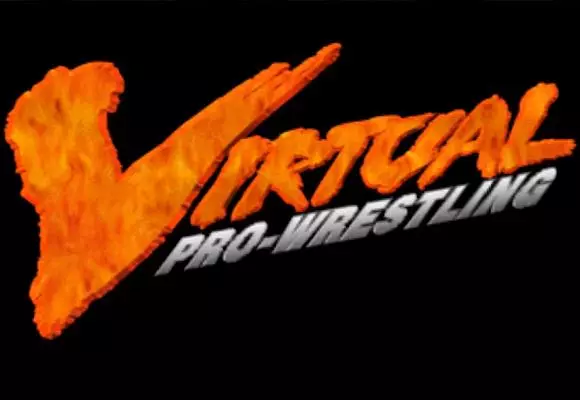 Game Series

Japanese

Release Date

September 13, 1996

Platforms

PlayStation 1

Publisher

THQ

Developer

AKI Corporation
Official Game Description
Virtual Pro Wrestling is a Sports game, developed by Aki Corp. and published by Asmik Ace Entertainment, Inc, which was released in Japan in 1996.
Game Modes
1 Player Mode lets players choose a wrestling promotion and fight a series of wrestlers. Each promotion has a boss character that can be unlocked, with the Super Junior & Super Heavy routes being dependant on the weight of your chosen wrestler, and have boss characters that can be unlocked from there.
Road To The Championship lets players fight 7 wrestlers, and then create a belt that can be saved.
Versus Mode is the 2-player mode.
Team Battle allows players to play either an Elimination-style Team Battle, or a Standard Team Battle.
Tournament/League allows up to 8 players to compete in either mode.
Title Match allows 2 players with championships to face each other. Memory Cards & Save Data are required for this mode.
Roster
Jyushin "Thunder" Liger

Wild Pegasus (Chris Benoit)

Black Tiger (Eddy Guerrero)

Tatsumi Fujinami

Riki Chosu

Keiji Mutoh

Shinya Hashimoto

Hiroshi Hase

Kensuke Sasaki

Mitsuharu Misawa

Toshiaki Kawada

Kenta Kobashi

Akira Maeda

Masakatsu Funaki

Masahiro Chono

Hiroyoshi Tenzan

Giant Baba

Jumbo Tsuruta

Akira Taue

Yoji Anjoh

Minoru Suzuki

Shiro Koshinaka

Scott Norton

Stan Hansen

Gary Albright

"Dr. Death" Steve Williams

Volk Han

Ken Shamrock

Atsushi Onita (Mr. Onita)

Tarzan Goto

Hulk Hogan

Sting

Ric Flair

Kazuo Yamazaki

Yoshiaki Fujiwara

Hayabusa

Sabu

The Great Muta

Power Warrior

Hawk

The Great Sasuke

Super Delphin

TAKA Michinoku

Jinsei Shinzaki (Hakushi)

Ultimo Dragon

Nobohiko Takada

Bas Rutten

Genichiro Tenryu

Koji Kitao

Vader

Rick Steiner

Scott Steiner

Antonio Inoki [Secret]

Bruiser Brody [Secret]

Karl Gotch [Secret]

Terry Funk [Secret]

Mil Mascaras [Secret]

Dynamite Kid [Secret]

Tiger Mask [Secret]

Andre the Giant [Secret]