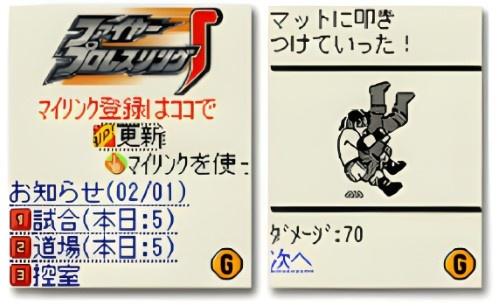 Game Series

Fire Pro Wrestling

Release Date

February 5, 2002

Platforms

Mobile

Publisher

Spike Chunsoft

Developer

Spike Chunsoft
Fire Pro Wrestling J is another installment of the Fire Pro Wrestling series that was released in 2002 for the J-PHONE.
Features
Spike has now started "Fire Pro Wrestling J" service for J-PHONE. This "Fire Pro Wrestling J" is a port of the popular wrestling series that has sold a total of 3.4 million copies of 21 titles since the first title was released in 1989.
First, create your original wrestler on your mobile phone. After you've trained in the dojo, it's time to start battling the CPU and your rivals! Send challenge letters (J-SKY Mail) to opponents all over the country and aim for the top ranking.
In addition to this, there are plenty of other fun elements to enjoy, such as launching an organization, managing an organization, and more. Not only Fire Pro fans, but also beginners can enjoy the hot fights. The information fee is 200 yen.