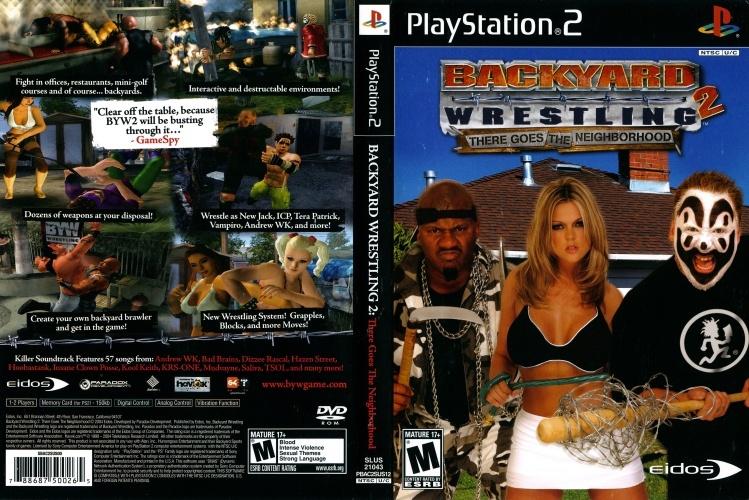 Game Series

Independent Games

Release Date

November 16, 2004

Additional Releases

November 19th, 2004 (EU); April 7th, 2005 (PS2, JPN)

Platforms

PlayStation 2Xbox
Developed by Paradox Development, published by Eidos Interactive.
Delve deep into the heart of Small Town America, USA, with Backyard Wrestling 2. Backyard Wrestling Inc. has put a million-dollar cash prize on the line for the wrestler who can win the unified BYW championship. Defeating the most hardcore backyard wrestlers is not enough, however, as the lure of "easy money" has attracted the attention of professional wrestlers as well. With new submission holds, body damage, and defensive moves, you must prove you have what it takes to destroy every obstacle in your path.
Soundtrack
ABK - Gang Related
Amen - Money Infection
Andrew W.K. - Party Hard
Andrew W.K. - Your Rules
Bad Brains - Soul Craft
Biohazard - Shades of Grey
Bloodsimple - Path to Prevail
Body Count - There Goes the Neighborhood
Boys Night Out - I Got Punched in the Nose for Sticking My Face in Other People's Business
Channel 3 - The Whine of Youth
Chimaira - Pure Hatred
Clutch - The Mob Goes Wild
Dark Lotus - That's Me
Dizzee Rascal - Jus' a Rascal
D.R.I. - Tear It Down
Dropkick Murphys - Walk Away
Every Time I Die - Godspeed Us to Sea
Fall Out Boy - Grenade Jumper
Gorilla Biscuits - New Direction
Gwar - Gor-Gor
Hazen Street - All That
Hazen Street - Are You Ready?
Hoobastank - Out of Control
ILLEGAL SUBSTANCE - Step to the Floor
Insane Clown Posse - F**k the World
Insane Clown Posse - Juggalo Paradise
Insane Clown Posse - We Gives No F**k
Kittie - Career Suicide
Kjell Vistad - Wicked Style
K-Love - Backyard Wrestling!
Kool Keith - Don't Crush It (Hakan Libdo Remix)
Kool Keith ft. Kut Masta Kurt & Motion Man - Serve 'Em a Sentence
KRS-One - Get Your Self Up
Lamb of God - Laid to Rest
Late Night Sneaky - The Metal
Lexicon - Rock
Midtown - To Our Savior
Mudvayne - Not Falling
Mudvayne - Silenced
Murphy's Law - Vicky Crown
Murs - You & I
Nora - I Should Have Sent Flowers
No Redeeming Social Value - Clueless
Pint Size - My Fist/Your Face
Red Tape - Stalingrad
Saliva - Survival of the Sickest
Shadows Fall - Destroyer of Senses
Sick of It All - On the Brink
Six and Violence - Die for Fun
Stamping Ground - Don't Need a Reason to Hate
Strike Anywhere - Infrared
Superjoint - Dress Like A Target
Thousand Foot Krutch - Rawkfist
T.S.O.L. - Serious
Twiztid - On the Other End
Vaux - Set it to Blow
Vision of Disorder - Through My Eyes
Roster
Adrianne Pain
Andrew W.K.
El Drunko
Joe Peterson
John Zandig
Kelvin Finn
Luke Hadley
Mad Man Pondo
Masked Horn Dog
Messiah
New Jack
Ruckus
The Rude Boy
Ryuji Ito
The Sandman
Shaggy 2 Dope
Sick Nick Mondo
Sonjay Dutt
Sunrise Adams
Supreme
Tera Patrick
Tylene Buck
Vampiro
Vic Grimes
Violent J
Career Mode Opponents (Unplayable)
Angel
Big Bad Brad
Bill Skill
Bob Bleed
Brutality
Bubbles
Captain Killa
Chainsaw
Chevy Heavy
Cinnamon
Death Grip
Delicious
Dimcha Benz
Doug Dynamite
Duke of Puke
Ed Mauler
Evil Doodoo
Fabulous
Flying Donkey
Fork You
Harry Handsome
Hot Buns
John Doe Foe
Kara Sene
Kid Karate
Kurt Hurt
Leaping Larry
Macca Cracka
Mad Raver
Manic Panic
Mesmerize
Mike Murder
Pete Long
Private Pain
Punishment
Psychotic
Reaper Boy
Snake Stevens
The Tangler
Terry Truck
Tim Tubby
Tiny Little
Violent Vinny
Zero the Hero
Arenas
Backyard
Brewery
Carnival
Construction Site
Junkyard
Mini Golf
Office
Pool
Restaurant
Trailer Park