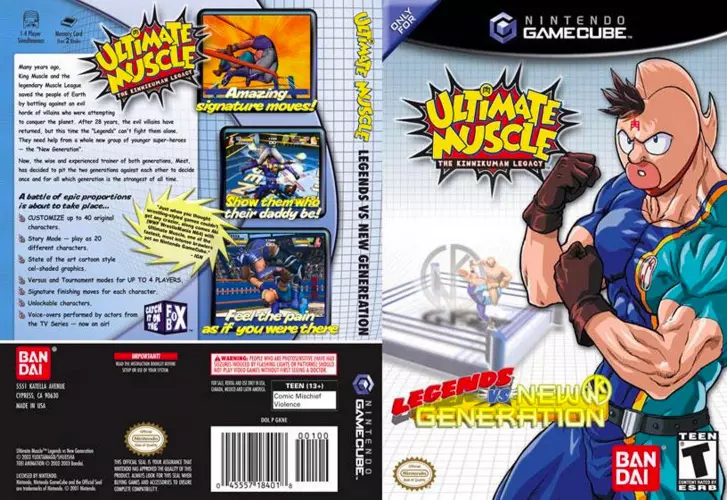 As evil villains return to take over the world, a battle ensues between old and new superheroes. The wise trainer of both generations, Meat, has decided to pit the two generations against each other to decide which generation is the strongest of all time. In this epic battle, you can play as 20 different characters (30 counting Recruits), each with different wrestling skills and signature finishing moves. Customize your character and play in Story mode or Versus and Tournament mode against three of your friends.
Game Modes
STORY MODE allows players to play through a single campaign with their selected character. Everyone in the game has a story mode.
VERSUS MODE is the Exhibition Mode, where you can play a Single, Single w/ Second, Tag Team, 2v2, 3P Battle Royal, or 4P Battle Royal match. It's also possible to let the computer fight itself.
TOURNAMENT MODE allows players to play with up to 8 wrestlers or team in Single or Tag single elimination tournaments.
CREATE MODE allows players to create an additional 40 wrestlers to add to the roster. Plenty of creative option are at your disposal here.
TOY MODE is where you unlock 444 toys by spending your KIN Medals that are earned through gameplay. The more toys you collect, the more characters you'll unlock.
Roster
New Generation
Kid Muscle
Terry Kenyon
Wally Tusket
Dik Dik Van Dik
Kevin Mask
Jaeger
Checkmate
Eskara
Hanzo
Bone Cold
Legends
King Muscle
Terryman
Ramenman
Buffaloman
Robin Mask
Brocken Jr.
Sunshine
Warsman
The Ninja
Skullduggery
Recruit Wrestlers
Baron Maximilian
Dazzle
El Kaerun
Ultimanoid
Weaponman
Yeti
Coconutman
Crescent Hearts
Chihuahuaman
Pandaman