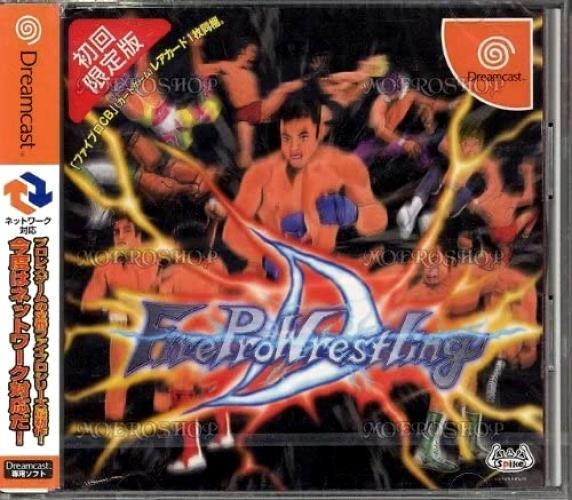 Game Series

Fire Pro Wrestling

Release Date

March 1, 2001

Platforms

Dreamcast

Publisher

Spike Chunsoft

Developer

S-Neo
Fire Pro Wrestling slams into the SEGA Dreamcast! Everything you know and love about Fire Pro is all here! The modes, the in-depth customization, the huge roster, and plenty more! Welcome to the world of Fire Pro Wrestling D!
The game features 220 standard selectable characters, with an additional 44 downloadable characters, bumping the total roster up to 264 characters.
Modes of Play
One Night Match
This is the Exhibition Mode where Singles, Tag, and Handicap matches can be made, with various stipulations such as Exploding Cages, Barbed Wire Deathmatches, Mixed Martial Arts fighting, and even Battlarts-style rules bouts!
One Night Tournament
Play single elimination tournaments here.
Open League
Play through a Round Robin tournament.
Elimination Match
Two teams of five face off in this mode. Last team standing wins.
Battle Royal
Up to eight wrestlers partake in this mode. The last wrestler remaining wins.
Victory Road
Fight through a slew of opponents whilst going for the championship of your choice, unlocking wrestlers and Edit content along the way.
Edit
Create & edit wrestlers, groups, and referees here. 75 exclusive characters can be found here. Here's a secret: Press the Left & Right Triggers & Y when you highlight this mode to unlock everybody in the game and get 300 points for the mode too.
Network Mode
Exchange data, download new moves, and more.
Title Match
Defend and edit championship belts here.
Roster (Real Names only) [Unlockables]
New Japan Pro Wrestling
[Antonio Inoki]
Riki Choshu
Tatsumi Fujinami
Masahiro Chono
[Keiji Mutoh]
Kensuke Sasaki
Manabu Nakanishi
Yuji Nagata
Hiroyoshi Tenzan
Satoshi Kojima
Shiro Koshinaka
[Kazuo Yamazaki]
[Animal Hamaguchi]
Takayuki Iizuka
Osamu Kido
Kengo Kimura
Junji Hirata
Yutaka Yoshie
Tatsutoshi Gotoh
Osamu Nishimura
Tadao Yasuda
Hiro Saito
Michiyoshi Ohara
AKIRA
Scott Norton
Don Frye
Super J
[Kotetsu Yamamoto]
[Tigermask]
[Dynamite Kid]
Jyushin Thunder Lyger
[Kuniaki Kobayashi]
El Samurai
Koji Kanemoto
Shinjiro Ohtani
Tatsuhito Takaiwa
Kendo Ka Shin
Shinya Makabe
[Black Tiger]
All Japan Pro Wrestling
[Giant Baba]
[Jumbo Tsuruta]
Genichiro Tenryu
Toshiaki Kawada
Hiroshi Hase
Masahito Kakihara
[Dory Funk Jr.]
[Stan Hansen]
[Bruiser Brody]
Steve Williams
[Terry Gordy]
[Gary Albright]
[Johnny Ace]
Mike Barton
Taiyo Kea
Jim Steele
Johnny Smith
Masanobu Fuchi
Pro Wrestling NOAH
Mitsuharu Misawa
Kenta Kobashi
Jun Akiyama
Akira Taue
Takao Omori
Yoshihiro Takayama
Tamon Honda
Jun Izumida
Masao Inoue
Daisuke Ikeda
Kentaro Shiga
Takeshi Rikioh
Vader
Yoshinari Ogawa
Tsuyoshi Kikuchi
Yoshinobu Kanemaru
FMW Entertainment Wrestling
Hiromichi Fuyuki
Hayabusa
Mr. Gannosuke
Masato Tanaka
Jado
Tetsuhiro Kuroda
Kintaro Kanemura
Hisakatsu Ohya
GOEMON
Mammoth Sasaki
Gedo
Ricky Fuji
Michinoku Puroresu
Jinsei Shinzaki
Gran Hamada
The Great Sasuke
Tigermask IV
[Curry Man]
Toryumon: Ultimo Dragon Gym
[Ultimo Dragon]
CIMA
Magnum TOKYO
SUWA
Sumo "Dandy" Fuji
Dragon Kid
Big Japan Pro Wrestling
Shadow WX
Ryuji Yamakawa
Tomoaki Honma
Abdullah the Butcher
Mens Teioh
Osaka Puroresu
Super Delfin
Takehiro Murahama
Freelance
[Great Kabuki]
Shinya Hashimoto
Nobuhiko Takada
Yoshiaki Fujiwara
Atsushi Onita
Yoji Anjoh
Tarzan Goto
Mr.Pogo
Mitsuya Nagai
Naoki Sano
Mitsuhiro Matsunaga
Hulk Hogan
[Road Warrior Hawk]
[Road Warrior Animal]
[Tiger Jeet Singh]
Sabu
Rob Van Dam
Dick Togo
Minoru Tanaka
Masaaki Mochizuki
Masao Orihara
Gran Naniwa
Minoru Fujita
World Wrestling Federation
[Andre the Giant]
Steve Austin
The Undertaker
The Rock
Triple H
[Shawn Michaels]
[Mankind]
Kane
[Big Show]
Chris Benoit
Chris Jericho
Kurt Angle
Rikishi
Billy Gunn
Eddy Guerrero
X-PAC
Dean Malenko
[Davey Boy Smith]
Road Dogg
Tazz
Chyna
Vince McMahon
TAKA Michinoku
Shoichi Funaki
World Championship Wrestling
[Ric Flair]
Bill Goldberg
[Terry Funk]
Sting
Rick Steiner
Scott Steiner
[Bret Hart]
Randy Savage
Kevin Nash
Diamond Dallas Page
[Scott Hall]
The Great Muta
[Sid Vicious]
Jeff Jarrett
Booker T
Bam Bam Bigelow
Mike Awesome
Kaz Hayashi
AAA
[Mil Mascaras]
[Dos Caras]
El Hijo Del Santo
Negro Casas
Dr.Wagner Jr.
RINGS
[Akira Maeda]
Kiyoshi Tamura
Yoshihisa Yamamoto
Tsuyoshi Kousaka
Bitsadze Tariel
Volk Han
Hans Nyman
Pancrase
[Masakatsu Funaki]
Yuki Kondo
Yoshinobu Takahashi
Semmy Schilt
Battlarts
Alexander Otsuka
Yuki Ishikawa
Mohammad Yone
Ikuto Hidaka
Shoot Fighters
Kazushi Sakuraba
Naoya Ogawa
Kazuyuki Fujita
Masaake Satake
Enson Inoue
Rumina Saito
Kazunari Murakami
[Roland Bock]
[Aleksandr Karelin]
Rickson Gracie
Royce Gracie
Igor Vovchanchyn
Mark Kerr
Ken Shamrock
Peter Aerts
Ernesto Hoost
Mike Bernardo
[Andy Hug]
Joshi
[Bull Nakano]
Lioness Asuka
Chigusa Nagayo
Shinobu Kandori
Akira Hokuto
Aja Kong
Kyoko Inoue
Manami Toyota
Dynamite Kansai
Yumiko Hotta
Takako Inoue
Legends
Karl Gotch
Lou Thesz
[Rikidozan]
EDIT Exclusives
Tiger Hattori
Kyohei Wada
Ted Tanabe
Yuji Shimada
Earl Hebner
Daichi Murayama
Mister Soranaka
Joe Higuchi
Seiji Sakaguchi [DLC Save 4]
Masa Saito [DLC Save 4]
Super Strong Machine
Battle Liger
Norio Honaga [DLC Save 6]
Masakazu Fukuda
Umanosuke Ueda
Dick Murdoch [DLC Save 4]
Rusher Kimura
Haruka Eigen
Mighty Inoue
Giant Kimala
Scorpio [DLC Save 1]
2nd Tiger Mask
Onryo [DLC Save 1]
Shiryu (Kaz Hayashi)
TARU
Kenichiro Arai
Great Kojika
Zandig
Wife Beater
Naohiro Hoshikawa [DLC Save 6]
Daioh QUALLT [DLC Save 6]
Kendo Nagasaki
Yoshiaki Yatsu [DLC Save 4]
Sasuke the Great
Sanshiro Takagi
Naomichi Marufuji [DLC Save 1]
Satoru Asako
Buh Buh Ray Dudley [DLC Save 5]
D-Von Dudley [DLC Save 5]
Grand Master Sexay [DLC Save 3]
Scotty 2 Hotty [DLC Save 3]
Ted DiBiase [DLC Save 4]
Yasushi Kanda [DLC Save 1]
Susumu Mochizuki
Tommy Dreamer
Vampiro
Andrei Kopilov
Minoru Suzuki
Nobutaka Araya [DLC Save 1]
Ricky Marvin
Mayumi Ozaki
Devil Masami
Mima Shimoda
Etsuko Mita
Kaori Nakayama
Megumi Motokawa
Mariko Yoshida
Chaparita ASARI
Ayako Hamada
Megumi Kudo
Sumo wrestler
Convenience Store Robber
Normal Woman
Stalker Ichikawa
Masked Angel Rosetta (tokusatsu character)
Tiger Mask (manga version)
Bear Mask
Bear
Kappa
Skull Mask
Zenshin Tights Man
Monkey
Anime Girl 1
Anime Girl 2
Papier Machie Girl
DLC Save Data Bonuses
Susumu Yokosuka [DLC Save 1]
Kaoru Uno [DLC Save 1]
Gary Goodridge [DLC Save 1]
Kenzo Suzuki [DLC Save 1]
Candy Okutsu [DLC Save 1]
Akira Shoji [DLC Save 2]
Mark Coleman [DLC Save 2]
Steve Wright [DLC Save 2]
Valentijn Overeem [DLC Save 2]
Wanderlei Silva [DLC Save 2]
Randy Couture [DLC Save 2]
Takashi Sugiura [DLC Save 3]
Takashi Morishima [DLC Save 3]
Killer Khan [DLC Save 4]
Ashura Hara [DLC Save 4]
Hiroshi Wajima [DLC Save 4]
Bad News Allen [DLC Save 4]
Bob Backlund [DLC Save 4]
TAJIRI [DLC Save 5]
Juventud Guerrera [DLC Save 5]
Silver King [DLC Save 5]
Gamma [DLC Save 6]
Tsubasa [DLC Save 6]
Jeff Hardy [DLC Save 6]
Matt Hardy [DLC Save 6]
Rey Mysterio Jr. [DLC Save 6]
Katsumi Usuda [DLC Save 6]