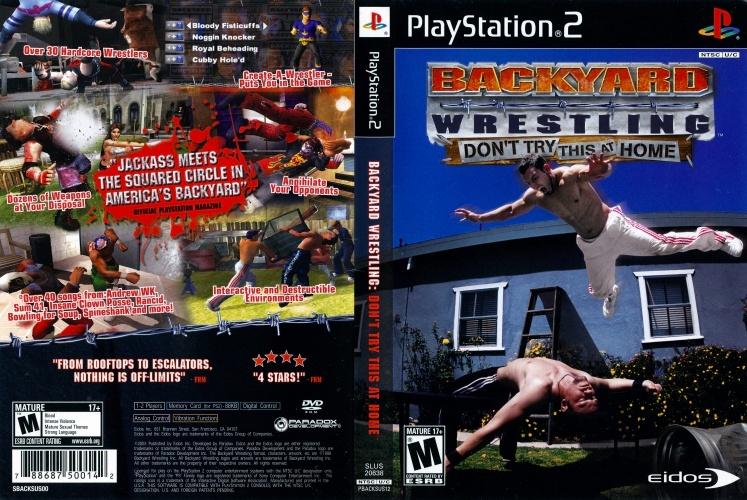 Game Series

Independent Games

Release Date

October 7, 2003

Additional Releases

October 9th, 2003 (Xbox, NA); November 7th, 2003 (EU); April 15th, 2004 (PS2, JPN)

Platforms

PlayStation 2Xbox
Developed by Paradox Development, and published by Eidos Interactive.
Backyard Wrestling allows you to step out of the wrestling genre and into a new world of open-ended gameplay. Punish your opponent in interactive environments using weapons such as thumbtacks, barbed wire, lightbulbs, stop signs, baseball bats, tables, fire, and other objects. Prepare to take incredible risks and endure cuts, bruises, and gashes, as you leap from breathtaking heights to beat your opponent and be crowned The King of Hardcore.
Soundtrack
40 Below Summer - P.S I Hate You
American Hi-Fi - Beautiful Disaster
American Hi-Fi - The Breakup Song
Andrew W.K. - Tear It Up
Anthrax - Imitation of Life
Biohazard - Punishment
Bowling for Soup - I Ran (So Far Away) (cover)
Bowling for Soup - Punk Rock 101
Chimaira - Cleansation
CKY - The Human Drive in Hi-Fi
CKY - Sporadic Movement
Dropkick Murphys - This Is Your Life
E. Town Concrete - Doormats
Ether Seeds - Undone
Further Seems Forever - How to Start a Fire
Hotwire - Magazine
Injected - Burn It Black
Insane Clown Posse - Blaaam!!!
Insane Clown Posse - Chicken Huntin' (Slaughterhouse Mix)
Insane Clown Posse - Down with the Clown
Insane Clown Posse - Hokus Pokus
Insane Clown Posse - Juggalo Homies
Machine Head - White Knuckle Blackout
Masters of Illusion - Masters of Illusion
Ming & FS - Steady Shot
Motion Man feat. KutMasta Kurt - Loose Cannon
Neck - Colostomy
Rancid - Let Me Go
Red Tape - Dive Bomb
Rumblefish - Far
Rumblefish - Stumble and Fall
Sepultura - Slave New World
Shadows Fall - Stepping Outside the Circle
Spineshank - Smothered
Spineshank - Synthetic
Spot On Music - Kitana's Theme
Sum 41 - The Hell Song
The Rise - Station Identification for the Print Less
The Rise - The Fallacy of Retrospective Determinism
Twiztid - We Don't Die
Zug Izland feat. Insane Clown Posse - Fly
Roster
Adrianne Pain
Atrocity XXX
Commissioner
Da Bone Doctor
Dameon Redd
El Chicharron
El Drunko
Gupta
Hernia
Jamie Madrox
JCW's Evil Dead
Jezebel
Josh Asbill
Josh Prohibition
Karnage
Kitana Baker
Mad Man Pondo
Masked Horn Dog
Masked Mike Jackson
MDogg20
The Monoxide Kid
Rosie
Ross Lover
Rude Boy
Sabu
Sally
Shaggy 2 Dope
Sonny D. Chopper
Tom Dub
Tylene Buck
Violent J
Arenas
Backyard
Gentlemen's Club
Mall
Mansion
Slaughterhouse
Television Studio
Truck Stop