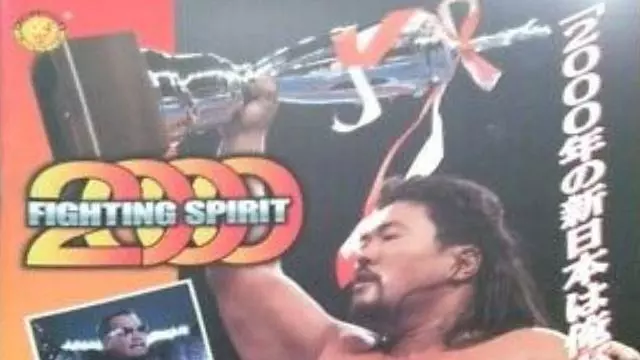 NJPW Fighting Spirit 2000 was a Special Event produced by New Japan Pro Wrestling, which took place on February 20, 2000, at the Ryōgoku Kokugikan in Tokyo, Japan.
It's the 31° edition of the Toukon Series / Fighting Spirit event series, after NJPW Fighting Spirit 1999 - St. Valentine's Day Massacre.
The event had an attendance of 11,500 fans. The main event of the show was Masahiro Chono vs. Kensuke Sasaki.
Below you can find the full match card and results of NJPW Fighting Spirit 2000, and more information about the event.
Event Info
NJPW Fighting Spirit 2000 Results
Kendo Kashin & Minoru Tanaka defeat Shinjiro Otani & Tatsuhito Takaiwa
"New Japan vs. Team 2000"
Takashi Iizuka [NJPW - 1] defeats Hiro Saito [T2000 - 0]
"New Japan vs. Team 2000"
Super J [T2000 - 1] defeats Tadao Yasuda [NJPW - 1]
"New Japan vs. Team 2000"
Tatsutoshi Goto [T2000 - 2] defeats Junji Hirata [NJPW - 1]
"New Japan vs. Team 2000"
Shiro Koshinaka [NJPW - 2] defeats Michiyoshi Ohara [T2000 - 2]
"New Japan vs. Team 2000"
AKIRA [T2000 - 3] defeats Koji Kanemoto [NJPW - 2]
"New Japan vs. Team 2000"
Satoshi Kojima [T2000 - 4] defeats Jushin Thunder Liger [NJPW - 2]
"New Japan vs. Team 2000"
Don Frye [T2000 - 5] defeats Yuji Nagata [NJPW - 2]
"New Japan vs. Team 2000"
Manabu Nakanishi [NJPW - 3] defeats Hiroyoshi Tenzan [T2000 - 5]
"New Japan vs. Team 2000"
Shinya Hashimoto [NJPW - 4] defeats Scott Norton [T2000 - 5]
"New Japan vs. Team 2000"
Kensuke Sasaki [NJPW - 5] defeats Masahiro Chono [T2000 - 5]
"New Japan vs. Team 2000 - Decision Match"
Masahiro Chono [T2000 - 6] defeats Kensuke Sasaki [NJPW - 5] via TKO