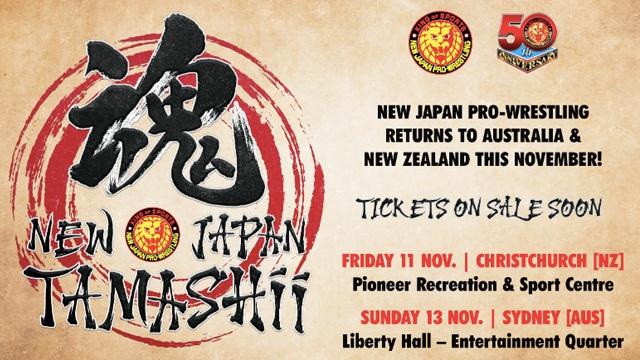 NJPW TAMASHII (I & II) was a Special Event produced by New Japan Pro Wrestling, which took place from November 11, 2022 to November 13, 2022, at the Pioneer Recreation & Sport Centre - Liberty Hall in Christchurch, New Zealand - Sydney, Australia.
It's the inaugural edition of the TAMASHII event series.
The event had an attendance of 1,150 fans. The main event of the show was KENTA vs. Andrew Villalobos - Taiji Ishimori vs. Mick Moretti.
Below you can find the full match card and results of NJPW TAMASHII (I & II), and more information about the event.
Event Info
NJPW TAMASHII (I & II) Results
I - NEW ZEALAND (11/11)
Chris Miles & Mark Tui defeat Jordan Allan-Wright & Shep Alexander
Bullet Club (Bad Luck Fale & Jack Bonza) defeat Tony Kozina & Jake Taylor
Richard Mulu defeats Michael Richards
The Natural Classics (Tome & Stevie Filip) defeat Nikolai Anton Bell & Rowan Davis
Taiji Ishimori defeats Aaron Solo
KENTA defeats Andrew Villalobos
II - AUSTRALIA (11/13)
Jordan Allan-Wright defeats Mat Diamond
SMS (Unsocial Jordan & Aaron Jake) defeat Jake Taylor & Richard Mulu
Bullet Club (KENTA, Bad Luck Fale & Jack Bonza) defeat Mat Rogers & The Velocities (Paris De Silva & Jude London)
Robbie Eagles defeats Carter Deams
Aaron Solo defeats Lyrebird Luchi
Michael Richards & Andrew Villalobos defeat Ricky South & Caveman Ugg
Taiji Ishimori defeats Mick Moretti