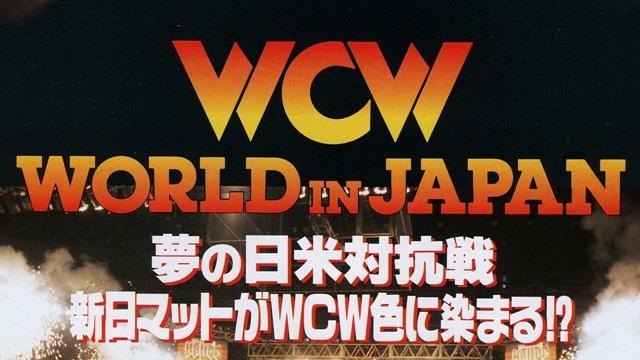 NJPW WCW World In Japan was a Pay Per View event produced by New Japan Pro Wrestling and World Championship Wrestling, which took place from November 13, 1995 to November 14, 1995, at the Ryōgoku Kokugikan - Hamamatsu Arena in Tokyo, Japan - Hamamatsu, Shizuoka, Japan.
The event had an attendance of 12,200 fans. The main event of the show was Sting vs. Kensuke Sasaki (Night 1); Keiji Muto & Sting vs. Ric Flair & Arn Anderson (Night 2).
Below you can find the full match card and results of NJPW WCW World In Japan, and more information about the event.
Event Info
Event Type

Pay Per View

Start Date

November 13, 1995

Event Date

November 14, 1995

Year

1995

Country

Japan

Attendance

12,200

Network

On-Demand (Japan-only)

Main Event

Sting vs. Kensuke Sasaki (Night 1); Keiji Muto & Sting vs. Ric Flair & Arn Anderson (Night 2)
NJPW WCW World In Japan Results
NIGHT 1
El Samurai, Koji Kanemoto & Shinjiro Otani defeat Jushin Thunder Liger, Yuji Nagata & Tokimitsu Ishizawa
Junji Hirata defeats Booker T
Ookami Gundan (Masahiro Chono & Hiro Saito) defeat Bobby Eaton & Johnny B. Badd
Riki Choshu & Masa Saito defeat The Nasty Boys (Jerry Sags & Brian Knobbs)
The Giant & Arn Anderson defeat Shinya Hashimoto & Tadao Yasuda
Ric Flair defeats Osamu Nishimura
Hiroyoshi Tenzan defeats Kurasawa
Keiji Muto defeats Lord Steven Regal

WCW United States Heavyweight Championship

Kensuke Sasaki defeats Sting (c) to win the title
NIGHT 2
Akira Nogami defeats Koji Kanemoto
Shinjiro Otani defeats Jushin Thunder Liger
Johnny B. Badd defeats Takashi Iizuka
The Giant defeats Tadao Yasuda
Kurasawa defeats Yuji Nagata
Kensuke Sasaki & Osamu Nishimura defeat The Blue Bloods (Lord Steven Regal & Earl Robert Eaton)
Shinya Hashimoto defeats Booker T
The Nasty Boys (Jerry Sags & Brian Knobbs) defeat Ookami Gundan (Masahiro Chono & Hiroyoshi Tenzan)
Keiji Muto & Sting defeat Ric Flair & Arn Anderson