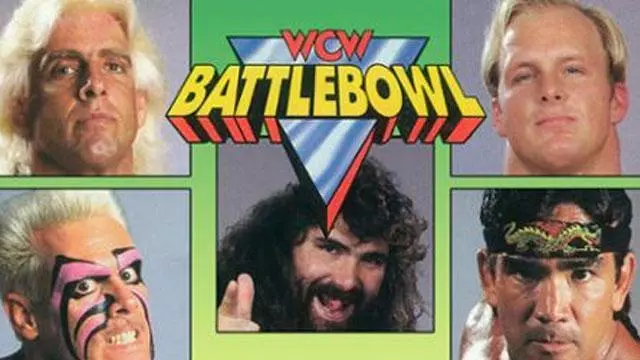 WCW Battlebowl 1993 was a Pay Per View event produced by World Championship Wrestling, which took place on November 20, 1993, at the Pensacola Civic Center in Pensacola, Florida.
The event had an attendance of 7,000 fans. The main event of the show was Battlebowl Battle Royal.
Below you can find the full match card and results of WCW Battlebowl 1993, and more information about the event.
Event Info
WCW Battlebowl 1993 Results
BattleBowl - "Lethal Lottery" Qualifying Match

Big Van Vader & Cactus Jack defeat Charlie Norris & Kane

BattleBowl - "Lethal Lottery" Qualifying Match

Brian Knobbs & Johnny B. Badd defeat Erik Watts & Paul Roma

BattleBowl - "Lethal Lottery" Qualifying Match

Paul Orndorff & The Shockmaster defeat Ricky Steamboat & Lord Steven Regal

BattleBowl - "Lethal Lottery" Qualifying Match

Dustin Rhodes & King Kong defeat The Equalizer & Awesome Kong

BattleBowl - "Lethal Lottery" Qualifying Match

Sting & Jerry Sags defeat Ron Simmons & Keith Cole

BattleBowl - "Lethal Lottery" Qualifying Match

Ric Flair & Steve Austin defeat 2 Cold Scorpio & Maxx Payne

BattleBowl - "Lethal Lottery" Qualifying Match

Rick Rude & Shanghai Pierce defeat Tex Slazenger & Marcus Alexander Bagwell

BattleBowl - "Lethal Lottery" Qualifying Match

Road Warrior Hawk & Rip Rogers defeat Davey Boy Smith & Kole

16-man BattleBowl Battle Royal

Winner: Big Van Vader
Participants: Big Van Vader, Cactus Jack, Brian Knobbs, Johnny B. Badd, Paul Orndorff, The Shockmaster, Dustin Rhodes, King Kong, Sting, Jerry Sags, Ric Flair, Steve Austin, Rick Rude, Shanghai Pierce, Road Warrior Hawk, Rip Rogers