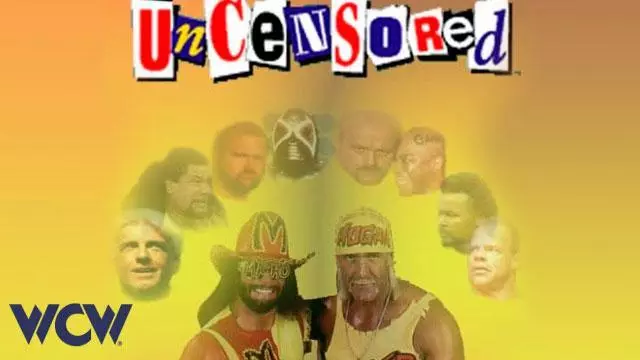 WCW Uncensored 1996 was a Pay Per View event produced by World Championship Wrestling, which took place on March 24, 1996, at the Tupelo Coliseum in Tupelo, Mississippi.
It's the 2° edition of the Uncensored event series, after WCW Uncensored 1995.
The event had an attendance of 9,000 fans. The main event of the show was Ric Flair, Arn Anderson, Meng, The Barbarian, Lex Luger, The Taskmaster, Z-Gangsta and The Ultimate Solution vs. Hulk Hogan and Randy Savage.
Below you can find the full match card and results of WCW Uncensored 1996, and more information about the event.
Event Info
WCW Uncensored 1996 Results
[Main Event]
Mr. J.L. defeats Dean Malenko
[Main Event]
Jim Duggan defeats Big Bubba Rogers
[Main Event]
Dick Slater defeats Alex Wright
[Main Event]
The Steiner Brothers (Rick & Scott Steiner) vs. The Nasty Boys (Brian Knobs & Jerry Sags) ends in a No Contest

WCW United States Heavyweight Championship

Konnan (c) defeats Eddie Guerrero to retain the title
The Belfast Bruiser defeats Lord Steven Regal via DQ
"Man vs. Woman"
Col. Robert Parker defeats Madusa
"If DDP loses he must quit the business"
The Booty Man defeats Diamond Dallas Page
The Giant defeats Loch Ness

Chicago Street Fight

Sting & Booker T defeat The Road Warriors (Hawk & Animal)

8-on-2 Handicap Doomsday Cage Match

The Mega Powers (Hulk Hogan & Randy Savage) defeat The Alliance to End Hulkamania (Ric Flair, Arn Anderson, Meng, The Barbarian, Lex Luger, The Taskmaster, Z-Gangsta & The Ultimate Solution)