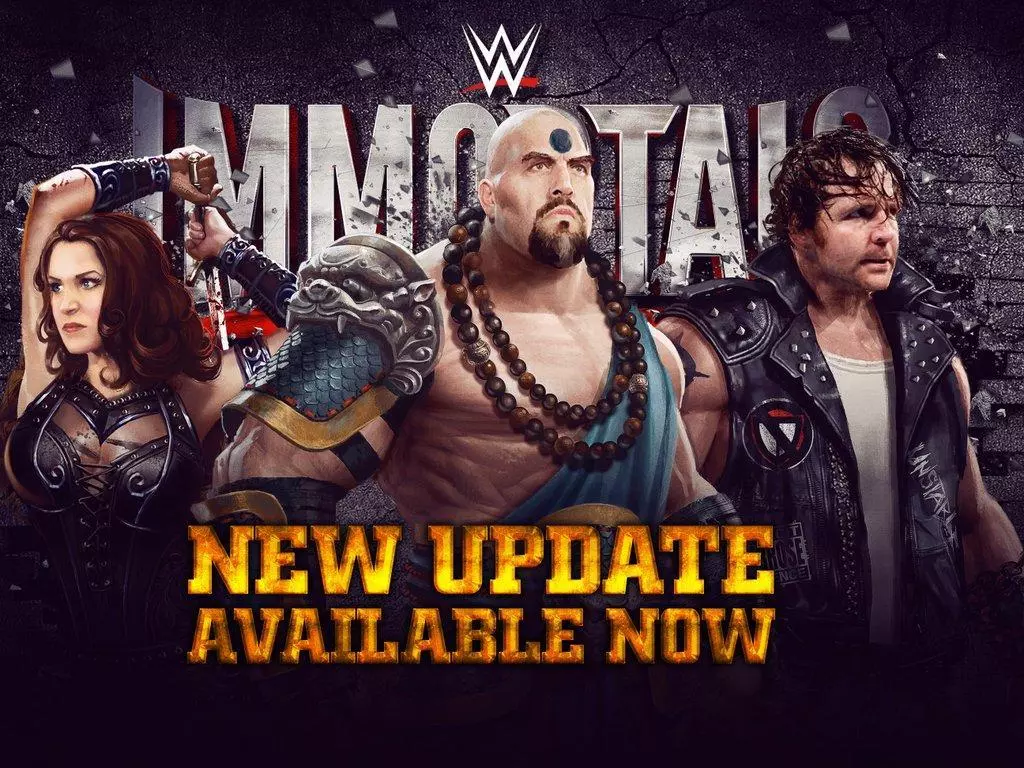 A new WWE Immortals update has been released, with new characters to unlock, events and several fixes. Here are the patch notes below:
New Superstars:
Stephanie McMahon - The Authority (Silver)

available in the Store

Stephanie McMahon - Warrior Queen (Gold)

available in Booster Pack/Challenge

Dean Ambrose - Lunatic Fringe (Gold) available in upcoming Booster Pack/Challenge
Dean Ambrose - Back Alley Brawler (Silver) available in upcoming Booster Pack/Challenge
Big Show - Enlightened (Gold)

available in the Store
New Booster Packs:
NEW Character Booster Packs – No time for Challenges? For a limited time, we're offering new Character Packs, allowing you to unlock the Challenge Character along with everything you need to complete at the highest level. To learn more about the new Character Booster Packs, check out the official FAQ here.

NEW Gear Locker Booster Packs – Contains three random Gear cards! Gear quality can range up to 3-Stars. Please note that Characters must be at least level 5 to equip Gear.
New Multiplayer Event
Money in the Bank!
Get hype, gear up, and get ready. WWE Immortals presents another special Online Match Season. Compete with players from around the world from June 10th – 17th and fight your way to the top of the Leaderboards to win special Money in the Bank gear!
Gear Revisions:
Redesigned and rebalanced several Common, Uncommon and Rare Gear Items. Several items now have a much wider variety of stats and utilities.
Normalized gem forging cost among Gear Item tiers. This means Gear items of similar tier will no longer have widely different forging costs.
Gear Items that provide "STUN on Signature Attack" have been changed to "Chance to STUN on Combo Ender"
New Gear Effect "Increased Team Adrenaline Regen on Tag-In"
The WrestleMania 2015 Ticket Gear now provides more Inactive Healing at Max Level and its secondary effect is now correctly balanced as an Augmented Effect
Miscellaneous:
New loading screen art has been added!
Adjusted the lighting and shading for certain stages.
Various localization improvements.
Reduced app file size on Android.
Resolved audio issues on iOS devices running iOS 8.3.
Alarm and phone calls will no longer crash the game on Android.
Resolved a character corruption bug on Android.
Resolved a crash that occurred when registering a new WB Play account before entering Multiplayer on Android.
Various localization improvements for non-English speaking players.
Several other bug and crash issues have been resolved.