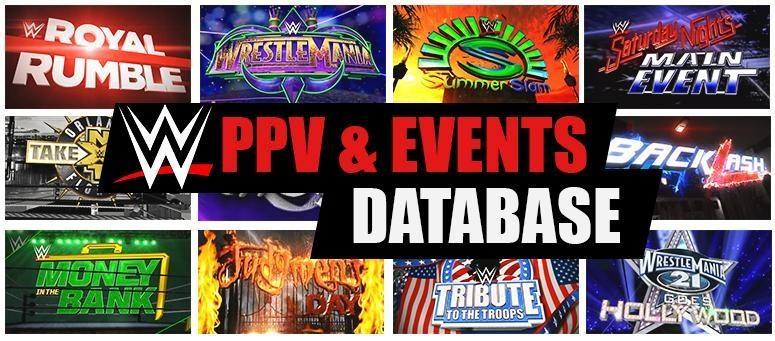 As you know, we've always been a website exclusively dedicated to WWE Games, and a database for pro wrestling games. But, of course, we have a huge passion for wrestling in general, and this led us to create a new project. We are happy to share with you something we've been working on for the past few months: the complete and interactive WWE Pay Per Views and Special Events Database!
This is the link: https://www.thesmackdownhotel.com/events-results/ppv-special/wwe/
The database allows you to browse and explore all events in one place, along with their own unique images, dates, locations, with advanced filters and some unique features. Here is the full List of Features and Filters for everything you can do with it - and you can combine any filters you want to fine-tune your browsing!
Event Name: Quickly find events by typing part of their name.
Event Type: Filter by Pay Per View, Special Event, or quickly find the Tournament Events
Year: Self-explanatory, filter events by Year. From the 1970s all the way up to today.
Event Series: Just want to see all WrestleManias? All Royal Rumbles? All Tribute To The Troops? All Saturday Night's Main Events? Go ahead.
Brand: This is one of the unique features. You can filter events based on the brands that hosted it, whether it was a single-brand exclusive, or multi-brand events, or when there was no brand split in place, all cases are covered.
Country: Filter by the Country where the event took place
Location: Go deeper and filter by city/location. You can type any city you want, press enter, and in one second you get all the events that happened in that city.
Arena: Same thing about the Arena, you can quickly find out what events happened in any arena in the world.
Event Date: You can input a start and an end date to get exactly the Events that happened in a certain time period
Main Event / Main Eventer: Another unique feature. Type the name of any wrestler you want and you will get all the events where he was in the main event of the show. Want to keep track of how many WrestleMania main events in a row Roman Reigns is going to be in? This lets you do it…
Sorting: You are also to able sort/order the Events by Date or Name (ascending or descending).
In addition, the Database is fully Responsive, meaning it can be perfectly browsed by any device, from desktop to mobile. You can also switch between two layouts (Grid or List).
Clicking on an Event brings you to their detailed information, additional Notes, the Videogames in which that Event Arena appeared, Theme Songs, and the full Results of the event. And also, it allows you to click on their information, to quickly go and filter the Database by that value. If you're viewing SummerSlam 2005 you can click on "SummerSlam" to jump to all the SummerSlam events, or you can click on "Washington, D.C." to get all the events that happened in that city, or you can click on 2005 to jump to all the events of that year.
And this is just the beginning! We have plans to also do the same thing for other promotions, and we are working on the results of the Weekly Shows as well.
Here's the link again: https://www.thesmackdownhotel.com/events-results/ppv-special/wwe/
We hope you find this useful and you like it as much as we loved making this! Of course, this will be updated with future events. We now have over 470 events included in the Database – the list was accurately revised to make sure it is as complete as possible, but should you find any event that is missing, or a feature you would like to be added, definitely let us know!
We hope you enjoy it, looking forward to hearing your feedback!