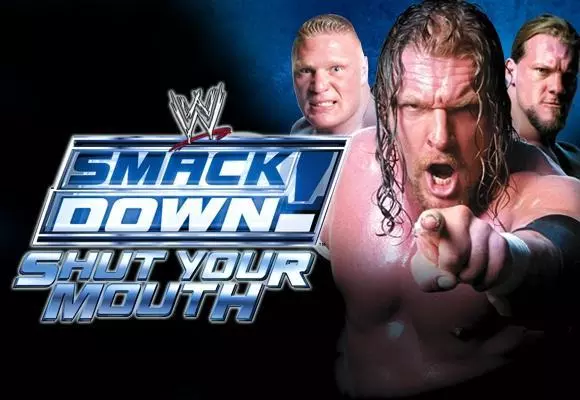 Today let's journey back to the year 2002 where wrestling was beginning its decline, but their video games were starting their peak. Smackdown Shut Your Mouth was released on October 31, 2002. This was for me, the greatest WWE Video game ever made still to this day. I know No Mercy for the Nintendo 64 and even Smackdown: Here Comes The Pain are more beloved than this title, but I will attempt to explain my reasoning for placing this game above those two.
Roster
For starters, here is the roster:
The Rock
Steve Austin
The Undertaker
Kane
Kurt Angle
Chris Jericho
Big Show
Hulk Hogan
Kevin Nash
X-Pac
Triple H
Shawn Michaels
Booker T.
Edge
Christian
Farooq
Bradshaw
Bubba Dudley
D-Von Dudley
Billy Gunn
Chuck Palumbo
Rico
Goldust
Randy Orton
Ric Flair
Vince McMahon
Test
Tazz
Raven
Maven
Al Snow
Hardcore Holly
Diamond Dallas Page
Eddie Guerrero
Mark Henry
Matt Hardy
Jeff Hardy
Chris Benoit
Rhyno
Rikishi
Rob Van Dam
Scotty 2 Hotty
Tajiri
Val Venis
William Regal
Lance Storm
The Hurricane
Albert
Billy Kidman
Brock Lesnar
Spike Dudley
Shawn Stasiak
Stephanie McMahon
Trish Stratus
Lita
Ivory
Molly Holly
Jazz
Torrie Wilson
Stacy Keibler
Season Mode
The fun didn't end there, however! The game really excelled in the Season mode. Here you could play as every member of the roster with the exception of The female superstars, Vince McMahon, Ric Flair, and Shawn Michaels, while not playable in season, Flair and McMahon would be main characters in the story as the Raw and Smackdown General Managers respectively. Shawn Michaels also made a few cameos throughout the season and the women would also be apart of side stories and on occasion the main story as well. You could also take a custom wrestler throughout the season as well, making it a more personal experience.
Season Mode was two years in length. You would take a chosen superstar through various storylines as seen at the time on television, and even some original ones as well. Despite being long as two years where you are fighting in matches every week does seem like a tedious process, however with the various storylines and the fact that not once are these angles repeated throughout the years, the season never seems boring or seems to drag; in fact, I found myself refusing to stop playing until the particular story played out. Just to list some of the stories that you will encounter throughout the years: Personal Servant, this will see you face Ric Flair and/or Vince McMahon and if you win, they will be your servant the following week and you can give them one of three commands. You will also get to play out the return of the New World Order and relive the emotional encounter with Hollywood Hogan at WrestleMania 18 (Although you do not have to be The Rock to access this story) just to name a few. Also, there are character-specific stories you can play as well such as The hair versus Hair match between Kurt Angle and Edge (You must be one of them to get this story) You can have Steve Austin choose Raw or Smackdown, You can also relive the epic feud over spilled coffee between Chris Jericho and Kane! There are also numerous unlockable items throughout the years in the WWE Shop, so you found yourself playing season mode two or three times just for the Unlockable Items.
Match Types
If you didn't want to jump right into season mode, Shut Your Mouth offered plenty of other options, it had a Slobber Knocker mode where you chose a superstar and took on an endless stream of opponents one after the other. You could also compete in Hardcore, I Quit, Last Man Standing, Fatal Four Way, Triple Threat, Battle Royal, Royal Rumble, Steel Cage, Hell In A Cell, Ladder, and TLC matches as well. What made the matches even more fun, specifically Hardcore, I Quit and the Last Man Standing matches so fun was the enormous backstage area!
Unlike today's games where you have a few rooms and long corridor and are limited to punching and kicking your way through it, Smackdown Shut Your Mouth boasted a huge circular corridor, a locker room, the General Manager's office, a Storage hall, and storage room, a parking lot, the Subway Station, WWF New York, Time Square and a two different plaza's your fights could end up going to. Each area had its own set of weapons and interactive staging to fit accordingly. Also, you could wrestle in the snowy outdoors and even throw snowballs at your opponent!
Creations
Move-sets were not as in-depth as they are in today's video games, and that is not a bad thing. Every star had their finisher and trademark moves and mannerisms, making for at the time the most authentic WWE Experience available. The Create-A-Wrestler Mode was much simpler as well and again, that is not a bad thing. It gave you ample parts to create an original wrestler or even legends like Randy Savage, Sting, and The Ultimate Warrior. You could be as detailed as you needed to be or just throw some tights on a guy, mess around with their body type for a bit and then spend about half an hour giving them moves and creating their entrance. While I appreciate the amazing attention to detail in today's games, I also get irritated that it takes me about three hours to create one wrestler including moves and entrances, and I don't even spend a ton of time on body managing.
Final Word
I still play Smackdown Shut Your Mouth today and it was released sixteen years ago almost! I waited a year to buy 2K17 and it mostly sits on my shelf collecting dust. No, graphically, Shut Your Mouth is not stellar, it's not an in-depth hands-on creation suite masterpiece, the wrestlers do not move exactly like their real-life counterparts but Shut Your Mouth for me is the most fun I've ever had playing a WWE video game. It has a huge story/season mode, a good create a wrestler mode, various matchups, and styles, and is endless fun. That is what video games should be!
I appreciate realism as much as the next gamer, but what good is realism if it hinders the fun of the game? If you have a PS2 buy this game immediately, if you don't have a PS2, get one then get this game! While I acknowledge a lot of these things come down to personal preference, Smackdown Shut Your Mouth is the best WWE game of all time for my money.
Have you played this game? Do you have a different favorite WWE game? Sound off in the comments below.