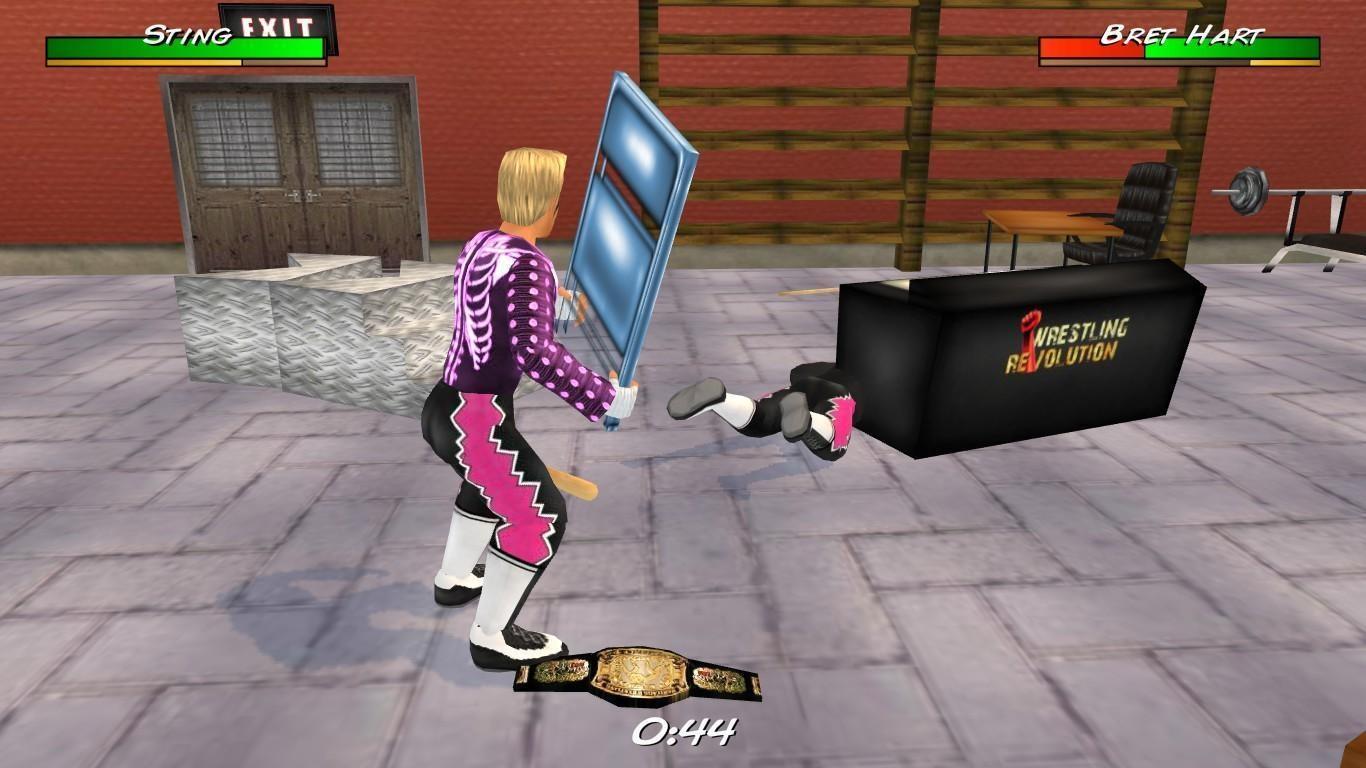 Wrestling Revolution 3D provides what I would consider the craziest career mode in any wrestling game I've ever played. It does follow any particular promotion, storyline, or rules. Since it was released independently the only limitations were Matt Dickie's imagination. While the insanity could not possibly be covered fully in any singular article, I will try to list just some of the crazy situations you could find yourself in as you embark on a new career in professional wrestling.
Selecting A Wrestler
Obviously, no career starts without choosing your wrestler. With no voice acting or limitations, you can choose anyone in the game as your character. Through the edit universe option, you can select the promotion you want to start your career with, although you are not guaranteed to end it there. Male, female…a mummy? They're all here and at your disposal. If you are choosing to be an original character, I would suggest beginning in Wrestling School for the most "authentic" experience in the career mode.
Storylines
Wrestling Revolution provides without a doubt the most insane stories created in ANY wrestling game. They dared go where no other officially licensed game will ever dare to go. While I have not still experienced every single story there is to have, I will list the ones that I have experienced.
Wrestler Murdered, other wrestler linked to the tragedy- One of the earliest plots I encountered was the murder of Shinsuke Nakamura and Hiroshi Tanahashi being lined to his death. While this had no impact on my character, Wrestling Revolution keeps you informed of all the goings-on in the multitude of promotions in the game through "newspaper-like" headlines once you complete a match.
Buying pain killers from a fellow wrestler-Yes, in this game you are capable of buying drugs from another wrestler.
Using Steroids-After completing a match I was confronted by another wrestler and asked if I would like to take steroids to increase my stats. Careful though because not only can you buy them but if you are caught (a completely random event) you will have to pay a fine on top of paying for the enhancements.
Stolen Clothes-As Andre The Giant, AJ Styles stole my wrestling gear, and, for a price, he would give them back to me. If you choose not to pay the wrestler you will have to complete at least one match in your underwear.
Wrestler Overdose-In another career I was playing, Stephanie McMahon was found dead in her hotel room due to an overdose.
Wrestler Suicide- Sometimes you will read that a certain wrestler has committed suicide, when this happens, your next show will be a Memorial Show and results in you not getting paid.
Forming a Stable/Team-A staple of wrestling games for the last decade seemingly, you are given the option, multiple times, to form a stable or team with another wrestler, or even make the offer yourself.
Wrestler Takes a Hit Out-You can also be asked to attack a wrestler backstage for a price and if you accept, you have a backstage confrontation with the wrestler you were asked to take out.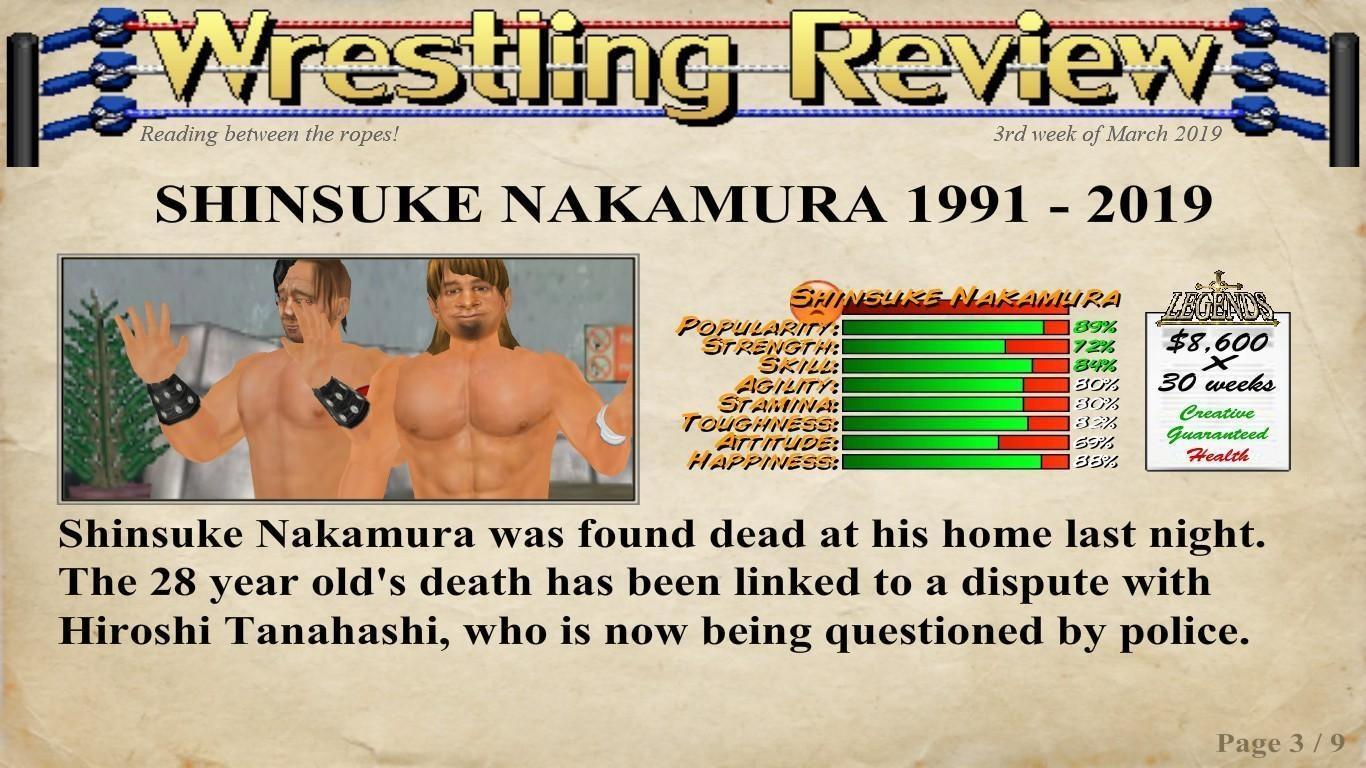 Fired-Throughout the career, your current promoter may (or may not) give you tasks you need to complete by a certain date, most times, failure to meet the requirement results in you going back to wrestling school until another contract is offered.
Gimmick Change-I found out early on that a crucial aspect of your contract is ensuring you are given "creative" in it. If you don't have it you are at the promoter's whim. Stephanie once changed me from my character to "Nicholas Nash" and made me dress like Batman.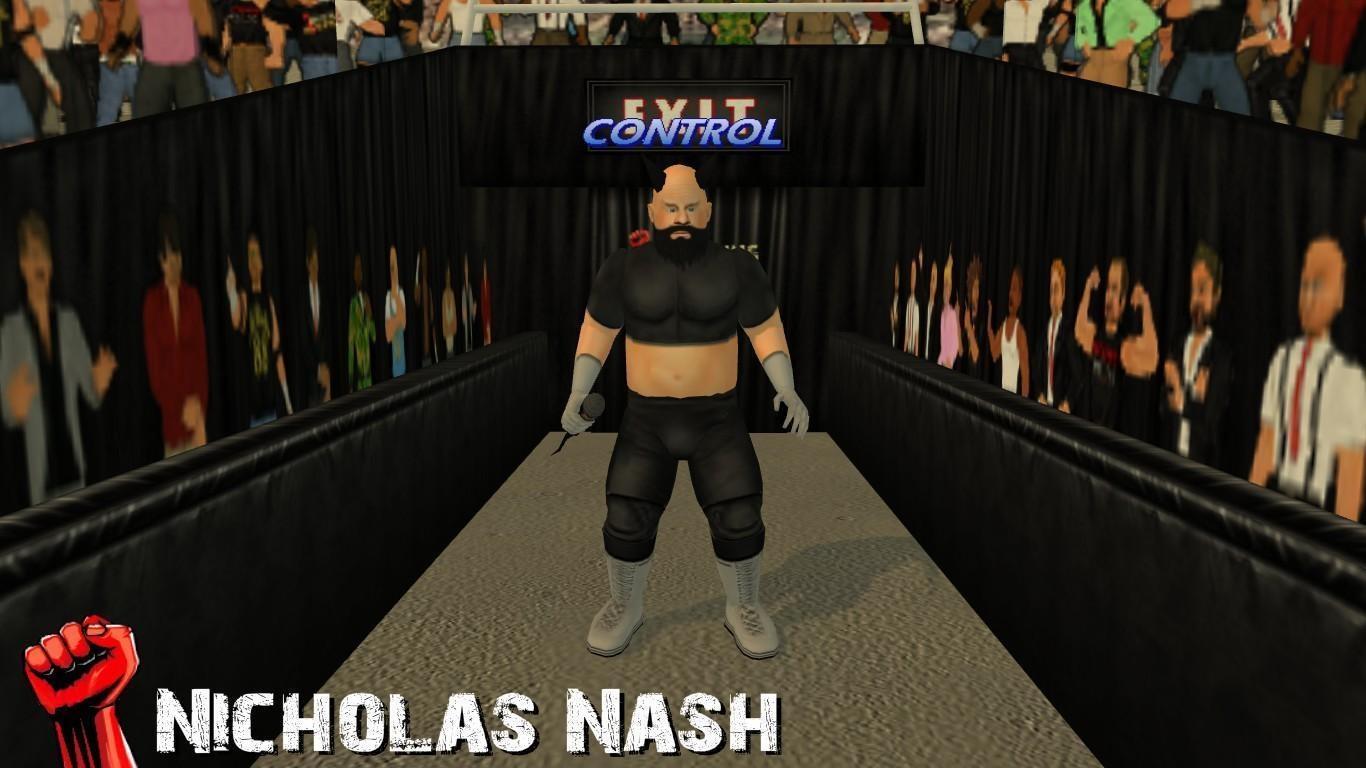 Branded Negligent- You can injure wrestlers during matches, although there is no specific method in which you can guarantee this result, however, doing so will have you branded as negligent.
Interpromotional Match- Your current promotion may challenge another or be challenged by another to an inter-promotional match. While nothing major happens for you, a win will see you increase the reputation of the company while a loss has you damaging its reputation.
Selecting Your Promotion
If you decide to use a real-life wrestler, you can still move them to whichever promotion you'd like through the edit universe feature.
Wrestling School- Where beginners learn. No notable names here, just an opportunity to lose money as since you are not under contract, you will not be paid for matches you compete in.
Federation Online-An original promotion that is a bit more "outlaw" in its feel. A small roster means small pay.
All American Wrestling- Obviously based heavily on WWE, you will encounter characters such-as but not limited to, John Cena, The Undertaker, Triple H, and Roman Reigns.
United Kingdom Wrestling- Headed by Paul Heyman this company provides a mixture of Impact and ECW names. Some of the talents include AJ Styles, Raven, Tommy Dreamer, and Abyss
Rising Sun Puroresu- A strong New Japan and All-Japan vibe as you will encounter, Giant Baba, Kazuchika Okada, Tetsuya Naito, Stan Hansen, Terry Funk, and many others.
Maple Leaf Grappling- This promotion has a strong Canadian influence. Here you will encounter names like Bret Hart, Owen Hart, Andre The Giant, and Bobby Heenan
Super Lucha Libre- Headed by Eric Bischoff, this company will give you a strong WCW vibe as you can face, Sting, Eddie Guerrero, Rey Mysterio Jr. Konnan, Scott Hall, Kevin Nash, and The Road Warriors
Strong Style Wrestling-A heavy UFC influence as the promotion is booked by Dana White, you can face off against, Brock Lesnar, Ronda Rousey, Goldberg, Bob Sapp, and even Bruiser Brody.
Hollywood- While you cannot compete in Hollywood, this is where you go once retired or you may get promotional offers from them throughout your career. Movie parts, a book, or maybe even the chance to shill a product for them.
Storylines are not limited to a particular promotion so that should not hinder your experience at all. Each company does seem to have its preferred match types, however. So, for example, Strong Style Wrestling will have you compete in no rope octagon cage matches, which is obviously a nod to MMA bouts in UFC. Whereas in the United Kingdom, they seem to have a variety of gimmick matches for you to compete in at random times. Also, you can issue challenges to other wrestlers by selecting a date on the calendar and the wrestler you'd like to face. In this area, you can choose the stipulation and gimmick. For instance, you can have a "To The Death Loser leaves" Match. Now to the death is not a literal interpretation, it simply means you fight until your health meter is empty.
These are just a handful of the opportunities that are presented to you in the career mode for Wrestling Revolution. You really do have to play it for yourself to truly experience the madness and joy this game provides. If there is a downside, it is that all of these plots are completely random, meaning there is no sure way to trigger any of them happening in your career. Also, there are no cut scenes so typically the story is a one-match angle and has no bearing further down the line in the career mode. Despite these negatives, I have played various careers as various wrestlers and each time has been a fun experience. Also, the only way for your career to end is if you retire…or die (seriously, you can die in this game) Wrestling Revolution 3D's career mode is something you truly have to play for yourself to understand the fun it provides.