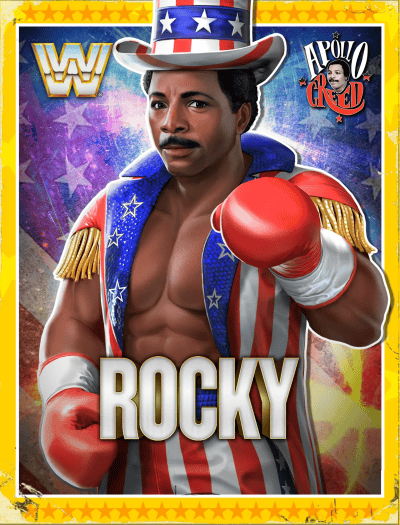 Apollo Creed is featured as a playable character in the WWE Champions Roster in the Legends Era.
Apollo Creed is classed as a Defensive Showboat in the game.
PROFILE INFO
Gender

Male

Nickname / Version

Rocky IV

Era

Legends Era

Superstar Class

Showboat

Ability Style

Defensive

Superstar Tier

S Tier

Promoter

Trainer
Based off of Carl Weathers' appearance in Rocky IV released in 1985, and is a crossover character.
In 1985, boxing legend Apollo Creed comes out of a five-year retirement to fight Soviet Olympian Ivan Drago, who has journeyed to the United States on behalf of the Soviet Union. Defending the honor of his nation, the patriotic Apollo challenges Drago to an exhibition match, and their ill-fated bout is scheduled to take place at the Jubilee showroom at the MGM Grand in Las Vegas.
The Master of Disaster's SPECIALS: Going the Distance, Body Blow Battery, Jibe and Jab, Razzle Dazzle Combo, Heavy Right Hook, Fancy Footwork Flurry, Clinch and Break
The Master of Disaster's FINISHER: Crowd-Pleasing Finale
The Master of Disaster's TAG LINKS: Legends Era, ROCKY