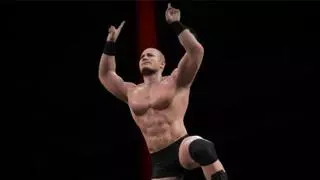 Full list of Original Preset Entrances for WWE SmackDown!: Shut Your Mouth! (PS2)
SINGLE:
01: Exhausted (starts crouching and wheezing, staggers to ring)
02: Ballet intro (including slow mo jump into the ring)
03: Great Muta / "Mysterious" (airplane spin, stalking walk)
04: Goldberg intro (white sparks, spazzing out, etc)
05: Kung Fu intro from JBI
06: Jackass style shopping cart ride while waving; crashes into ring, falls out
07: Thriller zombie dance
08: Spiderman intro
09: Booker T gets blown up into the air by pyro, crashes ringside, collapses
10: Fred Durst's car ride intro (driver mimics arm motions)
11: Driven down in a car, no dancing (grasps rope, looks bad on short chars)
12: Rey Mysterio. Nuff said.
13: Steve Blackman (shaking hands loose, punching)
14: Yellow lighting, exorcist spider style (Voldo from Soul Calibur, too) walking under ring, looks bizarre.
15: Green lighting, sentai martial arts posing, pyro, more posing on turnbuckle
16: video, runs to the ring, poses both arms in the air.
17: Poses T, pyro, walks to ring adjusting armbands, one-knee pose in ring.
18: T-poses while rocking left and right, does a bit of posing in ring, rolls forward, poses on one knee.
19: Rides motorcycle to the ring, but doesn't loop around the ring, just parks it in front. A short version of Taker's entrance.
20: Womanly walk to ring, Y pose, kneels down puts finger in mouth.
21: Ordinary walking to the ring, then rubs head and twists around a moment (Keiji Mutoh?)
22: Driven to the ring (blows a kiss from the car), woman Y poses in ring
23: Brief video, Shane McMahon style bouncing and arm swinging.
TAG TEAM:
Original 1: Ballet Duet. Yikes. Original 2: Kung Fu Duel entrance (both partners crossover kick in the air... one falls, the other wins. Wild!)
Original 3: Jackass intro; both ride down in shopping cart, which crashes. Partner #2 flies all the way over the ring.
Original 4: Driven to the ring in the car, relaxing in the seats en route. Partner #1 rolls in, #2 climbs in, they stand around.
Original 5: Both pose with pyro; P#2 doing a crane kick pose, P#1 on one knee. Walk to the ring, same pose. Kinda sentai, but not hyper.
Original 6: Video for a long time, montage of DX poses, including crotch chops plus pyro! It's basically the DX intro, but there's no DX movie or music in the game, sadly. Might be fun with nWo imagery...
TRIO:
Original 1: Jackass intro again, but now THREE people in the cart... P#1 lands safely in the ring on his knees, the others ringside and over the ring.
Original 2: Colored lighting everywhere... "Thriller" zombie dances on the stage, moonwalk to the ring, more zombie dance. ...yes, the entire team does this simulataneously. Creepy.
Original 3: Car intro... third guy is sitting on the hood a bit effeminately (and does the Y pose in the ring).
Original 4: All three pose, with pryo either side; it's like Tag Original 5, but with a third member

Credits: Stefan Gagne