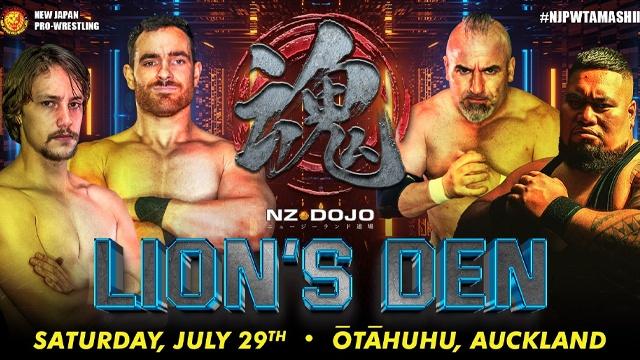 NJPW TAMASHII Lion's Den was a Special Event produced by New Japan Pro Wrestling, which took place on July 29, 2023, at the NJPW NZ Dojo in Auckland, New Zealand.
It's the 36° edition of the TAMASHII and Young Lions event series, after NJPW Academy Showcase (Spring 2023).
This was a public showcase of the New Zealand Dojo, presented by NJPW TAMASHII.
The main event of the show was Tony Kozina & Richard Mulu vs. Jordan Allan Wright & Nikolai Anton Bell.
Below you can find the full match card and results of NJPW TAMASHII Lion's Den, and more information about the event.
Event Info
NJPW TAMASHII Lion's Den Results
Elijah Melendez defeats Joe Flowers
Johnny Gardner defeats Louis Savoury
Braden Richter & Vincent Di Maria defeat Brent Townsend & Pedro Rameriz
Eli Taito defeats Cameron Ahi
Will Driscoll defeats Cian Devin
Malcom Evans defeats Tyler Illes
Callum McCallum defeats Trent Hooper
Tony Kozina & Richard Mulu defeat Jordan Allan Wright & Nikolai Anton Bell