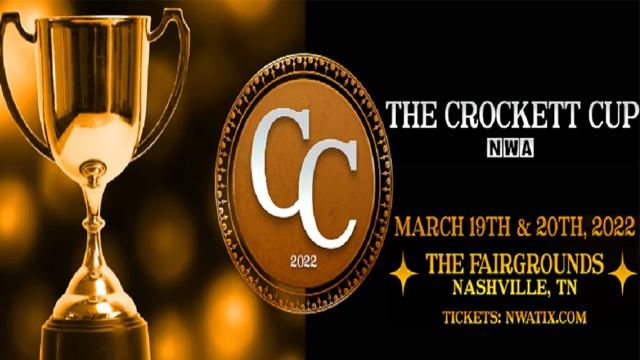 NWA Crockett Cup 2022 was a Special Event and Tournament produced by National Wrestling Alliance, which took place from March 19, 2022 to March 20, 2022, at the The Fairgrounds in Nashville, Tennessee.
The main event of the show was Matt Cardona vs. Nick Aldis.
Below you can find the full match card and results of NWA Crockett Cup 2022, and more information about the event.
Event Info
NWA Crockett Cup 2022 Results
NIGHT 1
[Pre-show]
Magic Jake Dumas defeats Captain YUMA
[Pre-show]

4-Way Match

"Play-In Match to determine the 16 seed in the Crockett Cup tournament"
The Tate Twins (Brandon & Brent Tate) defeat Violence Is Forever (Dominic Garrini & Kevin Ku), The Rip City Shooters (Joshua Bishop & Wes Barkley) and The Heatseekers (Elliott Russell & Sigmon)
[Pre-show]

Crockett Cup 2022 - Round 1

The Briscoe Brothers (Jay & Mark Briscoe) defeat The NOW (Hale Collins & Vik Dalishus)

Crockett Cup 2022 - Round 1

Hawx Aerie (Luke & PJ Hawx) defeat The End (Odinson & Parrow)

Crockett Cup 2022 - Round 1

The Cardonas (Mike Knox & VSK) defeat The Pope & Matthew Mims

Crockett Cup 2022 - Round 1

The Dirty Sexy Boys (Dirty Dango & JTG) defeat Aron Stevens & The Blue Meanie

Crockett Cup 2022 - Round 1

Gold Rushhh (Jordan Clearwater & Marshe Rockett) defeat Strictly Business (Chris Adonis & Thom Latimer)

Crockett Cup 2022 - Round 1

The Commonwealth Connection (Doug Williams & Harry Smith) defeat The Ill Begotten (Alex Taylor & Rush Freeman)

Crockett Cup 2022 - Round 1

La Rebelión (Bestia 666 & Mecha Wolf) defeat The Tate Twins (Brandon & Brent Tate)

Crockett Cup 2022 - Quarterfinal

The Cardonas (Mike Knox & VSK) defeat The Fixers (Jay Bradley & Wrecking Ball Legursky)

Crockett Cup 2022 - Quarterfinal

The Briscoe Brothers (Jay & Mark Briscoe) defeat The Dirty Sexy Boys (Dirty Dango & JTG)

Crockett Cup 2022 - Quarterfinal 2-on-1 Handicap Match

La Rebelión (Bestia 666 & Mecha Wolf) defeat PJ Hawx

Crockett Cup 2022 - Quarterfinal

The Commonwealth Connection (Doug Williams & Harry Smith) defeat Gold Rushhh (Jordan Clearwater & Marshe Rockett)
NIGHT 2
[Pre-show]
Matthew Mims defeats AJ Cazana
[Pre-show]

3-Way Team War

The OGK (Matt Taven & Mike Bennett) & Cyon defeat The Fixers (Jay Bradley & Wrecking Ball Legursky) & Magic Jake Dumas and Idolmania Sports Managment (BLK Jeez, Jordan Clearwater & Marshe Rockett)
[Pre-show]
PJ Hawx defeats Alex Taylor

Crockett Cup 2022 - Semifinal

The Briscoe Brothers (Jay & Mark Briscoe) defeat The Cardonas (Mike Knox & VSK)

Crockett Cup 2022 - Semifinal

The Commonwealth Connection (Doug Williams & Harry Smith) defeat La Rebelión (Bestia 666 & Mecha Wolf)

NWA National Championship

Anthony Mayweather (c) defeats Jax Dane to retain the title

NWA National Championship

Jax Dane defeats Anthony Mayweather (c) to win the title
[Dane cashes-in his Champions Series shot]

NWA World Women's Tag Team Championship

The Hex (Allysin Kay & Marti Belle) (c) defeat Pretty Empowered (Kenzie Paige & Ella Envy) to retain the titles

NWA World Junior Heavyweight Championship 4-Way Match

Homicide defeats Austin Aries, Colby Corino and Darius Lockhart to win the vacant title

NWA Women's World Championship 3-Way Match

Kamille (c) defeats Kylie Rae and Chelsea Green to retain the title

NWA World Television Championship

Tyrus (c) defeats Rodney Mack to retain the title

#1 Contenders (NWA World Tag Team Championship) Crockett Cup 2022 - Final

The Briscoe Brothers (Jay & Mark Briscoe) defeat The Commonwealth Connection (Doug Williams & Harry Smith)

NWA World Heavyweight Championship

Matt Cardona (c) defeats Nick Aldis via DQ to retain the title
(Special refeee: Jeff Jarrett)