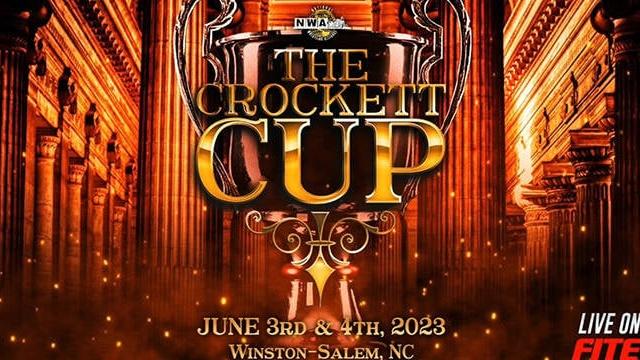 NWA Crockett Cup 2023 was a Pay Per View and Tournament event produced by National Wrestling Alliance, which took place from June 3, 2023 to June 4, 2023, at the Winston-Salem Fairgrounds Annex in Winston-Salem, North Carolina.
The main event of the show was Knox & Murdoch (Trevor Murdoch & Mike Knox) vs. Blunt Force Trauma (Carnage & Damage).
Below you can find the full match card and results of NWA Crockett Cup 2023, and more information about the event.
Event Info
NWA Crockett Cup 2023 Results
NIGHT 1
[Dark Match]

Crockett Cup 2023 - Round 1

Magnum Muscle (Dak Draper & Mims) [#14] defeat The Spectaculars (Brady Pierce & Rush Freeman) [#19]
[Dark Match]

Crockett Cup 2023 - #24 Play-In Qualifying 4-Way Match

The Outrunners (Turbo Floyd & Truth Magnum) defeat Daisy Kill & Talos, The Miserably Faithful (Sal Vation & Gaagz the Gymp) and Eric Jackson & Jeremiah Plunkett
[Dark Match]

Crockett Cup 2023 - Round 1

The Warriors from the Wasteland (Judais & Max the Impaler) [#15] defeat The NOW (Hale Collins & Vik Dalishus) [#18]
[Pre-show]

Crockett Cup 2023 - Round 1

Flippin' Psychos (Flip Gordon & Fodder) [#16] defeat Sent2Slaughter (Dan Maff & Shawn Donovan) [#17]
[Pre-show]

Crockett Cup 2023 - Round 1

SVGS (Jax Dane & Black Troop) [#13] defeat TNT (Terrence & Terrell Hughes) [#20]
[Pre-show]

Crockett Cup 2023 - Round 1

The Brothers of Funstruction (Yabo the Clown & Ruffo the Clown) [#21] defeat The Fixers (Jay Bradley & Wrecking Ball Legursky) [#12]
[Pre-show]

Crockett Cup 2023 - Round 1

Los Vipers (Arez & Toxin) [#11] defeat The Heatseekers (Elliot Russell & Matt Sigmon) [#22]
[Pre-show]

Crockett Cup 2023 - Round 1

The Immortals (Kratos & Odinson) [#10] defeat Magic Jake Dumas & Brian Brock [#23]
[Pre-show]

Crockett Cup 2023 - Round 1

The Outrunners (Turbo Floyd & Truth Magnum) [#24] defeat Idolmania Sports Management (Cyon & Jordan Clearwater) [#9]

Crockett Cup 2023 - Round of 16

Blunt Force Trauma (Carnage & Damage) [#8] defeat The Outrunners (Turbo Floyd & Truth Magnum)

Crockett Cup 2023 - Round of 16

The Immortals (Kratos & Odinson) defeat The Country Gentlemen (AJ Cazana & Anthony Andrews) [#7]
"Winner advances to 6-Way Scramble Match on Night 2"
Joe Alonzo defeats Alex Taylor

Crockett Cup 2023 - Round of 16

The Mortons (Ricky & Kerry Morton) [#6] defeat Los Vipers (Arez & Toxin)

Crockett Cup 2023 - Round of 16

The Brothers of Funstruction (Yabo the Clown & Ruffo the Clown) defeat A Cut Above (Thom Latimer & Rhett Titus) [#5]

Crockett Cup 2023 - Round of 16

Jinetes del Aire (Myzteziz Jr. and Octagón Jr.) [#4] defeat SVGS (Jax Dane & Black Troop)

Hardcore War

Samantha Starr, Ruthie Jay & M95 (Madi & Missa Kate) defeat Pretty Empowered (Kenzie Paige, Kylie Paige, Ella Envy & Roxy)

Crockett Cup 2023 - Round of 16

Knox & Murdoch (Trevor Murdoch & Mike Knox) [#3] defeat Magnum Muscle (Dak Draper & Mims)

Crockett Cup 2023 - Round of 16

The Midnight Riders (Tyrus & Chris Adonis) [#2] defeat The Warriors from the Wasteland (Judais & Max the Impaler) via DQ

NWA National Heavyweight Championship

EC3 (c) defeats Thrillbilly Silas Mason to retain the title

Crockett Cup 2023 - Round of 16

La Rebelión (Bestia 666 & Mecha Wolf) [#1] defeat Flippin' Psychos (Flip Gordon & Fodder)
NIGHT 2
[Pre-show]

NWA United States Tag Team Championship 8-Way Gauntlet Match

The Country Gentlemen (AJ Cazana & Anthony Andrews) (c) defeat The NOW (Hale Collins & Vik Dalishus), The Fixers (Jay Bradley & Wrecking Ball Legursky), Magnum Muscle (Dak Draper & Mims), Daisy Kill & Talos, The Spectaculars (Brady Pierce & Rolando Freeman), TNT (Terrell & Terrence Hughes), Los Vipers (Arez & Toxin) and SVGS (Jax Dane & Blake Troop) to retain the titles
Magnum Muscle eliminate The NOW and The Fixers; Kill & Talos eliminate Magnum Muscle; TNT eliminate Kill & Talos and The Spectaculars; SVGS eliminate TNT and Los Vipers; The Country Gentlemen eliminate SVGS
[Pre-show]
Thrillbilly Silas Mason defeats Dan Maff
[Pre-show]

NWA World Women's Tag Team Championship

M95 (Madi & Missa Kate) (c) defeated Angelina Love & Max the Impaler to retain the titles
[Pre-show]

NWA World Women's Television Championship

Ruthie Jay defeats Kenzie Paige (c) via DQ; Paige retains the title

Crockett Cup 2023 - Quarterfinal

Jinetes del Aire (Myzteziz Jr. & Octagón Jr.) defeat The Brothers of Funstruction (Yabo the Clown & Ruffo the Clown)

Crockett Cup 2023 - Quarterfinal

Knox & Murdoch (Trevor Murdoch & Mike Knox) defeat The Mortons (Ricky & Kerry Morton)

Crockett Cup 2023 - Quarterfinal

The Midnight Riders (Tyrus & Chris Adonis) defeat The Immortals (Kratos & Odinson)

Crockett Cup 2023 - Quarterfinal

Blunt Force Trauma (Carnage & Damage) defeat La Rebelión (Bestia 666 & Mecha Wolf)

NWA National Heavyweight Championship

EC3 (c) defeats Thom Latimer to retain the title

#1 Contender (NWA World Junior Heavyweight Championship) 7-Way Scramble Match

Colby Corino defeats Flip Gordon, Eric Jackson, Joe Alonzo, Gaagz the Gymp, Jarron Fulton and PJ Hawx

Crockett Cup 2023 - Semifinal

Blunt Force Trauma (Carnage & Damage) defeat Jinetes del Aire (Myzteziz Jr. & Octagón Jr.)

Crockett Cup 2023 - Semifinal

Knox & Murdoch (Trevor Murdoch & Mike Knox) defeat The Midnight Riders (Tyrus & Chris Adonis)

Unsanctioned Match

The Masked Mystery Man defeats Cyon via TKO

NWA World Women's Championship

Kamille (c) defeats Natalia Markova to retain the title

#1 Contenders (NWA World Tag Team Championship) Crockett Cup 2023 - Final

Knox & Murdoch (Trevor Murdoch & Mike Knox) defeat Blunt Force Trauma (Carnage & Damage)