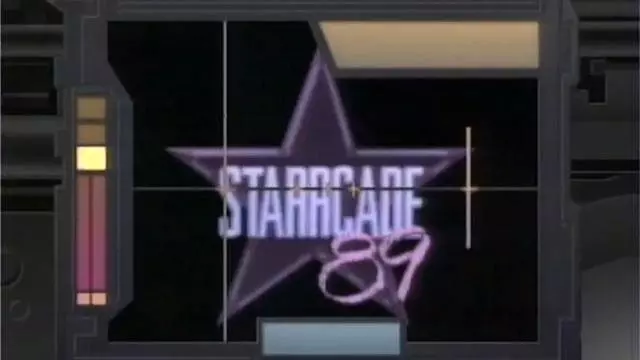 WCW Starrcade 1989 was a Pay Per View event produced by World Championship Wrestling and National Wrestling Alliance, which took place on December 13, 1989, at the The Omni in Atlanta, Georgia.
It's the 7° edition of the Starrcade event series, after WCW Starrcade 1988.
The event had an attendance of 10,000 fans. The main event of the show was Ric Flair vs. Sting.
Below you can find the full match card and results of WCW Starrcade 1989, and more information about the event.
Event Info
WCW Starrcade 1989 Results
Iron Team Tournament - Match #1

The Steiner Brothers (Rick & Scott Steiner) [15] defeat Doom (#1 & #2) [0] via Count-out

Iron Man Tournament - Match #1

Lex Luger [20] defeats Sting [0]

Iron Team Tournament - Match #2

The Road Warriors (Hawk & Animal) [20] defeat Doom (#1 & #2) [0]

Iron Man Tournament - Match #2

Ric Flair [20] defeats The Great Muta [0]

Iron Team Tournament - Match #3

The Steiner Brothers (Rick & Scott Steiner) [35] defeat The Road Warriors (Hawk & Animal) [20]

Iron Man Tournament - Match #3

Sting [20] defeats The Great Muta [0]

Iron Team Tournament - Match #4

The New Wild Samoans (Fatu & Samoan Savage) [20] defeat Doom (#1 & #2) [0]

Iron Man Tournament - Match #4

Lex Luger [25] vs. Ric Flair [25] ends in a Draw via Time Limit

Iron Team Tournament - Match #5

The New Wild Samoans (Fatu & Samoan Savage) [30] defeat The Steiner Brothers (Rick & Scott Steiner) [35] via DQ

Iron Man Tournament - Match #5

Lex Luger [35] defeats The Great Muta [0] via DQ

Iron Team Tournament - Match #6

The Road Warriors (Hawk & Animal) [40 - Winners] defeat The New Wild Samoans (Fatu & Samoan Savage) [30]

Iron Man Tournament - Match #6

Sting [40 - Winner] defeats Ric Flair [25]