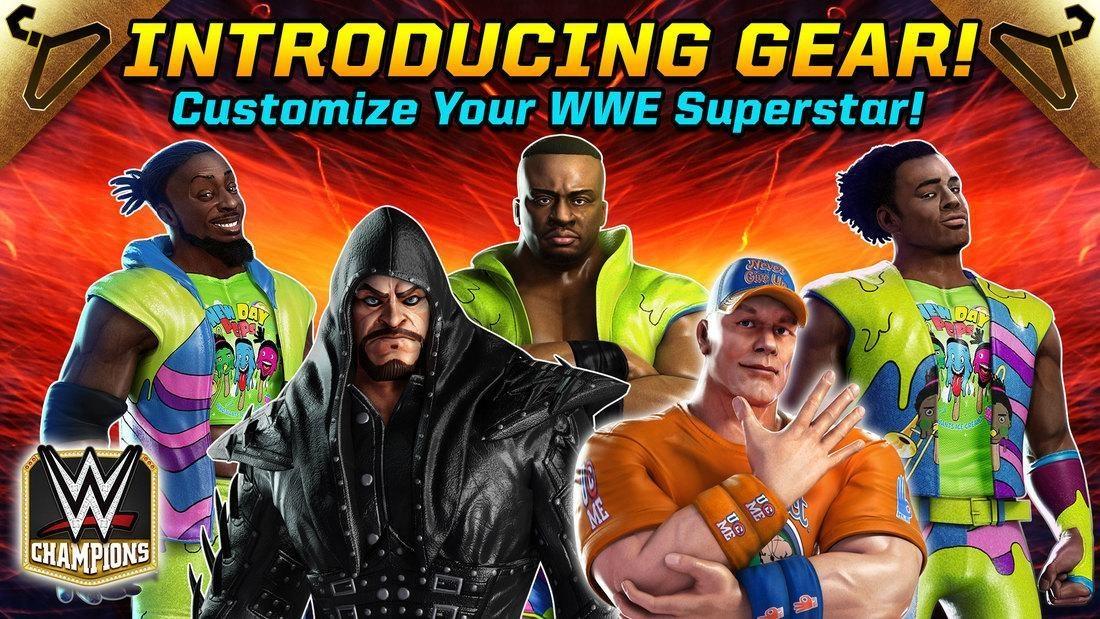 Gear in WWE Champions is an all new feature where you can customize the look and play style of your favorite WWE Superstars. Equip iconic outfits for WWE Superstars like John Cena, Roman Reigns, The Undertaker, AJ Styles, Ric Flair and more! Every Gear outfit you collect makes your WWE Superstar that much more powerful. Over 50 Gear outfits available now with more added every month!
What is Superstar Gear?
Superstar Gear is a unique new way to show off your favorite Superstars. Customize them to wear the outfit they wore at your favorite WWE event, and more! You can preview the Gear that's available for each Superstar through the menu when you tap on a Superstar in your Roster. Many more coming soon!
Collecting Gear unlocks additional bonuses for your Superstars, check out the Gear page to see what boosts are available when you collect a certain amount of Gear for that Superstar. Boosts are cumulative, so the more Gear you acquire, the stronger your Superstar will be, and more gear for a Superstar can be released in future releases. Boosts are applied to a Superstar regardless of which Gear set you're using at the time.

What are Gear Chips?
​There are 2 different types of gear chips:
Gear Chips - These chips are used to unlock exclusive Superstar Gear
Premium Gear Chips - These special chips are used to unlock exclusive Superstar Gear
You will be able to earn Gear Chips as rewards from Limited Time Tours and Events. They can also sometimes be found in the featured section of the store or included as bonus items in superstar loot boxes.