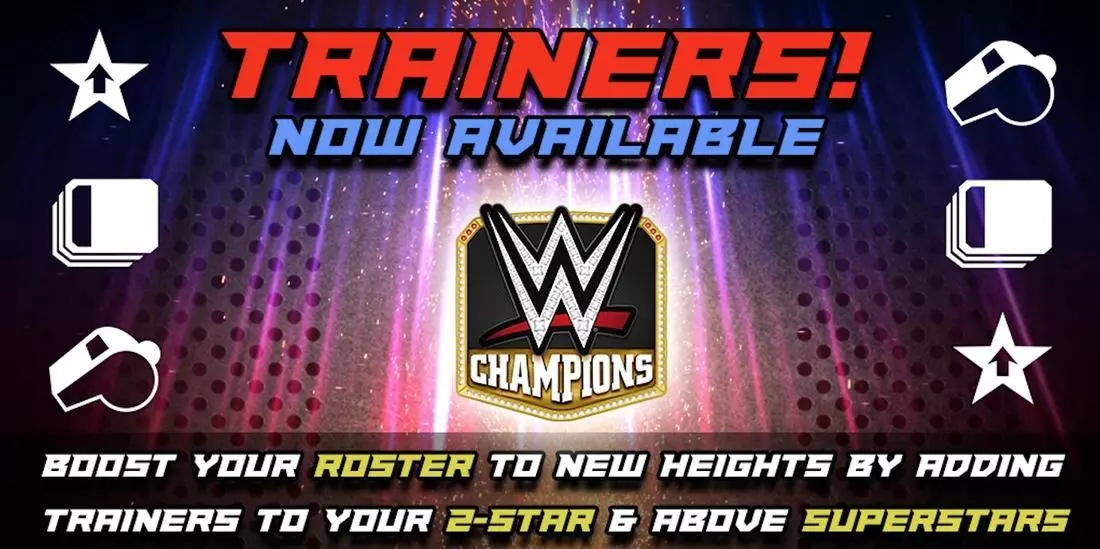 WWE Champions enthusiasts can now train for success in the popular WWE mobile game.
WWE and Scopely recently unveiled details about the all-new Trainers mode for WWE Champions. The new update adds the ability for players to customize and boost their favorite Superstars for later use in the game. The new Trainers mode update is available for immediate download on iOS and Android devices.
With this new mode, players will be able to strengthen their favorite Superstars for in-game use. They can pair Superstars a 2-Star rarity status with a Trainer, who then offers a unique stat boost to the Superstar, such as the ability to inflict more damage or to start a match with more Move Points. A Superstar with a 3-Star rarity status can have two assigned Trainers.
Moreover, when the player levels up in WWE Champions, the Trainer's abilities become more effective, which, in turn, means the paired Superstar gets an additional boost.
Full Update Notes
What's New:
Trainers feature
Massive UI improvements to Roster screens
Various bug fixes
Game Improvements:
A new "Detailed" Token information screen provides player with additional info about where to go to find specific Tokens needed to evolve their Superstars.
Revised Roster Screen streamlines the roster management experience.
Takes you to Loot screen directly from the Roster Screen when a Superstar is available.
Tag Team Links in pre-match can be used to build the perfect team before a match.
Tag Team Links have been updated.
Added "New Era" 3D Backgrounds.
Tag Team can swap positions in the new pre-match roster selection screen.
All locked maps including Hard Mode are accessible to players to browse potential rewards.
Bug Fixes:
Fixed an issue where tier completion boosts in Gauntlet Blitz were not being displayed in the pre-match screen
Fixed an issue where there are 2 Faction leaders after transferring leadership in a Faction
Fixed crashing issues with Low resolution devices when viewing the menu displaying Fame rewards
Fixed an issue where Fame rewards are not available to claim until after restarting the app
Fixed a text error that caused symbols to appear instead of text in the Faction Feud menu
Fixed a text error where Mission rewards were displayed as symbols rather than text
Fixed an issue in Versus where a player displayed two of the same Superstar in the defense team
Fixed issues with Faction Chat not updating in real time with text and heal requests