A new major Update is now available for the Season 5 of WWE SuperCard, featuring a new debuting event named Giants Unleashed!
Let's get down to the details of this new game mode.
During a Giants Unleashed event, you'll need to assemble your best 16 cards and battle the Giants, a new set of towering cards that eat up major space in the ring and sling Superstar cards around with ease. Do enough damage to a Giant and then receive a reward. But Giants don't hang around forever -- act fast, together, or they'll lumber away unscathed.
As you fight, Giants will choose different Alignments that you'll have to match to max out your damage. Make sure you have a solid spread of different arrows in your deck to counter the ever-shifting Alignments. You can also use Gear to multiply the damage. Match alignments, use Gear, defeat Giants.
Giants Unleashed will enter the event rotation starting today featuring Samoa Joe. We've got more details about how to play below, as well as within the Help menu of the game.
Giant Unleashed Details
As you wear down your massive enemies, you'll gain milestone rewards to help you along the way. Fight all the way to the bitter end to get the sweet event card.
Be sure to check the damage leaderboard. The better the community does, the better the leaderboard rewards. Crack some packs and watch as others bask in your greatness.
In battle, Giants will choose different alignments. Use cards that match that alignment to do the most damage. Up. Down. Left. Right.
You can use cards that don't match the Giant's arrow, you just won't be maximizing the damage you do. Be prepared for any arrow the Giant might throw your way.
Don't have any matching arrows? Only have right arrows? Grab some Gear!
Choose from five different pieces of Gear to multiply the damage you inflict based on the cards you use in battle. Only three pieces of gear can be active at a time though.
Giants have a range of sizes. Some are truly Giants -- they're stronger, hang around longer and give out the best rewards if you can beat them.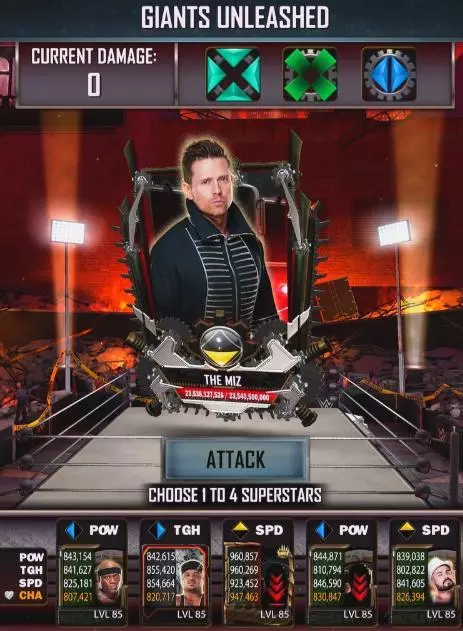 Update Trailer:
Gameplay Video:
For more information on the WWE SuperCard cards, visit our SuperCard Cards Catalog, where you can find all the cards featured in the game.