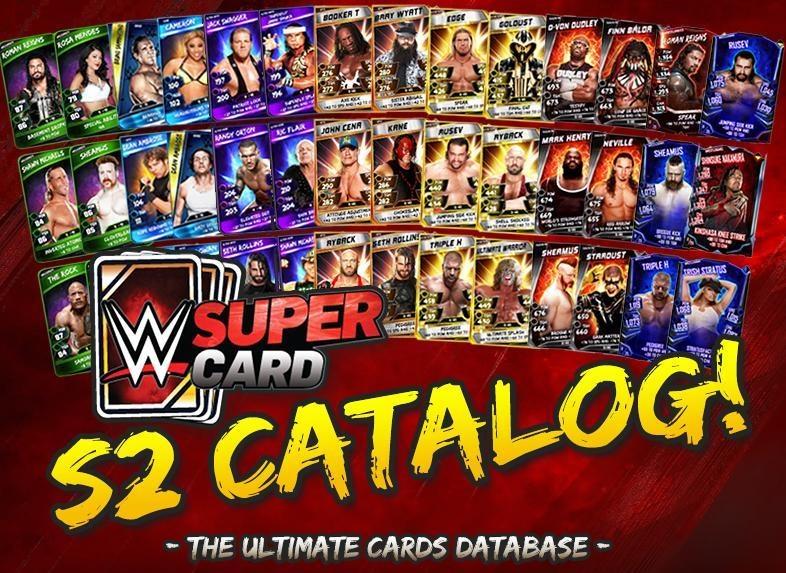 TheSmackDownHotel is proud to present to you the first ever Cards Catalog of WWE Supercard, the popular collectible card-battling mobile game for iOS and Android Devices.
Our goal was to create a comprehensive database that included all the cards available in the game, so that players could browse it and reference to it at any time. Despite the huge scope of the project, also thanks to the valuable help from the SuperCard community we managed to accomplish the ambitious feat.

The Catalog features all the 1000+ cards available in the Season 2 of the game, including all Superstars & Divas, Special Cards, Support Cards and Enhancements.
All cards are featured in their original art and with Base Stats.
All cards are in the highest resolution possible and accurately cropped to PNG format with transparent background.
The catalog can be browsed in all possible ways by Card Rarity (from Common to WrestleMania), by Card Type (Loyalty Cards, Fusion Cards Special Events, Throwback, SuperToken...) and by Card Name!
Each category can be filtered even further for a more refined look: when browsing through a specific Rarity you will be able to further filter by Card Type (which also includes Superstars / Divas distinction) and, viceversa, you will be able to further filter by Rarity when browing through a certain Card Type.
The catalog is responsive: it can be browsed seamlessly from any device, from desktop to mobile!
Special Thanks: We would like to thank ShiningDown and the SuperCard Subreddit, superzomgbbq, Jurassic Sparks, Alvaro Luna, Kane4Life, Joe G, Luge, 20FPS,Stonecold319, Tagg, Shaughn, ManuelSuperCard, figaro and the rest of the SuperCard Community for helping us collecting screenshots of the cards, without their contribution this project wouldn't have been possible!